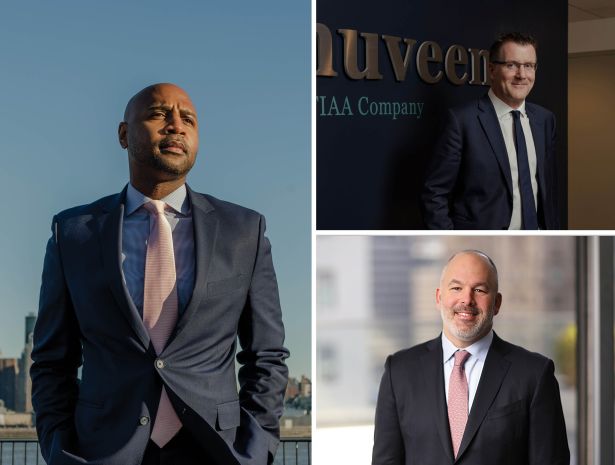 Mike Sales, Chris McGibbon and Nadir Settles
#22
Mike Sales, Chris McGibbon and Nadir Settles
CEO; Global Head of Real Estate; and Managing Director, New York Regional Head at Nuveen Real Estate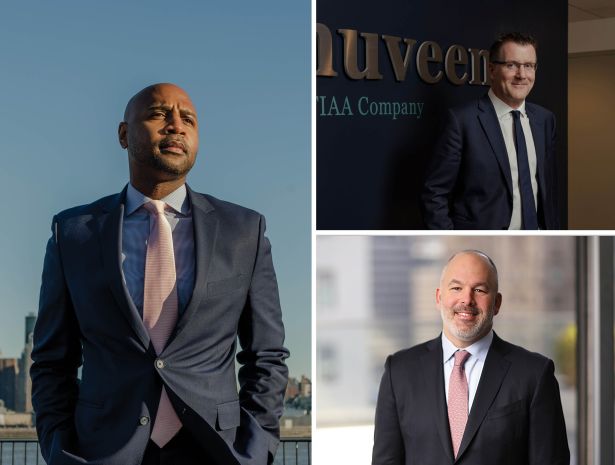 Having a foothold in the life sciences space seems to be a good spot, as it looks to be weathering the coronavirus pandemic particularly well and investors are rushing in.
For its part, Nuveen in October unveiled its plans with Taconic Partners to turn 125 West End Avenue in Manhattan into a 400,000-square-foot life sciences hub. And the red-hot demand to invest in life sciences helped Nuveen and Taconic easily land a $600 million capitalization for the project.
"Now everybody wants to actually deploy capital," Nadir Settles said. "The amount of capital that we had interest from was just mind-blowing."
But Nuveen's life sciences plays were far from the only thing to help cinch its spot on this list.
The company — a subsidiary of TIAA — closed $21 billion worth of transactions around the world last year. About $7 billion of that was for new acquisitions, while Nuveen sold off about $5 billion worth of assets.
"Most of what we were selling was in the housing and industrial space, just because it was really, really keen pricing," Chris McGibbon said.
And, even though Nuveen's retail and office portfolio faced struggles last year, things seem to be improving as tenants start looking for new space and shoppers return to malls.
"We're now seeing almost a grand reopening story," McGibbon said of customers and malls. "They feel safer, there's more disposable income, there's certainly this pent-up demand to upgrade their wardrobe."
The company also used this time to help upgrade its office portfolio — including building a park at 780 Third Avenue — and focused on adding new technology to make the return for its tenants safer.
It's also been working on adding more flexible options to its leases, as companies still feel wary about signing 10- to 15-year commitments.
For the next year, the company has its eyes set on the affordable housing market — dedicating $2 billion for it — and is finishing up a capital raise to focus on New York City assets.—N.R.