REIT Report Card: How Paramount, Boston and Vornado Fared in Q2
---
---
For commercial real estate investors, analysts and journalists, earnings season is an opportunity to vet the performance of publicly traded companies and grill executives they otherwise wouldn't have access to on earnings calls (we're looking at you, Steven Roth).
As far as the city's major commercial real estate investment trusts are concerned, SL Green Realty Corp. was first up to bat per usual, and the company's mid-July earnings call saw it talk up a Midtown office leasing market characterized by flattening concessions and "firm" rents. (You can read our report on the company's earnings call from last month here.)
This week, SL Green (SLG) was followed by three of its competitor REITs in the New York City office space, who provided their own updates on how they fared in the second quarter of 2018. Roth's Vornado Realty Trust had its earnings call on Tuesday morning, followed by Boston-based office giant Boston Properties yesterday and the Albert Behler-led Paramount Group today.
Here are some highlights from those calls, starting with Paramount's Thursday morning briefing: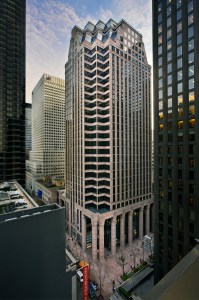 Paramount Group
The New York, Washington, D.C. and San Francisco-focused REIT was keen to note that it was 96.4 percent leased across its entire office portfolio at the end of the second quarter—the highest such figure since Paramount became a public company in 2014.
The firm's 313,000 square feet of leasing activity in the quarter was led by two major, previously reported deals at Midtown Manhattan properties: publisher McGraw-Hill Education's 136,000-square-foot agreement at 1325 Avenue of the Americas and law firm Pillsbury Winthrop Shaw Pittman's 88,500-square-foot lease at 31 West 52nd Street. With just under 598,000 square feet of leases signed through the first six months of 2018, Behler, Paramount's chairman, president and CEO, said the company is "just shy" of being halfway to its full-year leasing goal.
Paramount's Midtown-focused New York portfolio was 95.9 percent leased at the end of the quarter—"This despite all the buzz in the market about the Far West Side, and the chatter that core Midtown was a thing of the past," Behler noted almost gleefully. The company inked roughly 260,000 square feet of leases in New York alone last quarter, taking its year-to-date total in the market to 405,000 square feet.
Peter Brindley, Paramount's executive vice president of leasing, was especially bullish on Midtown, citing how the submarket at large saw its highest quarterly leasing velocity in three years with more than 5 million square feet of leases signed in Q2. That number was 22 percent above the five-year quarterly average and represented the "fifth consecutive quarter in which Midtown has experienced more than 4 million square feet of leasing activity," he added.
Boston Properties
The nation's largest office landlord cited an array of recent accomplishments across the country, such as securing Verizon to a 440,000-square-foot lease to anchor a new office tower at The Hub on Causeway mixed-use development in Boston and teaming with Canada Pension Plan Investment Board to acquire the 1.2-million-square-foot Santa Monica Business Park in Santa Monica, Calif., for $627.5 million.
In New York, the firm's most high-profile move was finalizing a 25 percent stake in the Moinian Group's 3 Hudson Boulevard office development on Manhattan's Far West Side. Boston Properties CEO Owen Thomas described the Hudson Yards property as "one of the most attractive large-tenant [office development] sites in New York City," and said the REIT "will assume operational control of the development" as part of the deal—with Boston Properties now focused on securing a "significant anchor tenant" before advancing with construction on the 2-million-square-foot office tower.
Company President Doug Linde was particularly enthusiastic about the firm's progress at Citigroup (C)'s former headquarters building at 399 Park Avenue, where it had 480,000 square feet of availabilities only last October but has successfully lined up tenants—including financial firms Owl Rock Capital Partners and Peterson Management—to take 460,000 square feet of that space in the course of less than a year. Boston Properties is also on the verge of finalizing a 30-year lease with an undisclosed tenant—reportedly NYU Langone Medical Center—to take all 195,000 square feet of office space at the recently redeveloped 159 East 53rd Street.
Meanwhile, Thomas said the company is "working toward bringing in a capital partner" to assist its long-gestating redevelopment of the Metropolitan Transportation Authority's former headquarters building at 343 Madison Avenue in Midtown.
And at Dock 72 in the Brooklyn Navy Yard—Boston Properties' first-ever Brooklyn project, done in partnership with Rudin Management Company and anchor tenant WeWork (WE)—Linde said base building construction on the development is "winding down" and work is currently underway on building out its ample 35,000 square feet of amenities.
Linde added that despite "a few ongoing dialogues" with prospective tenants for the 675,000-square-foot waterfront property, "large tenant activity has been light" and Brooklyn tenants at large "have more of a just-in-time perspective" toward committing to space. He said the company doesn't expect leasing to pick up "until the amenity spaces are closer to completed" toward the end of this year.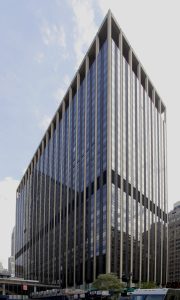 Vornado Realty Trust
While Paramount and Boston Properties were defiant in backing their core Midtown market, Vornado Chairman and CEO Steven Roth yet again talked up his firm's West Side holdings. He expressed particular enthusiasm at last month's news that L&L Holding Co. and Normandy Real Estate Partners are shelling out $900 million to acquire the Terminal Stores building in West Chelsea—a property which he noted "happens to be across the street" from Vornado's own 260 11th Avenue, where the REIT has tapped starchitect Richard Rogers to convert the former Otis Elevator Building into creative office space.
Vornado inked roughly 611,000 square feet of New York office leases in the second quarter at what it deemed "record" average starting rents that eclipsed $88 per square foot, while also signing around 49,000 square feet of street retail leases at average starting rents of just under $166 per square foot. Among the biggest signed deals were NYU Langone expanding to 632,000 square feet at One Park Avenue and Facebook continuing to expand at 770 Broadway, taking the social media giant's footprint at the Noho building to more than 750,000 square feet.
In the retail market, Roth noted "very little activity" as far as asset sales and said the company is seeing "the first signs of distress" on properties that transacted at the peak of the market, were "loaded up with debt" and are now "starting to struggle." He expressed his wariness about Vornado entering the market to acquire retail assets anytime soon, saying that if the opportunity came about to "buy an asset at a 10 percent discount to what it sold for three or four years ago [at the top of the market], we wouldn't touch it with a 10-foot pole."
However, David Greenbaum, the president of Vornado's New York division, noted that retail leasing activity "has increased this year as brands begin to take advantage of lower asking rents" from landlords. Vornado, one of the largest landlords on the high-end upper Fifth Avenue retail corridor, is also "100 percent leased for term" among its assets on Fifth Avenue and in Times Square, Roth said—with its only pending vacancy being at 689 Fifth Avenue, where Spanish clothing designer Massimo Dutti's "below market" lease expires next year.
And Roth reiterated Vornado's plan to transform its adjacent buildings at 1 Penn Plaza and 2 Penn Plaza into an integrated 4.2-million-square-foot office complex that is "literally on top of the busiest train hub in North America" in Penn Station. As the company has previously indicated, Vornado hopes its extensive renovation and repositioning of the assets will lift in-place rents at the properties from the low $60s per square foot to up to $90 per square foot.
Roth also confirmed that the REIT has "abandoned" the prospect of a "teardown" of 2 Penn Plaza that would have allowed it to build an entirely new structure on the site. Instead, Vornado is going "full-steam ahead on the redevelopment and reimagining" of the building in conjunction with 1 Penn Plaza, where it is kicking off a $200 million renovation this year.
1 Park Avenue
,
1 Penn Plaza
,
1325 Avenue of the Americas
,
159 East 53rd Street
,
2 Penn Plaza
,
260 11th Avenue
,
3 Hudson Boulevard
,
31 West 52nd Street
,
343 Madison Avenue
,
345 Madison Avenue
,
399 park avenue
,
689 Fifth Avenue
,
770 Broadway
,
Albert Behler
,
Brooklyn Navy Yard
,
Canada Pension Plan Investment Board
,
David Greenbaum
,
Dock 72
,
Douglas Linde
,
Massimo Dutti
,
McGraw-Hill Education
,
Normandy Real Estate Partners
,
NYU Langone Medical Center
,
One Park Avenue
,
Otis Elevator Building
,
Owen Thomas
,
Owl Rock Capital Partners
,
Penn Station
,
Pennsylvania Station
,
Peter Brindley
,
Pillsbury Winthrop Shaw Pittman
,
Richard Rogers
,
Santa Monica Business Park
,
Steven Roth
,
Terminal Stores
,
The Hub on Causeway
,
Verizon
,
Boston Properties
,
Citigroup
,
Facebook
,
L&L Holding Company
,
Paramount Group
,
Peterson Companies
,
Rudin Management Company
,
SL Green
,
The Moinian Group
,
Vornado Realty Trust
,
WeWork