For Vornado, It's All About the Power of the Penn
While competitors build new neighborhoods on the West Side, the REIT looks to unlock the upside within its 9-million-square-foot portfolio along West 34th Street
---
---
It's no secret that developers like Related Companies, Brookfield (BN) Property Partners, Tishman Speyer and the Moinian Group are recalibrating the Manhattan office market via ambitious, skyscraping office developments rising along the West Side.
But a couple blocks east of Related's Hudson Yards and Brookfield's Manhattan West projects, the Steven Roth-led Vornado Realty Trust is taking a different approach to make sure it isn't left behind its competitors: it has looked within, to the roughly 9 million square feet of commercial property that the real estate investment trust already owns in the area surrounding the Pennsylvania Station transit hub, more succinctly known as Penn Plaza.
With 6.7 million square feet of that footprint comprised of office space, the area comprises nearly 40 percent of the company's New York City office portfolio, according to Vornado investor presentation materials. As Roth himself has highlighted on earnings calls, Vornado's strategy to compete in a rapidly evolving Manhattan office environment consists of a large-scale rehabilitation of its Penn Plaza holdings that would bring them up to par with contemporary standards and, in turn, unlock higher office rents at those properties.
"There are multiple facets of what we intend to do in Penn Plaza," Roth said on Vornado's first-quarter 2015 earnings call. "To me, the defining part of it is to take all the office space we own there and to make it much more valuable. Improving those buildings for our office customers is really the main event."
While located in a bustling, transit-rich neighborhood on the southern fringe of Midtown, the area surrounding Penn Station has never been anyone's idea of a premier Manhattan office destination, and the numbers reflect that reality. Vornado claims average in-place rents of $61 per square foot across its six-building Penn Plaza portfolio—substantially below the roughly $79-per-square-foot average asking rents in Midtown and nearly $73-per-square-foot average asks in Midtown South at the end of 2017, according to CBRE (CBRE) data provided to Commercial Observer.
Much of Vornado's office stock in the neighborhood—most notably the massive 57-story, 2.5-million-square-foot 1 Penn Plaza and the neighboring 31-story, 1.6-million-square-foot 2 Penn Plaza—is aging at a time when rents for newly constructed office product are commanding a hefty premium (27.5 percent at the end of 2017, according to Cushman & Wakefield (CWK) data) over those for existing Manhattan Class A office stock.
"The market wants new space, and when it can't get new space it wants better space," Nicole LaRusso, the director of research and analysis for CBRE's tri-state region, told CO. "Anything that's been substantially renovated with better building systems, faster elevators, more power, more [natural] light—all of these things that bring the building closer to what you can get from new construction—that kind of space is very valuable in the market. If you don't have that, then the market gets harder."
Vornado has certainly looked to capitalize on this trend via new developments of its own; the REIT is nearing completion on boutique office projects at 61 Ninth Avenue and 512 West 22nd Street, both in Chelsea, which seek to serve the market for newly constructed office space within steps of the High Line.
But those projects, each spanning less than 200,000 square feet, are a relative drop in the bucket compared to the company's expansive Penn Plaza footprint—and the value-creation potential of rehabilitating those properties to realize higher rents.
"They own a very high concentration of the office product in [Penn Plaza], especially the Class A product," JLL (JLL) Executive Managing Director Jim Wenk said. "I think the way they're looking at it is that, with the amount of money they're going to invest in those properties, they will be the number-one alternatives [for tenants] next to new construction. Short of a brand new building that is going to command rents in the $90s and $100-plus [per square foot], they'll have the next best premier office stock—a building that might be 50 years old but has all the systems and amenities and, very importantly, the location."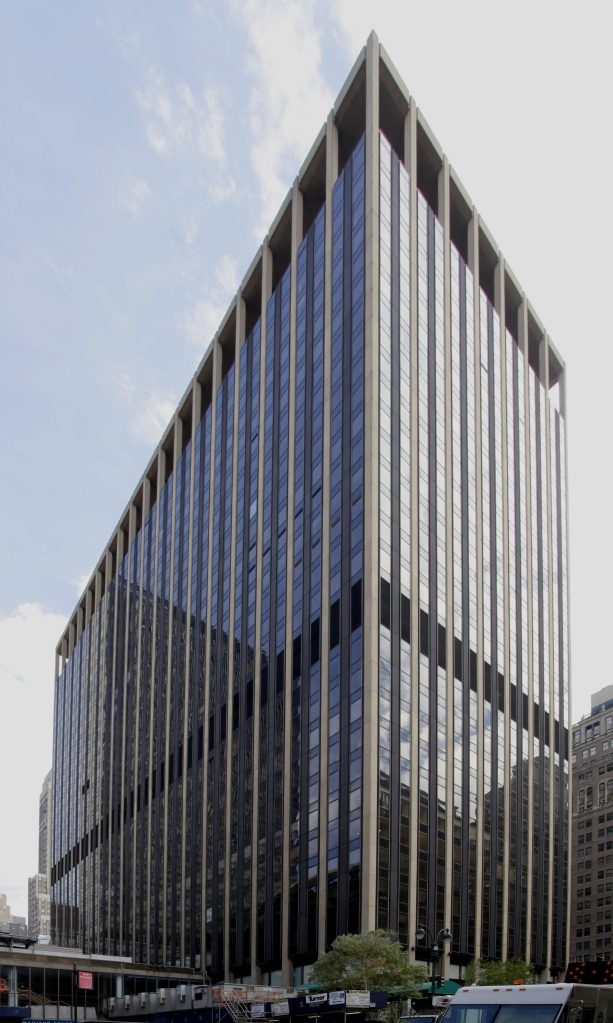 Vornado has already set this approach into motion at a couple of properties, including 330 West 34th Street and 7 West 34th Street, both of which received significant renovations—helmed by architecture firms HOK and MdeAS, respectively—that were completed in 2014. The former has subsequently drawn in tenants including sportswear retailer Foot Locker, which moved its corporate headquarters to a 145,000-square-foot space that was reportedly asking rents in the $70s per square foot in 2015; the latter is fully leased to e-commerce giant Amazon (AMZN), which took all 470,000 square feet of space in the building shortly after its renovation in 2014.
But the most ambitious aspects of Vornado's vision for the area have been slower-gestating—particularly its intention to combine 1 Penn Plaza and 2 Penn Plaza into a connected office complex spanning more than 4 million square feet, which Roth first discussed on earnings calls in 2016. On 2 Penn, in particular, the company has been mostly silent since concept renderings emerged that year for a gleaming glass overhaul of the staid 1968 building's facade, helmed by renowned Danish architect Bjarke Ingels. (Both Vornado and Ingels' firm, Bjarke Ingels Group, declined to comment for this story.)
There's been similarly little movement on Vornado's long-running plans to redevelop the underperforming, century-old Hotel Pennsylvania at 401 Seventh Avenue into a supertall office tower known as 15 Penn Plaza—a proposal that dates back a decade, before the global financial crisis forced the REIT to shelve Pelli Clarke Pelli Architects' design for the project. Despite a New York Post report last spring that investment banking giant Morgan Stanley was interested in anchoring 15 Penn, no further news has emerged on the development.
But Vornado's plans for 1 Penn, while yet to commence, have come more clearly into focus recently. The company intends to start work on renovating the imposing 1972 skyscraper—which will be rebranded as Penn 1—in the second half of this year, and plans to spend around $200 million on the project, per its investor presentations. The work is expected to yield upgraded lobby entrances and new tenant amenity spaces and elevators, as well as improvements to the surrounding retail storefronts and public plazas and a renovated entrance for the building's underground connection to Penn Station.
Compared to average in-place office rents of $64 per square foot, Vornado hopes to command average rents of $84 per square foot upon redeveloping 1 Penn Plaza—a jump that would boost the building's net operating income by $48 million, as noted in investor presentations. Rents in the mid-$80s, according to the REIT, would still be well below the $110 per square foot average asking rents seen at Hudson Yards several blocks west—a figure that would both justify the higher asks at the renovated Penn 1 while also positioning it as a more affordable alternative in the booming West Side office market.
"There was a dislocation of office tenants who left Midtown for Hudson Yards because they were looking for modern space that hadn't existed, and the beneficiaries of that are going to be the surrounding buildings [on the West Side]," said Newmark (NMRK) Knight Frank Executive Vice Chairman Brian Waterman. "There are plenty of tenants who will want to be in this newest neighborhood, who will want that secondary product that's not at Class A rents."
The area's growing appeal is already evident. Richard Persichetti, Cushman & Wakefield's director of research for the tri-state region, described the Penn Station office market (including Hudson Yards and Manhattan West) as "the hottest submarket in the city" over the past 18 months, citing the percentage of the overall inventory leased in that time as a key indicator.
Nearly 4.1 million square feet of Penn Station area's overall 24.8 million square feet of office stock was leased out from January 2017 through February 2018, according to C&W data provided to CO—meaning that 16.5 percent of all of the neighborhood's available office space was transacted during that time frame. By comparison, only one other Midtown office submarket tracked by the brokerage, Times Square South, broke 10 percent. (C&W categorizes the Penn Station area as part of the Midtown market.)
Speaking of Penn Plaza specifically, Lou D'Avanzo, vice chairman and managing principal at C&W's Midtown Manhattan office, said Vornado's holdings are primed to benefit from their location "right in the middle of" surrounding markets from Times Square to Hudson Yards, as well as their accessibility to Penn Station's bountiful transit offerings. Those offerings will only be bolstered by Vornado and Related's joint redevelopment of the Farley Post Office Building into the Moynihan Train Hall—a project featuring a sizable commercial component that will add roughly 700,000 square feet of new office space to Vornado's Penn Plaza office portfolio.
"They've got a great location—how can you go wrong investing in buildings that are on top of a major transportation hub?" D'Avanzo said. "People are going to be able to tap into all that's going into Hudson Yards and be closer to mass transit. As the stock gets upgraded in the Penn Station area, people will go there not necessarily as a value play, but because they want to be there."
Alexander Goldfarb, a managing director and senior REIT analyst at investment bank Sandler O'Neill + Partners, noted that various proposals to revitalize the Penn Station area have been floated for decades, to no avail. "[Vornado has] been talking about this in different iterations for 15 years, if not longer."
But he added that, should Vornado go through with its large-scale vision for the neighborhood, there's no reason why it shouldn't be able to sell the market on Penn Plaza as a premier office destination—and realize the potentially lucrative upside of that in the process.
"If the area around Penn Station looks like it does now, nobody's going to pay $80 [per square foot]," Goldfarb said. "But if you present people with a product and a vision—if you show them what you're going to do to transform [the area]—then you'll get tenants to pay that."
1 Penn Plaza
,
15 penn plaza
,
2 Penn Plaza
,
330 West 34th Street
,
512 West 22nd Street
,
61 Ninth Avenue
,
7 West 34th Street
,
Alexander Goldfarb
,
Bjarke Ingels
,
Bjarke Ingels Group
,
Brian Waterman
,
Foot Locker
,
HOK
,
Hotel Pennsylvania
,
Hudson Yards
,
James A. Farley Post Office
,
Jim Wenk
,
Lou D'Avanzo
,
Manhattan West
,
MdeAS Architects
,
Moynihan Station
,
Moynihan Train Hall
,
Nicole LaRusso
,
Pelli Clarke Pelli Architects
,
Penn One
,
Penn Plaza
,
Penn Station
,
Pennsylvania Station
,
Richard Persichetti
,
Sandler O'Neill + Partners
,
Steven Roth
,
Amazon
,
Brookfield
,
CBRE
,
Cushman & Wakefield
,
JLL
,
Newmark
,
Related Companies
,
Vornado Realty Trust