The Power Property Sales of the Year
Despite a recent investment sales slowdown, the past 12 months saw its fair share of market-shifting deals
---
---
New York City's investment sales market overall may have continued to struggle in 2017—with both total number of transactions and dollar volume sliding for the second consecutive year—but that doesn't mean major, market-shifting deals aren't still getting done.
In fact, the past 12 months has seen two of the largest property sales in the city's history take place, each passing the stratospheric $2 billion mark. Last May, Chinese conglomerate HNA Group closed its $2.2 billion acquisition of 245 Park Avenue in Midtown (though the cash-strapped firm is now seeking to offload the office building, less than a year later). And this March, tech giant Google (GOOGL) sealed its $2.4 billion purchase of the Chelsea Market building at 75 Ninth Avenue in Chelsea.
Those two megadeals top Commercial Observer's list of the 10 largest investment sales transactions of the past year, compiled with data provided to CO by CBRE. The list includes deals that closed in the 12 months through the end of the first quarter of this year—everything from April 2017, when our previous Power 100 issue was released, through March 2018.
That means that a few major transactions that have yet to close didn't quite make the cut, including Silverstein Properties' $1 billion-plus acquisition of television network ABC's Upper West Side headquarters, first reported by CO earlier this month; Rockpoint Group and Brooksville Company's $905 million purchase of Starrett City in East New York, Brooklyn; and WeWork and Rhone Capital's deal to buy Lord & Taylor's flagship Midtown store for $850 million.
But as the following list attests, even excluding those goliaths, New York City did just fine when it came to attracting serious investment dollars in commercial real estate.
Chelsea Market, 75 Ninth Avenue
Price: $2.4 billion
Buyer: Google
Seller: Jamestown
The Silicon Valley behemoth's acquisition of the 1.2-million-square-foot Chelsea property, which closed in March, is a testament to Google's ever-growing appetite for Manhattan real estate—particularly in the West Side neighborhood where it has gradually pieced together a formidable campus. It was only a little more than seven years earlier, in 2010, that the company acquired the its current New York City headquarters building at 111 Eighth Avenue for $1.77 billion.
Under the terms of the Chelsea Market deal, Jamestown will continue to operate the popular retail and food hall at the former Nabisco factory and keep the branding rights and intellectual property connected to the Chelsea Market name. Google, which already occupies 400,000 square feet at the building, is expected to further grow its footprint as existing office tenants like Major League Baseball and the Food Network see their leases expire.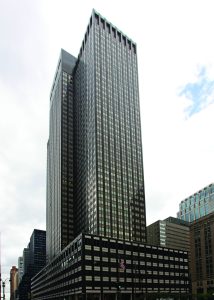 245 Park Avenue
Price: $2.21 billion
Buyer: HNA Group
Seller: Brookfield (BN) Property Partners; New York State Teachers' Retirement System
HNA Group made waves last spring with its massive acquisition of the 45-story, 1.8-million-square-foot Midtown skyscraper, which represented arguably the high-water mark of Chinese investment in the New York City real estate market.
But a lot can change in a year, as evidenced by the fact that the building is now once again for sale. In February, Bloomberg reported that HNA was placing 245 Park Avenue on the market as part of a $4 billion selloff of its U.S. real estate assets—a situation exacerbated by Chinese regulatory controls on foreign investment and HNA's rapidly escalating debts.
As CO reported in March, a number of firms have shown an interest in picking up 245 Park Avenue, which is anchored by French financial services firm Société Générale. Among the interested parties is the John Kukral-led Northwood Investors, which picked up HNA's 1180 Avenue of the Americas office building for $305 million earlier this year. But sources indicated that HNA might be skittish about accepting a price at the current market value, which would be well below what it paid for the asset.
One Worldwide Plaza, 825 Eighth Avenue
Price: $840.1 million (partial stake)
Buyer: RXR Realty; SL Green (SLG) Realty Corp.
Seller: New York REIT
RXR Realty finally got its hands on the 49-story, roughly 2-million-square-foot Midtown West office tower last fall, this time with the help of partner SL Green Realty Corp. The Scott Rechler-led firm had previously missed out on acquiring a stake in the property in 2013—subsequently filing a lawsuit against seller George Comfort & Sons and successful buyer American Realty Capital claiming it was wrongfully edged out of the deal.
Four years later, RXR came back for the building, teaming with SL Green to acquire a roughly 49 percent stake that valued One Worldwide Plaza at $1.725 billion. The buyers purchased the stake from former American Realty Capital affiliate New York REIT, which in the wake of financial struggles has been liquidating its assets—though not before exercising an option last June to buy out virtually the rest of George Comfort's 51 percent interest in the property for $277 million and bumping its own stake to nearly 99 percent.
New York REIT still holds on to a slight, 50.1 percent majority interest in the building, with CEO Wendy Silverstein having indicated that the company may hold onto the asset for several more years in order to maximize its return.
1515 Broadway
Price: $838.5 million (partial stake)
Buyer: Allianz SE
Seller: SL Green Realty Corp.
In November, German financial services giant Allianz agreed to acquire a 43 percent interest in the 57-story, 1.9-million-square-foot Times Square office tower, which is anchored by media conglomerate Viacom. The deal, which fully closed in February, valued the property at $1.95 billion.
For Allianz, the purchase represented the latest step forward for its ever-growing New York City real estate footprint, with the bank having also acquired a similar 44 percent minority stake in 10 Hudson Yards from Tapestry Inc. (formerly Coach Inc.) and the Kuwait Investment Authority for $420 million in 2016.
For SL Green Realty Corp., the transaction represented a healthy recapitalization on an asset that it had acquired alongside Ivanhoé Cambridge for $480 million in 2012. SL Green bought out Ivanhoé in 2011 to acquire full control of 1515 Broadway in a deal that valued the property at $1.2 billion; it subsequently pursued an extensive renovation of the building, and locked up Viacom to a long-term lease renewal in 2012.
One Liberty Plaza
Price: $742.4 million (partial stake)
Buyer: Blackstone (BX) Group
Seller: Brookfield Property Partners
Brookfield Property Partners was reportedly originally looking to offload the entire 54-story, 2.3-million-square-foot Financial District office tower for close to $1.6 billion last year, but eventually settled with selling a 49 percent stake in the property to Blackstone Group for a mere $742.4 million.
The deal closed in December, just seven months after Brookfield offloaded its interest in 245 Park Avenue in a deal valued at just over $2.2 billion. Both moves exemplified the commercial real estate giant's strategy of cashing in on existing assets to fund other investments—such as the development of its Manhattan West office complex on the Far West Side.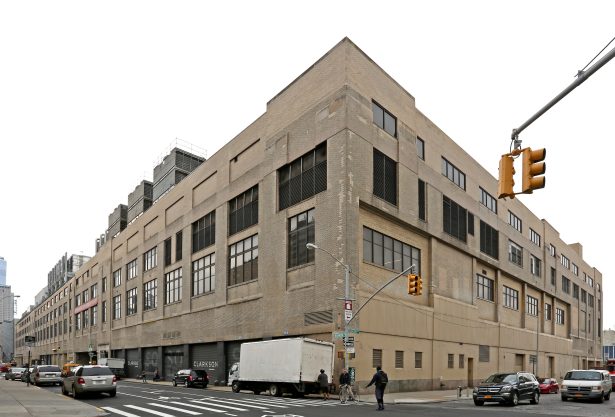 St. John's Terminal, 550 Washington Street
Price: $700 million
Buyer: Oxford Properties Group; Canadian Pension Plan Investment Board
Seller: Westbrook Partners; Atlas Capital Group
Westbrook Partners and Atlas Capital Group decided to shed the southern portion of the sprawling Hudson Square redevelopment site, located just steps from the Hudson River, to Oxford and partner Canadian Pension Plan Investment Board for $700 million. The transaction, which was first reported last September, ended up closing in January.
Oxford, which holds a 52.5 percent majority stake in the southern site, and CPPIB will look to develop offices and retail at the 1.3-million-square-foot commercial component of the three-block St. John's Terminal site. Westbrook and Atlas, meanwhile, retain the right to build a 400,000-square-foot residential complex on their northern parcel that could hold as many as 1,500 units.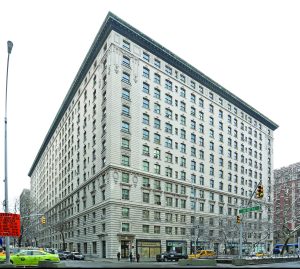 The Belnord, 2360 Broadway
Price: $660 million (partial stake)
Buyer: Westbrook Partners
Seller: HFZ Capital Group
Having sold off a chunk of the St. John's Terminal site, Westbrook Partners turned its attentions to the Upper West Side, where Ziel Feldman's HFZ Capital Group has been pursuing a condominium conversion of the historic Belnord rental building.
Westbrook's $660 million investment in the project closed in March, with the firm now an equity partner in the Robert A.M. Stern-helmed overhaul of the 14-story, 215-unit property. HFZ plans to gradually convert the building's rental apartments into condos as they vacate, with the firm targeting a $1.35 billion sellout at the Belnord.
85 Broad Street
Price: $652 million
Buyer: Ivanhoé Cambridge; Callahan Capital Properties
Seller: Beacon Capital Partners; MetLife
Beacon Capital Partners and MetLife put the 30-story, 1.1-million-square-foot Financial District office tower up for sale in early 2017, and found a buyer in the duo of Ivanhoé Cambridge Cambridge and Callahan Capital Properties not long after. The $652 million deal closed at the end of last May.
Goldman Sachs developed 85 Broad Street as its corporate headquarters in the early 1980s and occupied the building until decamping in 2010 for its new custom-built office tower at 200 West Street in Battery Park City. MetLife acquired the property from Goldman in the mid-1980s, while Beacon Capital picked up a 50 percent stake in 2014. Today, the property is occupied by tenants including WeWork, Oppenheimer & Co., Nielsen and Vox Media.
The purchase added to Ivanhoé and Callahan's jointly operated portfolio of Manhattan office buildings, which include 3 Bryant Park, 1211 Avenue of the Americas and 1411 Broadway.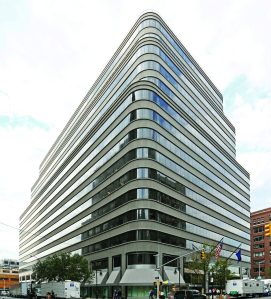 375 Hudson Street
Price: $580 million
Buyer: Trinity Real Estate; Norges Bank; Hines
Seller: Tishman Speyer
The trio of Trinity Real Estate, Norges Bank and Hines have become serious players in the Hudson Square district in recent years, namely through the 11-building portfolio of properties in the neighborhood co-owned by the three companies and managed by Hines.
The leasehold acquisition of the 19-story, 1.1-million-square-foot 375 Hudson Street added to that impressive collection of holdings in the area. The Trinity Church real estate arm already owned the land under the office building, which Tishman Speyer built in 1987, but bought back the developer's ground lease on the property last August for $580 million.
Concurrently, Trinity brought on partners Norges and Hines as co-owners on the ground lease; Norges paid $223 million to acquire a 48 percent interest, while Hines picked up a 1 percent stake as well as operating partner status at 375 Hudson Street. The building is anchored by advertising agency Saatchi & Saatchi.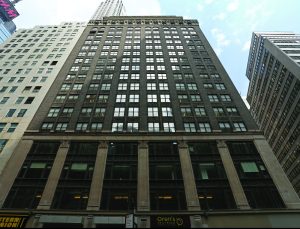 1440 Broadway
Price: $520 million
Buyer: CIM Group
Seller: New York REIT
New York REIT continued its liquidation selloff (see One Worldwide Plaza) by offloading the 25-story, 749,000-square-foot Garment District office building to Los Angeles-based CIM Group for $520 million. The transaction closed in December.
The REIT had owned 1440 Broadway since late 2013, when it acquired the property from Rockpoint Group and Monday Properties for just under $529 million; four years later, in the midst of an ongoing liquidation precipitated in part by corporate governance issues, New York REIT sold the asset at a slight loss. CIM, meanwhile, added to a New York City portfolio that includes the ultra-luxury condo tower at 432 Park Avenue.
1440 Broadway
,
1515 Broadway
,
225 West 86th Street
,
2360 Broadway
,
245 Park Avenue
,
375 Hudson Street
,
550 Washington Street
,
75 Ninth Avenue
,
825 Eighth Avenue
,
85 Broad Street
,
Allianz
,
Atlas Capital Group
,
Beacon Capital Partners
,
Callahan Capital Properties
,
Canadian Pension Plan Investment Board
,
Chelsea Market
,
HFZ capital Group
,
HNA Group
,
Ivanhoe Cambridge
,
MetLife
,
New York REIT
,
New York State Teacher's Retirement System
,
Norges Bank
,
One Liberty Plaza
,
One Worldwide Plaza
,
power 100
,
Power 100 2018
,
St. John's Terminal
,
The Belnord
,
The Power 100
,
Trinity Real Estate
,
Westbrook Partners
,
Blackstone
,
Brookfield
,
CIM Group
,
Google
,
Hines
,
Jamestown
,
Oxford Properties Group
,
RXR Realty
,
SL Green
,
Tishman Speyer