Four Reasons Why Oxford Properties' Big Bet on St. John's Terminal Will Pay Off
And One Reason They Should Be Cautious
---
---
Oxford Properties Group and the Canadian Pension Plan Investment Board (CPPIB) announced yesterday that they closed on the $700 million St. John's Terminal redevelopment project in Hudson Square.
The acquisition of the south portion of the site at 550 Washington Street from Westbrook Partners and Atlas Capital Group was major news, with Oxford owning a 52.5 percent interest in the project and control of the development and Canada Pension taking the remaining stake.
The City Council granted a zoning variance in December 2016 for the 3.3-acre project, which is supposed to include 1,500 rental apartments along with a mix of office and retail, when it was completely under Westbrook and Atlas. Westbrook and Atlas landed $300 million in financing from Morgan Stanley (MS) last year and used $100 million to acquire 200,000 square feet of development rights, as CO previously reported. (Westbrook and Atlas Capital will continue to own the northern portion of the site.)
St. John's Terminal is not Oxford's first rodeo on the Far West Side of Manhattan; the company is currently working with Related Companies on the Hudson Yards megaproject.  
We talked to real estate experts to get their takes of why spending $700 million for this project was a savvy move for Oxford and CPPIB.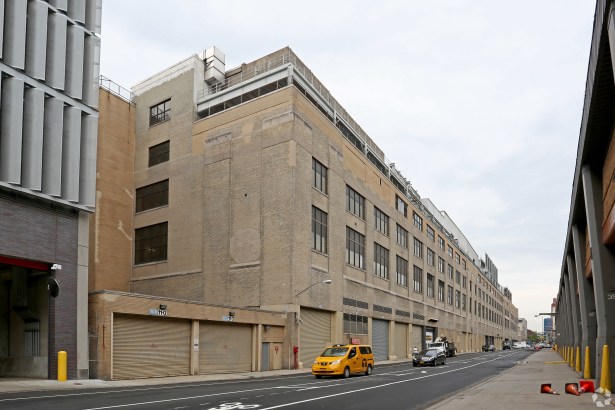 Hudson Square is ripe for redevelopment (and close to cool neighborhoods)
Hudson Square hugs up next to Greenwich Village and West Village to the north and Tribeca to the south. Not to mention Soho is to the east. It would be difficult to find four trendier neighborhoods on the island of Manhattan.
"What's the old real estate adage—location, location, location, and this location has a tremendous amount of untapped potential," said Daria Salusbury, the president and CEO of Salusbury & Co., which works on branding and consulting for developers.  "And Oxford is very, very smart, and they are very well financed."
Salusbury was a senior vice president with Related Companies and worked on the development of the firm's 261 Hudson Street project in the area before she left in 2016. The Robert A.M. Stern-designed rental building features approximately 200 apartments.
She added, "In three minutes you are sitting in Tribeca at a restaurant. And in five minutes you are in Soho sitting in a restaurant. In six minutes you are in West Village sitting in a restaurant. How can you go wrong?"
Plus, while the area was long known for its extensive warehouses, as development has thrived in the surrounding neighborhoods, Hudson Square has come into its own.
"Ride your bike down the West Side Highway and you'll see the amount of development right off the highway on the West Village," Steven Kaufman, the president of Kaufman Organization, said. "This is just south of all of that. It's in between the West Village and Tribeca. And it's like a hole in a doughnut there. It's very ripe for development.
He added, "And it's a big site. It'll be a city of it's own. It could be like Battery Park City."
…And has no landmark issues!
Plus, it's not like the New York City Landmarks Preservation Commission can get involved like in other neighborhoods nearby.
"Greenwich Village, Tribeca and Soho are protected because of the landmark issues. [But] it's something that they don't have to worry about, and here they can build something of scale and size," said Robert Dankner, the president of Prime Manhattan Residential. "The fact that it is not landmarked and it's one step to the left—it's a very obvious next step."
The Hudson River Park is a perfect amenity for future tenants.
The 550-acre park that extends from Battery City to the West 59th Street offers a plethora of activities for locals. It attracts 17 million visits each year, according to the Hudson River Park Trust's website.
'[St. John's Terminal] is a two-minute walk to the esplanade. And there are a lot of possibilities there," Salusbury said. "Look how much money the city put in to create that esplanade. You can bike with your kids or take a walk."
They're not going into Hudson Square alone.
Oxford Properties is certainly not the only ones working on projects in the area. Hines, Norges Bank Real Estate Management and Trinity Church Wall Street has an 11-building portfolio of 5 million square feet in the area, the majority of which is office space. They have CBRE (CBRE) and Newmark (NMRK) Knight Frank leasing up the buildings, as CO reported in 2016.
"Hudson Square has undergone an exciting evolution from New York City's printing district to a vibrant mixed-use neighborhood with an impressive mix of creative companies, new residential opportunities, local eateries and other businesses that call Hudson Square home," said Ellen Baer, the president of the Hudson Square Connection. "A waterfront community, amazing access to public transportation and lower west side location, Hudson Square is taking its place as a truly great New York neighborhood."
But one note of caution for the developers trying to outdo other trendier areas nearby:
"As long as [Oxford and CPPIB] don't get too ambitious with pricing and they recognize that it's one step to the left, they should have a home run," Dankner said. "They can't get too ambitious because they have to look at [other projects] like Greenwich Lane, which is in the heart of the Village. That's where everyone wants to be. In Hudson Square, there are still some spotty streets. You are not just there yet. It doesn't have the neighborhood cleaners. It doesn't have restaurants. It's not old enough. It's new. History has to be created there. It doesn't have personality [yet]."
261 Hudson Street
,
550 Washington Street
,
Atlas Capital Group
,
Canadian Pension Plan Investment Board
,
Daria Salusbury
,
Ellen Baer
,
Hudson Square Connection
,
Norges Bank Real Estate Management
,
Robert A.M. Stern
,
Robert Dankner
,
Salusbury & Co.
,
St. John's Terminal
,
Steven Kaufman
,
Trinity Church Wall Street
,
Westbrook Partners
,
CBRE
,
Hines
,
Kaufman Organization
,
Morgan Stanley
,
Newmark
,
Oxford Properties Group
,
Related Companies