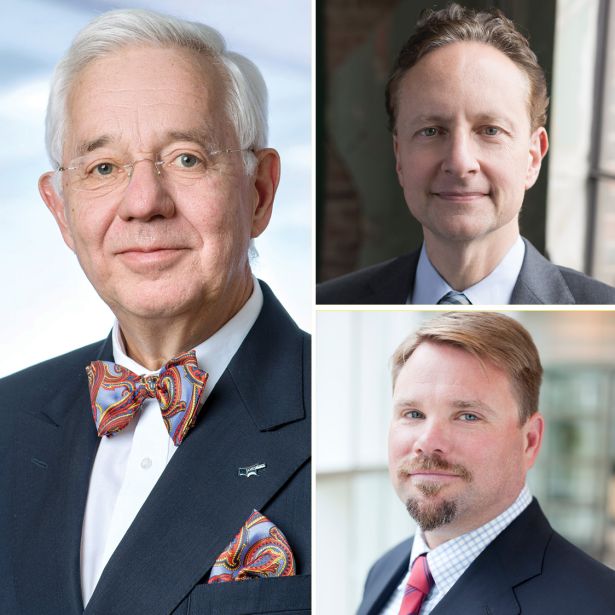 Christopher Kahl (left), Matt Bronfman (top right) and Michael Phillips (bottom right).
#30
Christoph Kahl, Matt Bronfman and Michael Phillips
Chairman; CEO; President at Jamestown
Last year's rank: 27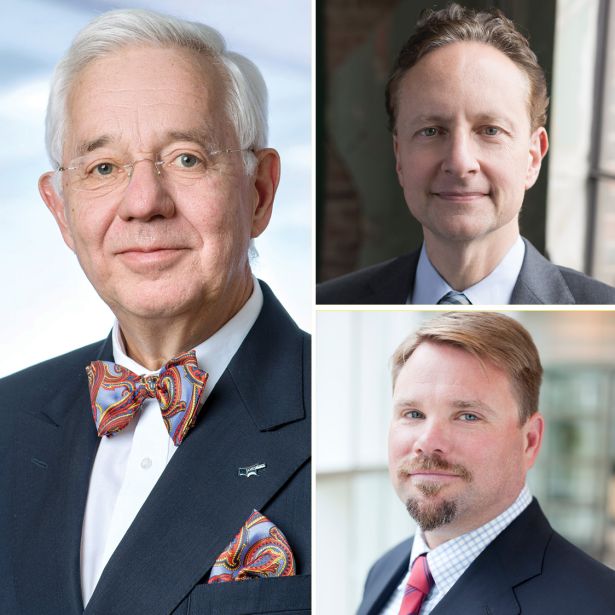 Jamestown rang out 2021 with more than just its iconic ball drop — it ended the year with nearly 1 million square feet of space leased at Brooklyn's Industry City since March 2020 and a plan to renovate its Times Square tower to reflect its metaverse counterpart. 
Companies like hair care company Prose, Porsche, Volvo and furniture rental firm Feather all took between 20,000 and 70,000 square feet at the 16-building campus in Sunset Park, Brooklyn, last year. Leasing doesn't show signs of slowing, with camera marketplace MPB expanding to a total of 44,000 square feet at the property, which is jointly owned by Jamestown, Belvedere Capital, Cammeby's International, FBE Limited and Angelo, Gordon & Co.
The growth at Industry City came as occupancy at the building increased to 60 percent at the start of 2021, Michael Phillips said. As of the spring, Jamestown's New York City office properties are on average 80 percent occupied by its tenants. 
Jamestown also expanded to new continents, adding outposts in Lisbon, Portugal and Milan, Italy, to hold offices in seven countries, said Phillips, who spoke with Commercial Observer from the Venice Biennale. The firm will continue to expand internationally and domestically. It broke ground in 2021 on more than 55 hospitality-heavy short- and long-term stay and workforce housing developments in U.S. states like Georgia, Florida and Virginia.
In a collision between the real and virtual world of Decentraland, Jamestown announced a $500 million redevelopment of One Times Square, which will open six floors of the building's interior to the public in a history exhibit, with augmented reality features that tie into the building's metaverse counterpart.
"I think it is going to be groundbreaking in terms of how people experience physical real estate, and how physical buildings expand their borders into the digital realm," Phillips said.