Yes, Chef! The Gastronomes Developers Call to Add a Dash of Buzz
José Andrés, Daniel Boulud, David Chang and others have that certain ingredient that real estate moguls love in their projects
---
---
When David Levinson erected Park Avenue's first major office tower in a half-century in 2015, he wanted a restaurateur whose reputation matched the resplendence of his Plaza District address.
So the L&L Holding chairman and CEO nabbed Daniel Humm, a James Beard Award-winning chef known for elevating Eleven Madison Park into one of the best-reviewed restaurants in the world, to turn 425 Park's Norman Foster-designed ground-floor space into the city's latest holy temple of gastronomy.
It did not go as planned. During the pandemic, Humm decided his flagship Eleven Madison restaurant would reopen with a vegan menu, but his idea to implement a similar concept 30 blocks north never cauliflowered.
The two parted ways in 2021, and Levinson immediately brought in Jean-Georges Vongeritchen, a superstar chef who knows his way around Manhattan's most discerning palates, to take over the 14,000-square-foot eatery.
"It was a very short conversation," Levinson said. "We're very careful about who we want to put in there. It's not just about renting the space. This is one of the most important office buildings in the world."
Real estate owners looking to make a splash with an anchor tenant are increasingly relying on high-wattage chefs to distinguish their Class A office towers from their competitors by turning their properties into dining destinations. That could mean a colossal food hall with vendors hawking haute cuisine or gussied-up gourmet dining for corporate expense account holders and splurging tourists alike — as long as the name is familiar to foodies.
"Developers clearly understand that well-known chefs and restaurateurs with a following are incredible amenities that generate excitement and bring foot traffic to the area for people to dine, drink, and shop in the area," said Andrew Rigie, executive director of the New York Hospitality Alliance, a trade group. "On the flip side, restaurateurs have an opportunity to partner with developers who invest a lot of money to build out restaurants and support the company's growth that they would not otherwise receive."
This gluttonous embrace predates the pandemic by several years, but developers are seeing better opportunities in hospitality as opposed to, say, a luxury department store, a pharmacy or a bank. Reservation searches in the beginning of last year rose 107 percent compared with 2021, and 43 percent of those were for high-priced meals, the New York Post reported. Meanwhile, the retail sector in general has been downsizing as it struggles with inflation and changes in consumer spending.
Levinson held off construction at his 56th Street restaurant for two years until he saw that people were more comfortable dining out, tourists were flocking to Midtown, and Manhattanites were returning to their offices with regularity. His restaurant, which will be named Four Twenty Five, is due to open in September.
"People are going to come into New York saying 'I want to get to 425 Park,'" he said. "The building is a big magnet. Jean-Georges is a big magnet. You'll have a real cross section."
To give the property that kind of cachet, there are only a handful of names to turn to.
__
David Chang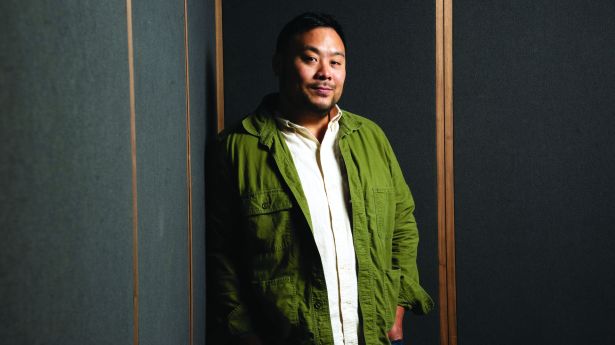 David Chang may owe his career to the humble pork bun, but his indefatigable work ethic and relatable charm played a starring role.
The Arlington, Va., native started work in the field by training at the International Culinary Center and answering phones in Tom Colicchio's Craft before briefly getting a gig at Cafe Boulud.
But fine dining frustrated him and he opened his own establishment, Momofuku Noodle Bar, in 2004. Momofuku Ssam Bar; Momofuku Ko, a 12-seat omakase-style restaurant that earned two Michelin stars; Momofuku Milk Bar, known for sweet, nostalgia-tinged desserts; and Má Pêche followed within the decade. 
Soon Chang was everywhere. He brought Momofuku satellites to Toronto, launched the fried chicken sandwich chain Fuku, partnered with Impossible Foods, and opened new restaurants in Los Angeles, Las Vegas and Washington, D.C. In 2019, he launched Momofuku Kawi, a contemporary Korean restaurant that some reviewers called the best reason to swing by Related Companies' Hudson Yards. (Related CEO Stephen Ross' RSE Ventures bought a minority stake in Chang's Momofuku Holdings in 2016.)
The pandemic forced Chang to temporarily close his restaurants and some never reopened, including Momofuku Kawi. But, during the pandemic, Chang opened a Momofuku Ssam huddled up next to The Fulton at South Street Seaport. Chang is undeterred and has shifted his focus to consumer packaged goods. Those steamed pork buns are still available in the East Village, too.
__
Marcus Samuelsson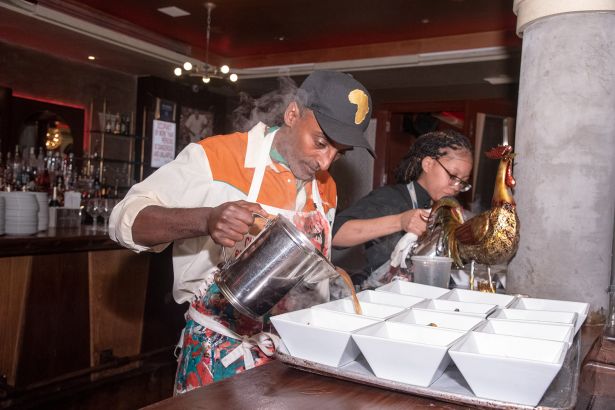 Marcus Samuelsson's meteoric rise in the culinary world mirrored that of his friend, President Barack Obama.
The Ethiopian-born Swedish-American chef became the youngest chef to ever receive a three-star review from The New York Times when he led Aquavit, and the James Beard Foundation named him best chef in New York City by 2003.
He served as Obama's guest chef at the president's first state dinner in 2009, and opened Red Rooster in Harlem the following year. That restaurant and a string of media appearances on the Food Network and Bravo catapulted the talented culinary wizard to global superstardom, and he launched his own travel series on PBS titled "No Passport Required."
Samuelsson has opened restaurants in the United Kingdom, Sweden and Norway, and planned new ventures in Greenpoint, Brooklyn, and Newark, N.J. In August 2020, Samuelsson joined a Mack-Cali subsidiary to open Marcus at NoHu, a rooftop restaurant in Weehawken, N.J. (It closed two years later.)
A year into the pandemic, Samuelsson made a deal with RXR to create a restaurant inspired by his Swedish and Ethiopian roots in the 5,000-square-foot ground floor of the century-old Starrett-Lehigh building in West Chelsea.
"Emerging from such a challenging year for restaurants and the arts in the city, this is an important time to be committed to New York and be a part of hopefully more Black-owned businesses opening in popular areas like Midtown and Downtown," Samuelsson said in a press release.
RXR is teaming Samuelsson's concept with a 13,000-square-foot food hall and marketplace run by Chicago's popular 16" on Center hospitality collective. It's expected to open this spring. 
"We've worked to bring even more fulsome, experiential programming to the building, and Marcus' restaurant will enhance this by bringing another convivial and culturally rich component," RXR Executive Vice President Whitney Arcaro said in the release.
__
José Andrés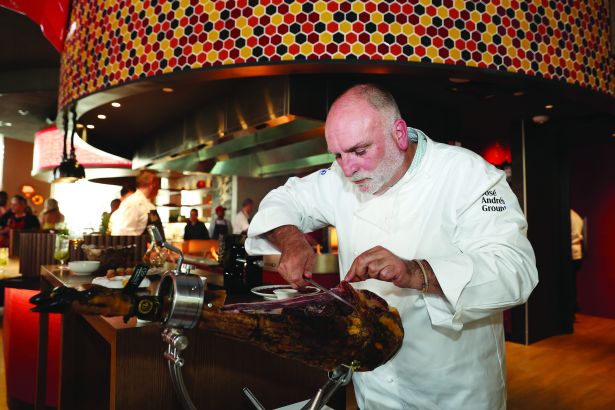 José Andrés might win a Nobel peace prize before he gets another Michelin star.
The Spanish-born humanitarian has inspired millions through the work of World Central Kitchen, which dispenses meals to refugees surviving natural disasters and fleeing armed conflict. His nonprofit sent relief teams to Poland and Ukraine last year, and served more than 1 million meals in the week after an earthquake ravaged Turkey and Syria.
Stateside, Andrés has notoriously discriminating tastes regarding the developers with which he partners. He had planned to open a restaurant in Trump International Hotel in Washington, D.C., but backed out of his contract in 2015 after Donald Trump disparaged undocumented immigrants during the launch of his presidential campaign.
Instead, Andrés partnered with Albert and Ferran Adrià and Related Companies to create Mercado Little Spain, a 35,000-square-foot Spanish food hall at the entrance of the Hudson Yards shopping mall, his first project in New York City. Seafood was flown in daily, while slices of Iberian ham, churros, sausages, pastries, coffee, Spanish oils and vinegars, and gin and tonics were available from a mix of kiosks.
The gourmet food court opened in March 2019 to rapturous reviews and kept serving tapas and other treats through the pandemic while other nearby eateries in Hudson Yards permanently shuttered their doors. 
Three years after the pandemic, Andrés' concept continues to draw tourists and locals to Hudson Yards with equal fervor. Good luck trying to get a seat at La Barra on the weekend.
__
Jean-Georges Vongerichten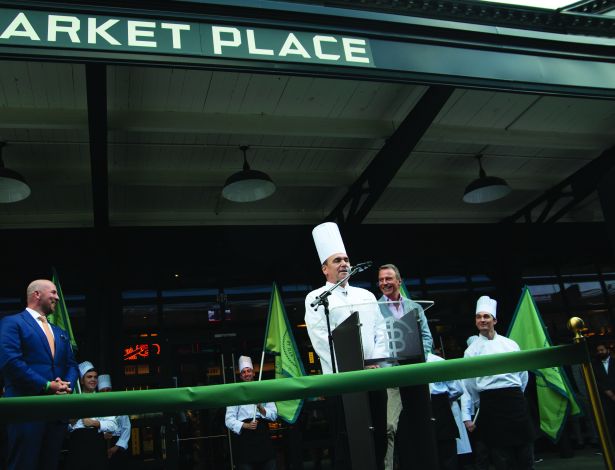 The Alsatian chef worked with some of the top chefs in France before arriving in New York in 1985 and opening Vong, a Thai-inspired twist on French cuisine, six months later.
The fusion-friendly trendsetter earned Vongerichten a passionate following, but the opening of Jean-Georges in the Trump International Tower and Hotel near Columbus Circle brought him global acclaim. By 2017, Vongerichten had 37 restaurants in his portfolio all over the world, with eight new eateries that year alone. 
One of his most ambitious projects was also in the pipeline. The Howard Hughes Corporation approached Vongerichten about converting the South Street Seaport's Tin Building site into an immersive culinary experience with dining venues, counter service, and grocery products that harkened back to its history as the country's largest fish market.
"Jean-Georges was the perfect partner to make that happen," David O'Reilly, CEO of the Howard Hughes Corporation, said. "In addition to his reputation and expertise, Jean-Georges had maintained a special connection to the Seaport and to the fish market — it was one of the first places Jean-Georges visited when he first came to New York City in 1985, and it remained a consistent source of culinary inspiration for him ever since."
His first restaurant on site, The Fulton, launched in May 2019, and the $195 million Tin Building opened to a rapturous embrace in September 2022. Vongerichten called it a "dream come true." Foot traffic at the Seaport was up 47 percent in 2022 compared with 2021, which O'Reilly credits to the success the Tin Building has had in drawing people downtown. Howard Hughes has since invested $45 million to purchase a 25 percent stake in Jean-Georges Restaurants.
"We see a significant runway ahead for Jean-Georges Restaurants to expand its already global platform, and for Howard Hughes to contribute to that anticipated growth while also enhancing the culinary offerings across our national portfolio," O'Reilly said.
This fall, Vongerichten will open a new venture at the two-level ground-floor space of 425 Park, although details have been scarce. L&L's Levinson hopes for a similar bounce in foot traffic for his Midtown office tower.
"It's a restaurant that will have a very broad constituency, and Jean-Georges has a reputation for perfection and outstanding quality," Levinson said. "We're delighted to have him there. It was a very good fit for the best office building in the Plaza District."
__
Daniel Boulud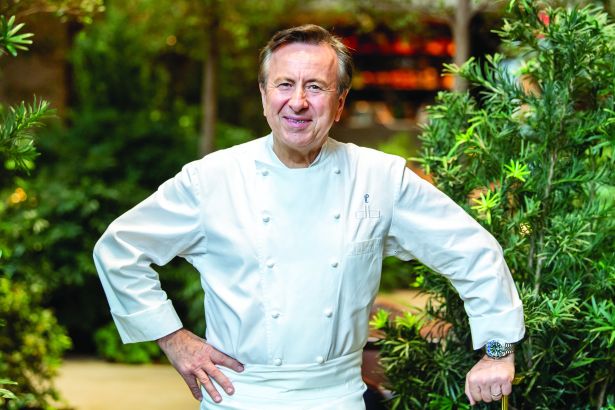 The Lyon-reared chef has carried on the tradition of French nouvelle cuisine since he opened his eponymous restaurant on the Upper East Side in 1993.
With contemporary takes on classic dishes like pot au feu royale, crab salad and canard a la press, not to mention a souped-up burger that was once the most expensive in the world and launched the trend of gourmet burgers worldwide, Boulud built a French-American empire that has spawned the globe with brasseries in Miami, Singapore, Beijing, London, Dubai, Montreal, Toronto and the Bahamas.
Now Boulud is ready to conquer Midtown after inking deals with SL Green (SLG) Realty to open several dining concepts at One Vanderbilt and One Madison. 
"Providing high-quality dining options is integral to successfully curating a fully amenitized workplace which tenants expect as they continue to bring their employees back to the office," Steve Durels, SL Green's leasing director and an executive vice president, said.
In September, Boulud and chef George Ruan opened an intimate 18-seat omakase in an alcove of Grand Central Terminal below One Vanderbilt with tastings starting at $375 a person. Three months later, Boulud and SL Green revealed plans for a 16,000-square-foot French food hall and steakhouse at 22 East 23rd Street inspired by European petits marché.  
"This new development in partnership with SL Green gives us the opportunity to bring something creative, convenient and unique to the neighborhood," Boulud said. "Our visions and commitment are completely aligned with the evolution of casual dining and food shopping in Manhattan." 
Boulud was also the chef of choice when Allen Gross' GFI needed a restaurateur of note to take over one of the spaces at The Beekman Hotel in FiDi where he opened Le Gratin last year.
Boulud's hot streak continued into 2023. In February, he announced he would open his first West Coast venture in Beverly Hills and also will relaunch Cafe Boulud, which closed during the pandemic, at 100 East 63rd Street.
Daniel Boulud
,
David Chang
,
David Levinson
,
Donald Trump
,
Eleven Madison
,
four twenty five
,
Jean-Georges Vongerichten
,
José Andrés
,
Marcus Samuelsson
,
Momofuku
,
RSE Ventures
,
South Street Seaport
,
Stephen Ross
,
Whitney Arcaro
,
L&L Holding Company
,
Related Companies
,
RXR Realty
,
SL Green