Port Reform: How the Port Authority Became Less of a Real Estate Entity
---
---
Earlier this year at an open board meeting, commissioners of the Port Authority of New York & New Jersey engaged in several heated arguments. Not only were delegates from the two states fighting with each other, but New York appointees Kenneth Lipper and Steven M. Cohen also engaged in a dispute over accountability that nearly delayed a major vote on LaGuardia Airport.
The vote eventually took place, however, clearing the way for a new $4.2 billion central terminal building at the airport. Executive Director Patrick Foye touted it as one of the most important days in the 95-year history of the agency. Along with the long-stalled LaGuardia project, board members approved a similar proposal at Newark International Airport, a down payment for its share of a new rail tunnel under the Hudson River and committed to build a new bus terminal in Manhattan instead of New Jersey.
Rivalry between those from the Empire State and their counterparts from the Garden State is nothing new. But the tension this year was noticeably thicker. Foye and Chairman John Degnan, who openly argued over the cost of a new bus terminal during the meeting, were still clearly angry at one another. When asked about the fights, Port Authority executives had a simple message for reporters: You wanted to see how the sausage is made; this is it.
Several months later, the construction at LaGuardia is underway, the deadline for a new bus terminal concept is approaching and Cohen has ascended to become the organization's vice chairman, the highest-ranking New York appointee. After getting hammered by missteps at the World Trade Center, most notably the gargantuan costs and seemingly endless delays, and the national attention of Bridgegate, the Port Authority that Cohen has inherited has indeed become more transparent in how it operates.
"Steve is ideally situated to serve as vice chair right now, which was one of the reasons I felt comfortable stepping down at this time," said Scott Rechler, the chief executive officer of RXR Realty who resigned as vice chair in May and is transitioning off of the board. "We worked in tandem on a lot of governance issues over the last year. He's the right guy to help continue to push the progress forward."
The Port Authority is also less interested in its real estate holdings throughout the region, opting instead to focus on its original mission of handling transportation issues as its debt obligations have increased. LaGuardia's new terminal, for instance, will be developed and paid for by a private construction firm, which will manage it for the next 35 years. Problems are expected to arise, however, especially when it comes to the new bus terminal, which must be built in the development-heavy West Side of Manhattan, as well as the Hudson Tunnel Project, with a $20 billion price tag.
"With regard to the specifics of its real estate activities, it's undoubtedly true that the Port Authority generated a bad image by putting so much of its attention and its money into the World Trade Center," said Jameson Doig, a professor at Princeton University who has studied the Port Authority for several decades. "Therefore anything it could do to move that away and let its executives and its staff focus on transportation issues was advantageous. At the same time, the agency needs to ensure that it maintains an ability to use its real estate activities to advance or improve its transportation work."
Cohen, a longtime aide to Gov. Andrew Cuomo and an attorney by trade at MacAndrews & Forbes, is expected to shepherd the Port Authority into its next incarnation, according to experts on the agency. Some believe he's the next step in cleaning up the agency with a "get things done" attitude synonymous with the Cuomo administration, but others show concern about his relationship with the governor. (Cohen did not return multiple interview requests for this story, nor did Cuomo.)
Bridge Over Troubled Waters
It's been nearly three years since all but one eastbound lane of the George Washington Bridge were shut down, causing chaotic backups in Fort Lee, N.J., in what federal prosecutors allege was a case of political retribution against local Mayor Mark Sokolich for refusing to support New Jersey Gov. Chris Christie's re-election bid. The incident that became known as "Bridgegate" left a dark mark on an agency revealed to be not just obscure but also heavily political and losing money, from which it is still recovering.
One former Port Authority executive from New Jersey has pleaded guilty, and another ex-official is on trial with a former aid to Christie. David Samson, the chairman of the agency until resigning in March 2014 as the scandal unfolded, pleaded guilty two weeks ago to a second bribery case discovered as a result of his departure. He will be sentenced in October. 
"We had a decade of decline or more," said Mitchell Moss, the head of the Rudin Center for Transportation Policy and Management, a think tank focused on transit issues. "Pat Foye did a miraculous job of maintaining the organization. But I think that it had a lot of turnover. Let's be serious, it had a chairman who has been convicted of one count [of bribery]."
Suffice it to say, the leaders who were left at the Port Authority had an uphill battle. Degnan, a former New Jersey attorney general, replaced Samson as chairman of the board and has worked with Rechler, who established an oversight subcommittee in wake of Bridgegate, to cut costs at the agency and be more open about the decision-making process. The efforts have made it easier to actually get things done at the agency like construction of a new Goethals Bridge, linking Staten Island and New Jersey, finishing the World Trade Center and building basically a brand new LaGuardia, Rechler said.
"These are critical projects for our region's future," Rechler said. "When you had a situation that existed at the port and manifested itself as the Bridgegate scandal, it was impossible to be effective in executing on these projects."
Indeed, the scandal was a wake up call to those both inside and outside of the agency. 
"I think Bridgegate was a big turning point because this level of brazen corruption where you actually do something on purpose to endanger the public safety rather than just passively hurt people's quality of lives—it made people pay more attention," said Nicole Gelinas, a fellow at the conservative-leaning Manhattan Institute.
It also changed how the Port Authority will eventually be run. Legislation was passed in light of Bridgegate to make the power structure of the Port Authority less political. A CEO will eventually replace the current duties of the executive director, which is always chosen by a New York governor. Instead of the chairman always being from New Jersey and countered by a vice chairman from New York, each state will get a rotating, two-year term as chair.
The CEO search, however, has stalled. Foye was passed up for the job and vowed to quit before agreeing this spring to stay until his replacement is found. The problem, according to officials, has been with the governors, who can't seem to agree on a candidate.
Rechler said the board has been acting in a less political way, implementing as much of the future structure of the organization as possible. That isn't just good for transitioning to the eventual set up but also positive for how it functions. Because the board has been stacked with more independent-minded commissioners, Rechler said, there is better collaboration between those on both sides of the Hudson River, even when they disagree.
"It has been a difficult process to change the organizational culture and governance practices to the high standards that we set for the agency post the Bridgegate incident," he said. "I think we have made great progress and functioning at a very high level today. I think we have been fortunate to have Pat at the helm and willing to lead the agency during this period."
Hop on the Bus, Gus
Getting rid of some of its real estate is not something necessarily new to the Port Authority, but lately it seems to be coming at breakneck speed.
"We live and operate in a world of limited resources," Foye told Commercial Observer. "And the Port Authority's resources ought to be dedicated to transportation infrastructure. That's what we do. That's our mission."
Foye told CO that the agency has sold off more than $1.5 billion in non-essential real estate in both New York and New Jersey over the last few years. Agency officials are still looking at other options, he added, including selling its interest in 1 World Trade Center—a longstanding proposal that he expects will be reexamined in the coming year.
After building the 3-million-square-foot 1 WTC for $4 billion following a messy political battle and constructing the World Trade Center PATH station at double its $2 billion budget, the agency has been licking its construction injuries. (The Port Authority sold a stake of 1 WTC to the Durst Organization for $100 million in which the private company is a controlling partner handling leasing and construction.)
Funding future projects already becomes a hindrance because the agency has taken on so much debt, according to Port Authority experts. Gelinas said the agency amassed $8 billion in debt for its part in rebuilding the complex, bringing its total loan obligations to $24 billion.
That's going to be cumbersome, she said, when the organization begins building a new bus terminal—estimated to cost $10 billion to $15 billion—as well as a new rail tunnel under the Hudson River for $20 billion, for which Amtrak will pay part of the bill.
The latter of which has been on the minds of New York City real estate executives. In CO's 2015 Owners Magazine, a number of polled  top city landlords said construction of a new tunnel was the most crucial infrastructure project of this generation.
Degnan has been open to selling non-transportation-related real estate to fund its share of the tunnel project. Speaking at the Bloomberg Future of Transportation Conference in March 2016, Degnan said not building the tunnel—which would be used by New Jersey Transit and Amtrak—would have "catastrophic potential" for the entire Northeast. (A request to a representative for the chairman was not returned.) 
"The time has long since past for us to be building new buildings," Degnan said, according to Bloomberg. "We ought to sell any real estate we have that isn't related to the transportation mission and leverage the money we get from that."
Aside from selling its stake in 1 WTC, there are several smaller options: the Bathgate Industrial Park, a commercial complex in the South Bronx, along with a slew of properties in the Red Hook section of Brooklyn and on the north shore of Staten Island, where the Port Authority is already moving to sell land.
"They've got a lot of real estate," said Kathryn Wylde, the president of the pro-business Partnership for New York City. "None of it is highest and best use."
Plans to build a new bus terminal on Manhattan's West Side are facing pushback even in its earlier stages. Land has become costly, as have construction prices. Committing to build the facility in New York City effectively tied the hands of the commissioners for what will be a long haul.
"Agreeing to build the bus terminal in Manhattan is just hugely irresponsible," Gelinas said. "There's no place to put this thing."
On top of it, Manhattan elected officials came out in full force against the project last week. Rep. Jerrold Nadler (who represents the impacted neighborhood), Manhattan Borough President Gale Brewer and several others called on the Port Authority to cancel its nine-month-old international design competition for the terminal until the community can weigh in on concerns about quality of life and potentially being displaced.
Degnan has maintained that the project has been openly discussed for two years and the board has collaborated with the community. He pushed back the deadline for conceptual voting back by a month but said last week that the agency wouldn't cut off the planning phase.
"I'm not Robert Moses," Degnan said, referencing his opinion that many neighborhoods were destroyed by the urban planner. "I don't think anybody on this board wants to be Robert Moses."
He also left the option open of building it via a public-private partnership, the type of arrangement the Port Authority used at LaGuardia Airport.
Foye noted that the two projects at LaGuardia, plus the new Goethals Bridge, will cost a combined $9.5 billion and are all headed by private developers, who will be footing an excess of two-thirds of the cost. That reduces the financial risk of the Port Authority, which has capped its contributions to each project, meaning any overruns is on the shoulder of the developers.
"I think there are three legs to the stool here," Foye said. "One is the successful disposition of non-core transportation real estate. Two, a leading national presence on public-private partnerships. And third, doing transactions in which the Port Authority, the public sector's exposure, is limited and capped."
The Boy in the Bubble
Cohen stands out on the Port Authority board because he's the only New York commissioner without some sort of tie to real estate.
Rechler's company owns some of the most prominent buildings in the city; Michael Fascitelli was the CEO of Vornado Realty Trust from 2009 to 2013; Jeffrey Lynford has worked at several real estate firms; Lipper was a deputy mayor under Mayor Ed Koch, working with economic development; and Hamilton "Tony" James is a top executive at Blackstone Group, which is now as much of a real estate company as it is a private equity firm.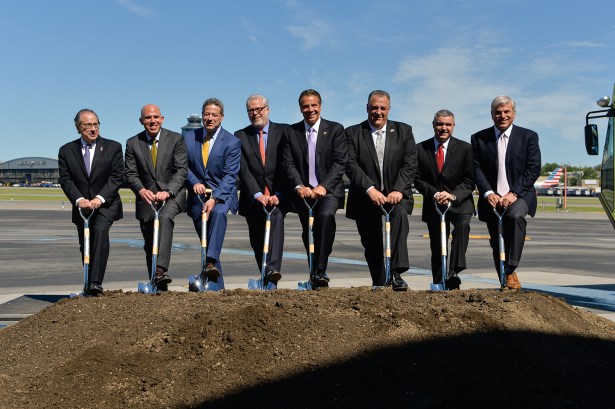 That Cohen doesn't come from the real estate world is seen as a breath of fresh air to the agency by nearly every person interviewed for this story.
"He's the first mensch in that job that I've encountered in 45 years," said Moss, who first met Cohen more than a decade ago. "Rechler deserves a great deal of credit for understanding the need for focus. And Cohen is now going to be able to give it. It's a great one-two punch. In many ways, Cohen is going to be able to do it because he is not a real estate developer, because he's got an independent mind."
Cohen was a prosecutor in the U.S. Attorney's office, before getting involved in government. He served as chief of staff to then-Attorney General Cuomo and followed him to the state capitol where he was the top-ranking aide to the governor. He left Albany in 2011 to take a job in the New York office of Zuckerman Spaeder, a Washington, D.C., law firm. Cohen currently serves as general counsel to MacAndrews & Forbes, a major holding company run by billionaire Ron Perelman.
"He has experience in dealing with very difficult people," Gelinas said. "He prosecuted gang members. That's good experience in coming into this environment."  
Doig said he's concerned about Cohen's close relationship with Cuomo. As the governor pushes for legacy items with infrastructure work, there could be natural pressure to execute a one-state plan instead of a more intricate regional approach.
"Steve Cohen was a key person in Albany working with him," Doig said. "And as the vice chair, he's able to ensure that the agency is put under some direct pressure to take action that the governor wants."
When asked by reporters about his close relationship with the governor in May, Cohen maintained that he plans on acting independent of any influences and would take a regional approach to the job.
"I'd be foolish to suggest that I don't have a sense of what the New York governor views as his priorities," he said. "At the end of the day, you've got to run an agency that has a limited number of resources, you have to make decisions and you have to be respectful of the governance structure and the people of the area."
He'll have big shoes to fill with the departure of Rechler, who has widely been credited with leading Port Authority reforms. When Rechler stepped down as vice chair in May, he had saved the agency north of $1 billion in development at the World Trade Center, Foye said at the time.
But Cohen could rise to an even higher level: chairman, making him the most powerful person at the organization. Degnan last week called on Cuomo to make a selection of a new CEO, as the search has gone on for more than a year. Cohen, for his part, seemed to indicate he might not even want the job but supported the transparency and efficiency that comes with the change.  
"I'm hopeful there will come a time soon, not when I serve as chair, that somebody from the New York side does serve as chair," he said. "Not necessarily and preferably not me."
1 World Trade Center
,
Andrew Cuomo
,
Bathgate Industrial Park
,
Chris Christie
,
David Samson
,
Durst Organization
,
Ed Koch
,
Gale Brewer
,
Jameson Doig
,
Jeffrey Lynford
,
John Degnan
,
Kathryn Wylde
,
Kenneth Lipper
,
LaGuardia Airport
,
MacAndrews & Forbes
,
Manhattan Institute
,
Michael Fascitelli
,
Mitchell Moss
,
Nicole Gelinas
,
Patrick Foye
,
Port Authority Bus Terminal
,
Port Authority of New York & New Jersey
,
Rudin Center for Transportation Policy and Management
,
RXR Realty
,
Scott Rechler
,
Steven M. Cohen