Life Sciences Leasing in New York City Already an Annual Record in 2021
---
---
The life sciences sector is speeding ahead in New York City.
Life sciences leasing has already reached a record annual high in 2021, despite the year being not even halfway through. Leasing activity in the sector stood at more than 257,000 square feet as of the start of June, already blowing past 2020's total of 156,000 square feet, according to a new report from CBRE (CBRE). 
Leasing for the life sciences sector even surpassed its previous peak in 2011, making 2021 the busiest year on record in a decade.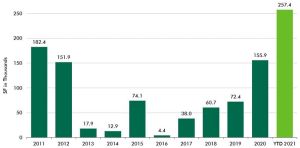 The industry shows no signs of slowing down. Just Wednesday, Mayor Bill de Blasio announced plans to invest another $500 million-plus into New York City's push to develop its life science industry, bringing the total price tag up to $1 billion.
CBRE's Philip Stern, a senior field research analyst, was not shocked by the growth of life sciences in the city, and expected the mayor's investment to add more fuel to the fire. 
"This is something that's been percolating for years now," Stern told Commercial Observer. "Now, you see a lot of space getting delivered and there's more to come … also the tenant demand has picked up."
At the same time, venture capital funds have flown into the Big Apple's life sciences market.
The first quarter of 2021 saw the highest quarterly total of venture capital funding for life sciences on record, at $393 million, according to CBRE's report. In just the first two months of the second quarter, venture capital funding reached $144 million, meaning that 2021's year-to-date total of $537 million is now greater than the same time last year.
Life sciences funding in the city was booming before the pandemic and it has not slowed down. Funding grew to $1.38 billion in 2017, and venture capital funding hasn't seen less than $697 million raised annually since that time. Funding reached its second-highest total during 2020, at $942 million.
The coronavirus pandemic, which has proven detrimental to other industries like retail and hospitality, turned out to be a booster for life sciences. Investment in vaccines, lessened government regulation and a plethora of interested investors have helped speed this rise, Commercial Observer reported. 
But, even without the pandemic, life sciences would have still taken off in the city, said Stern. Mid- to large-sized life sciences tenants have also become more common, helping to grow the sector, he added.
Deals including the Icahn School of Medicine at Mount Sinai's 165,000-square-foot, research-focused lease at The Georgetown Company-owned 787 Eleventh Avenue and C16 Biosciences' 19,000-square-foot lease at the Hudson Research Center at 619 West 54th Street helped to boost leasing this year. C16, a Bill Gates-backed startup, is leaving an NYU Langone-run, biotech coworking space in Hudson Square.
But, New York City still has a ways to go before passing Boston as the country's life sciences capital. 
"New York City's certainly seen a lot of growth and it's on the right path," said Stern. "So, it's hopefully getting to that caliber, though I think a few years away from reaching that level of maturation."