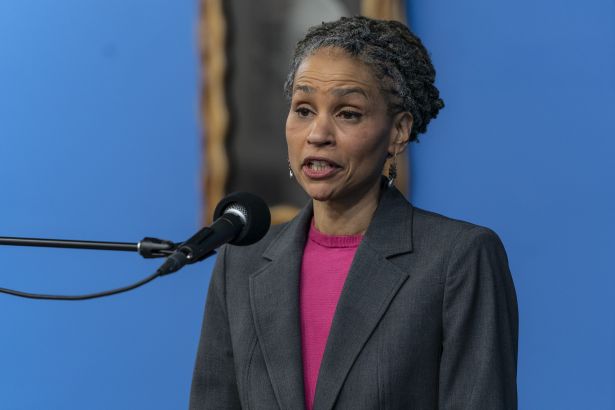 Maya Wiley. Photo: Lev Radin/Pacific Press/LightRocket via Getty Images
Maya Wiley
Democrat Age: 57
Wiley is a professor and senior vice president for social justice at the New School. She was Mayor Bill de Blasio's legal counsel for two and a half years, and then served for a year as chair of the Civilian Complaint Review Board, a New York Police Department watchdog. Before either of those roles, the Columbia Law graduate was an assistant U.S. attorney in the civil division of the Southern District of New York. Wiley, born and raised in D.C., is also a paid analyst for MSNBC. Her campaign has emphasized criminal justice reform and ending evictions.
Maya Wiley, a former attorney for Mayor Bill de Blasio, built a career in civil rights law and a public profile as an MSNBC political analyst before announcing her run for mayor in October 2020.
The 57-year-old was raised in Washington, D.C., by a chemistry professor and gallerist who were heavily involved in civil rights activism and local progressive politics. After earning her undergraduate degree in psychology from Dartmouth College and a law degree from Columbia, she did stints at the American Civil Liberties Union and the NAACP Legal Defense Fund.
She then spent three years at the U.S. Southern District of New York's Civil Division, before heading to an organization founded by George Soros, formerly known as the Open Society Institute, to develop a criminal justice initiative in Africa. She also founded the Center for Social Inclusion, an organization devoted to dismantling structural racism.
Wiley served as counsel to Mayor de Blasio for two and a half years before stepping down to chair the Civilian Complaint Review Board in 2016. Then, she left the police oversight agency in 2017 for her current job as a senior vice president for social justice and a professor of urban policy at The New School. She also inked a contract in 2018 to be a legal analyst and political commentator for MSNBC.
Wiley spoke with Commercial Observer over the phone recently to discuss the housing and land use platform that she would put forth if elected mayor. The following interview is condensed and edited for clarity.
Commercial Observer: How does your housing platform differ from the past eight years of Mayor de Blasio's housing strategy?
Maya Wiley: First, let me say that, primarily, our goal is to create significantly more affordable housing that also reaches the real affordability needs of so many of our residents. So, as you probably know, we have maybe as many as 35 percent of our residents who are, frankly, earning under $30,000 a year and the housing appropriate to those kinds of wages. And so, it will focus on, in addition to supporting the needs of all of our residents, making sure that we're reaching the folks that are very low income and extremely low income.
But it also means having a housing approach that is holistic; that sees housing as a human right; and sees all of our housing, public housing, street homelessness and private-sector housing as a single housing strategy to do what we need to do to produce more affordability. So, that's everything from, you know, making sure we're not selling city land, but using the roughly 1,000 acres we have to be building permanently affordable housing. It means the $2 billion I've already announced that we will put on the table as part of New Deal New York for renovating and rehabilitating public housing that we have to keep public, because that is permanently affordable housing that houses everyone from the city workforce to so many different types of families that we need to make sure we're housing with dignity, with safety.
And, honestly, we have to also work with more not-for-profit housing developers, who are excellent at developing permanently affordable housing, at different income levels.
What neighborhoods would you rezone, if any?
Well, look, I think we have to do two things. I think we have to look at how we create affordable housing in every single neighborhood in this city. We need affordable housing for a huge percentage of our people. That means we have to be looking at how and where we create those opportunities everywhere in the city, because every community needs it. And that means also, though, looking at everything from doing more long-term planning, because we also need whole communities, we need communities to have everything they need in them.
But we can't stop projects along the way. We still have to be developing, but developing without displacement. So, that means really working in partnership with where those opportunities are, and how we best leverage them to meet our goals.
If elected, would you change the de Blasio administration's mandatory inclusionary housing policy? And, if so, how?
As someone who has been a longtime racial justice advocate, I understand that housing is a central part — particularly when we can create homeownership — of closing the wealth gap and building the middle class. But also knowing that housing and the opportunities to have housing that also come with access to transportation, with food, with all the things that anyone needs in a community, that does mean strategies like mandatory inclusionary zoning. The question is, how we solve the disconnect between our tax policy with Albany, and our land use planning.
So, one of the things that we need, and I would be working toward, is the opportunity to have more home rule when it comes to taxes, so that we can align those policies. But I certainly would not have a policy that was limited only to mandatory inclusionary zoning in the first place. Because, as I said, it is a tool. But, it is a tool that has to come with more city power.
And it has to come as one part of a much more comprehensive package of strategies, where we're utilizing all our assets and all of our opportunity to create more housing, for everyone from the doorman of an apartment building to a teacher in our school; all the people who are so essential to our daily lives in the city, to our artists, and our creatives, who we are losing in droves because they cannot afford the housing. These are things we can't lose in the city. And we have to make sure we have housing that folks can afford.
And I wanted to pull out a piece of what you were just discussing. The city's property tax system has long been considered outdated by owners and tenants. So, would you push to reform it?
Yes. It is outdated. And, as we know, there has been a process underway, in the form of a commission, that has already made some recommendations that are going to a public hearing when we're at a point where that's safe.
But, look, the primary thing is we have to have a fair city, we have to have a city that works for all of us. And, right now, we know that we have far too many homeowners, particularly Black and Latino, Asian, people of color, who are paying way more for their property taxes than they should be because they're being assessed improperly. And we have some folks who can pay more, who are actually underassessed, and we've got to change that so that people are paying what's fair, and that it's much more uniform, but that we're also building wealth because homeownership is wealth building. It's part of how we built the middle class. We do have about a third of city residents as homeowners. And we also want to make sure we're creating more homeownership opportunities for folks.
Just like we have an eviction crisis, we also have a historic mortgage payment crisis, the number of mortgages that are underwater. So, we want to also make sure we're holding on to homeownership because it is so important, which is why I have an eviction moratorium platform that actually calls for subsidy and tax abatements for homeowners and small landlords, in order to ensure they're not losing what they have fought so hard to build.
And what steps would you take specifically to address the city's homelessness crisis? And how would you grapple with the current shortage of shelter beds and many neighborhoods' resistance to shelter construction and conversions?
First of all, let's start with the fact that I've had the great good fortune of spending time with the men at the Lucerne [Hotel] on the Upper West Side, and with Open Hearts Upper West Side. Just watching how a shuttered hotel, which, I think everyone agrees — including the men I've spoken with, who are residents there — that there's some real bumps in the road, and some real issues that had to get straightened out with how that hotel got turned into a shelter.
I think there's a real lesson that, first of all, it's that we have to solve street homelessness. Part of why people are feeling more fearful in this city, in terms of violent crime, is we have people with mental health crises that are homeless as a result of them.
And we aren't building and creating enough opportunity for supportive housing. We know from research that when you put folks in housing that comes with the support services, they are on their medications, and many of them start becoming employed and are able to live much fuller lives with those supports. We can do that right now. Because what we're doing is we're spending about $3 billion a year for congregate shelters that folks don't want to go to. And one of the reasons that we also have people on the streets is that they don't want to go to those shelters.
And it means increasing rent subsidies. There were men at the Lucerne who had these vouchers for $1,200 a month. And that $1,200 a month was supposed to get them out of the shelter into housing. Now, I would ask everyone reading this, tell me where you can find an apartment for $1,200. Because the reality is only about 3 percent of the people who have these vouchers are able to find a home, a place to rent.
And what we could do is increase the amount we're providing for vouchers, so they can actually afford the rent. And it would be less than the amount we're paying for this shelter. And, so, we have to do that as well as recognizing this vacancy, recognizing the supportive housing strategy is a working one and utilizing our subsidy structure better, so that we're moving folks to that kind of support service housing, as well as creating safe haven shelter.
Do you have a position on the citywide hotel special permit, which many in the real estate industry believe will be a death knell for new hotel construction in New York City?
Well, this is something that we have not put out a formal policy platform on. We're actually going to put out a full policy platform in the coming weeks, although our positions we've been very vocal about. We're looking at all of these issues from the perspective of engaging all the stakeholders. It is critically important that we have a hospitality industry come back, because we have far too many folks — 300,000 — who've lost jobs.
But we can't do it by sacrificing the quality of those jobs, and making sure they're high-road jobs and making sure that the way we're bringing hospitality back, bringing tourism back, brings us all back, brings this city back in a way that strengthens us.
New York City has long struggled to create enough housing for low income New Yorkers. How would your housing strategy address that problem of directly funding and financing housing for people in that really tough 50 percent of area median income or less bracket?
Well, as I said, you know, we are going to look at everything from how we're looking at rehabilitating public housing; we have anywhere from roughly 5,000 units a year that are standing empty, because of their condition. We're looking at city vacancy and a big part of that — we've got a capital construction budget. I have said, as part of the New Deal New York, that that is to create 100,000 new jobs. And that's critically important for people's ability to pay rent.
So, where was your first New York City apartment? And what was it like?
Well, my very first New York City apartment was when I was a baby, living in Gouverneur Gardens down on the Lower East Side with my family. It was Mitchell-Lama housing, and had a little balcony. There's a cute picture I'm trying to find with my grandfather holding my brother and I, both of whom were babies, on that balcony. But, obviously, I have no specific memory of it beyond my mother's stories and some photographs.
And, when Congresswoman Nydia Velazquez endorsed me, we actually had that press conference right near Gouverneur Gardens. And my brother and I walked over to our old building, where we lived as babies.