Deals, Designs and Desserts at the 11th Annual Power Gala
---
---
A collection of 180 of the nation's biggest real estate power players filled the Park Hyatt last Thursday night for Commercial Observer's 11th Annual Power Gala, a celebration of the publication's 2018 Power 50 in finance and Power 100 lists.
After opening remarks, Chad Tredway, J.P. Morgan Chase's co-head of real estate banking, took the stage to announce CO's 2018 Rising Star Award.
"To all of you who are clients, thank you. For those who are thinking about being clients, you can meet me at the martini bar," Tredway joked before announcing the Kaufman Organization's Michael Kazmierski as the Rising Star.
In 2016, Kazmierski, (then 33 years old) became the youngest principal employee in the Kaufman Organization's century-long history to be elevated to principal and director of acquisitions of Kaufman New Ventures, working directly underneath industry veteran Fredric Leffel, who is the president of the new ventures division.
"I was very lucky at an early age to find a passion in real estate," the MIT graduate told the crowd, with the company's president, Steven Kaufman, proudly standing front and center, videoing the young principal's speech. "I grew up outside of Detroit and I'm the son of a father who was in the automotive manufacturing business. But, I made my way to New York eight years ago, and it provided an arena for me to compete at the highest level, with and against some of the finest and most talented real estate professionals in the industry."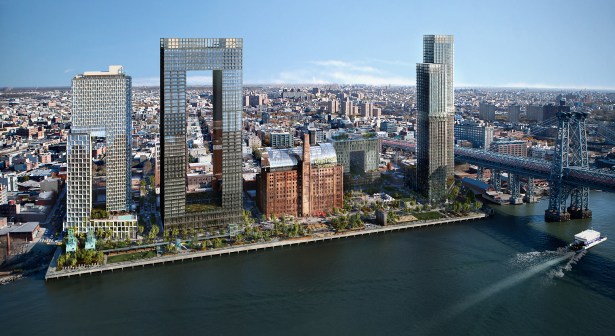 Design of the Year was awarded to Two Trees Management and SHoP Architects for the revamp of the Domino Sugar Factory at 325 Kent Avenue in Williamsburg. Shop Architects Associate Principal Lisa Schwert accepted the award. 
Finally, Jamestown's Michael Phillips was tapped to accept CO's Deal of the Year award for Google (GOOGL)'s $2.4 billion acquisition of the 1.2-million-square-foot Chelsea Market.
Phillips almost immediately called on his partners in the deal to join him on stage. He was accompanied by his "two millennials," as he called them, in Jamestown Chief-of-Staff David Himmel and Chief Acquisitions Officer Joshua Wechter, Newmark (NMRK) Knight Frank's David Falk and representatives of Cushman & Wakefield (CWK) and CBRE (CBRE).
"People told me when I got into this business, 'don't fall in love with the real estate,' " Phillips said. "But I think that's a total mistake. We fell in love with the real estate and we said no, we said no, we said no, until the one buyer who would buy it, bought it. It took 15 years of our ownership and the 10 years before that; it really took a village. Many of you in the audience were a part of it, but also [everyone with me on stage] were a part of making this happen. We mourn the loss, but we're happy that Google got it."
C&W's Douglas Harmon, Adam Spies, and Kevin Donner represented Jamestown in the deal. CBRE's Darcy Stacom and Bill Shanahan repped Google. Jamestown purchased a 75 percent stake in Chelsea Market in 2003 for $280 million, according to property records. Then it bought out its partners in 2011, spending a total of $795 million, records indicate. Jamestown will still manage Chelsea Market's famed food and retail hall on the first floor.
From developers and managers, to banks, alternative lenders and the finance brokerage elite, a breadth of industry firepower shined Thursday night. The likes of Starwood Property Trust's Dennis Schuh and Jeff DiModica, UBS' Chris LaBianca, L&L's David Levinson, Meridian Capital Group's Ralph Herzka, Heritage Equity Partners Founder Toby Moskovits, Natixis' Greg Murphy, Square Mile Capital's Jeff Fastov, Brookfield (BN)'s Ric Clark, C&W's Bruce Mosler, the ever-present Michael Stoler of Madison Realty Capital and Hudson Companies President David Kramer, among many others, filled the event hall.
Wells Fargo (WFC)'s Kara McShane and Doug Mazer, the pair that took the top spot on this year's Power 50, were roaming and mingling together. There was also SL Green (SLG) Realty Trust's Marc Holliday and Andrew Mathias, who were part of CO's Deal of the Year-winning group last year, together with C&W and Wharton Properties, for the $700 million, nearly 70,000-square-foot lease Nike signed at 650 Fifth Avenue. Larry Silverstein of Silverstein Properties strolled in fashionably late in a sleek, pinstriped suit and purple tie.  
And led by CEO Peter Riguardi, JLL (JLL) showed up in force with a squad of debt and equity powerhouses in Aaron Appel, Keith Kurland and Jonathan Schwartz.
The star-studded spent the night mingling and mixing over desserts and martinis sponsored by Knotel and Himmel + Meringoff, respectively.
325 Kent Avenue
,
Aaron Appel
,
Adam Spies
,
Andrew Mathias
,
Bill Shanahan
,
Bruce Mosler
,
Chelsea Market
,
Chris LaBianca
,
Darcy Stacom
,
David Falk
,
David Himmel
,
David Kramer
,
David Levinson
,
Dennis Schuh
,
Domino Sugar Factory
,
Doug Mazer
,
Douglas Harmon
,
Fredric Leffel
,
Greg Murphy
,
Heritage Equity Partners
,
Hudson Companies
,
J.P. Morgan
,
Jeff DiModica
,
Jeff Fastov
,
Jonathan Schwartz
,
Joshua Wechter
,
Kara McShane
,
Keith Kurland
,
Kevin Donner
,
Knotel
,
Lisa Schwert
,
Marc Holliday
,
Michael Kazmierski
,
Michael Phillips
,
Michael Stoler
,
Natixis
,
Park Hyatt
,
Peter Riguardi
,
Power 100 2018
,
Power 50
,
Power 50 2018
,
Power Gala
,
Ralph Herzka
,
Ric Clark
,
SHoP Architects
,
slideshow
,
Square Mile Capital Management
,
Steven Kaufman
,
Toby Moskovits
,
Two Trees Management
,
Brookfield
,
CBRE
,
Cushman & Wakefield
,
Google
,
Himmel + Meringoff Properties
,
Jamestown
,
JLL
,
JPMorgan Chase
,
Kaufman Organization
,
L&L Holding Company
,
Madison Realty Capital
,
Meridian Capital Group
,
Newmark
,
SL Green
,
UBS
,
Wells Fargo