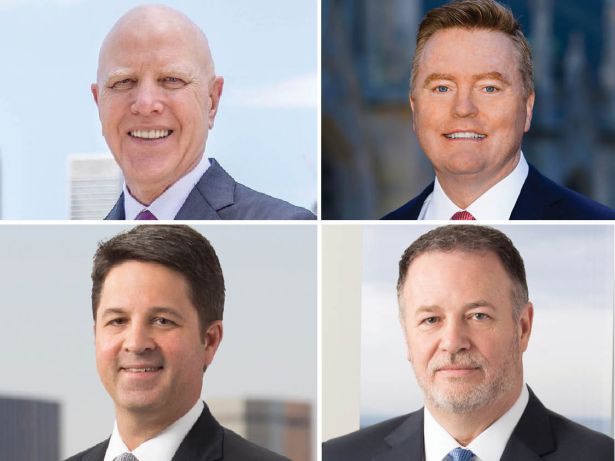 #9
George Gleason, Richard Smith, Brannon Hamblen and Greg Newman
Chairman and CEO; Managing Director of Originations in Northeast U.S.; President and COO of the Real Estate Specialties Group; Managing Director of Originations in Southeast U.S. at Bank OZK
Last year's rank: 8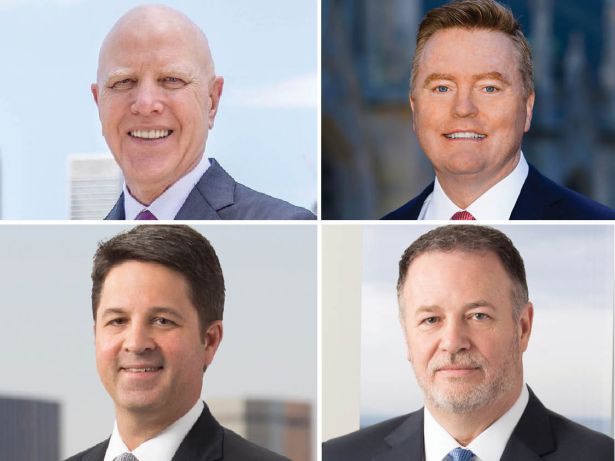 In Arkansas, everything is A-OZK. Bank OZK racked up a cool $7.5 billion in loan originations last year, up from $6 billion in 2018. 
Notable transactions in 2019 include a $644 million construction loan for Water Street Tampa in Tampa, Fla., a multiphase development; a $475 million loan for One Chicago Square, a mixed-use development in Chicago, Ill.; and a $366 million financing for the construction of Cambridge Crossing in Cambridge, Mass.
The bank, widely regarded as the preeminent construction lender, is happily disproving early skeptics who passed judgment for its book being heavily weighted in construction debt. Although roughly 35 percent of its loan book is dedicated to development debt, Bank OZK is the most well-capitalized bank of the U.S.'s top 100 banks (by asset size) and has posted a profit every year for more than four decades. Moreover, the pandemic and economic deep freeze hasn't worried the brass.
"We're in a great position as a bank," George Gleason told Commercial Observer in a May interview. "It's a great time — in an economy like this — to be the best-capitalized bank out of the 100 top banks. We do business with a lot of the top real estate developers in the U.S., so we need substantial capital capacity to serve our customers." 
The bank had a detailed pandemic plan ready to go prior to COVID-19 and continued lending through the crisis.
"We are a construction lender, and we do that all the time, in recession and in boom times," Gleason said. "We're always in the business. When you're going to do something all the time as opposed to when it's trendy and hot, you've got to be disciplined about the way you do it."
Recent deals include a $120 million loan to J.P. Morgan Asset Management and Alterra Property Group for the construction of a mixed-use residential and commercial building in downtown Philadelphia and a $305 million loan to Innovo Property Group and Square Mile Capital Management for their 1 million-square-foot distribution facility in the Bronx. 
"During the Great Recession there wasn't one single day that we didn't have the ability to review loan applications on any property type or market we were doing business in. We're in that same boat today, and we're open for business. We're looking for new opportunities with quality sponsors on projects that make sense, and I think that will always be the case for Bank OZK," said Gleason. —C.C.