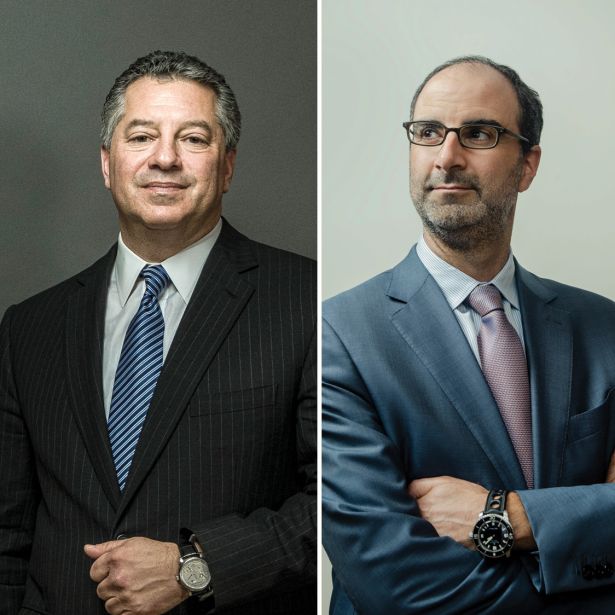 #9
Marc Holliday and Andrew Mathias
Chairman and CEO; President at SL Green Realty
Last year's rank: 2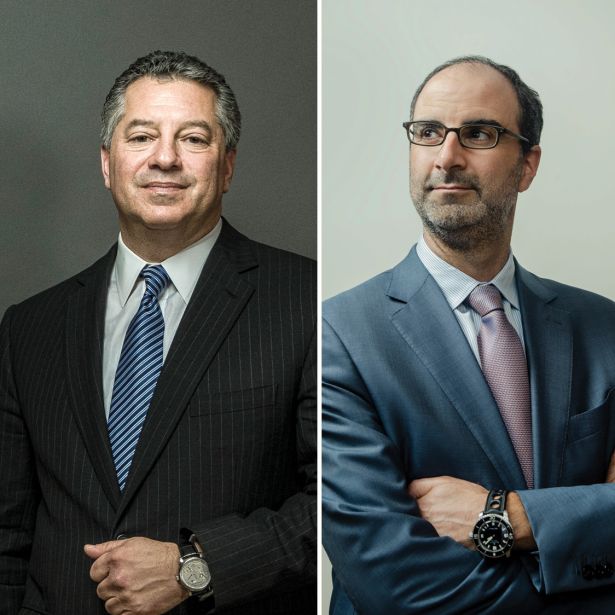 The two leaders of one of New York City's largest office landlords are not worried about the office market. In fact, they're frustrated by the broad strokes used to describe it.
Andrew Mathias: "No one's back at work and there are tumbleweeds blowing down Fifth Avenue …"
Marc Holliday: "… There is this narrative that the media perpetuates that this is a market that is in distress with tenants fleeing — that's just not the case."  
Instead, the pair's SL Green Realty has seen an uptick in leasing activity and can boast some of the bigger New York City — nay, national — commercial real estate successes of the past few years. Plus, they've rolled the dice on a casino in Times Square and continue to lead much of the industry in sustainability efforts.
SL Green signed 41 leases in 2023's first quarter totaling 504,682 square feet, more deals than the same period the year before. It was also more than in 2022's fourth quarter, when it signed 33 deals for 196,421 feet. For 2022, the publicly traded company inked 141 Manhattan office leases totaling 2.14 million feet. 
Some of these deals have had a whiff of pre-pandemic buoyancy about them, too. No shorter-term, flex arrangements for startups here. IBM in March 2022 signed a 16-year deal for 328,000 square feet at One Madison Avenue, which SL Green is revamping into a more modern tower. Six months later, investment manager Franklin Templeton signed for 15 years for 347,474 square feet at the same tower. 
And SL Green's 1.7 million-square-foot One Vanderbilt, which opened in 2020, is now 99 percent leased, the company says. Since its opening it's asked some of the highest office rents in the city's history.
It's the sort of audacious move that Messrs. Holliday and Mathias are known for, and that have often paid off. Will their proposal for a casino at 1515 Broadway in Times Square pay off? They think so, but there might not be an official yes or no until 2024.
Meanwhile, the pair and their firm continue to recover from the pandemic's lows. There are new amenities — SL Green in late December snagged chef Daniel Boulud for a market at One Madison — and the odd conversion hope. The two execs think the tower at 750 Third Avenue could be converted to residential, but it would need serious government incentivizing.