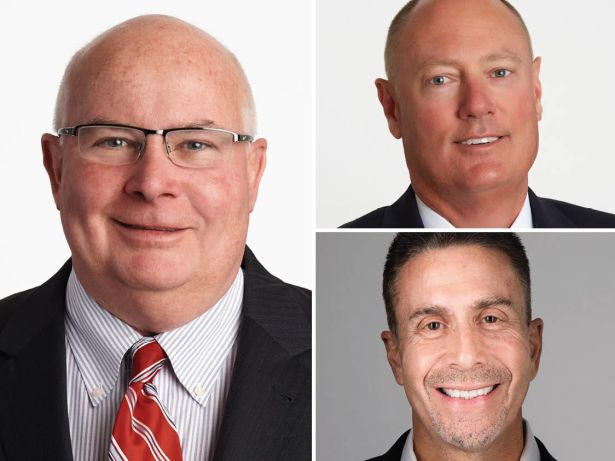 Clockwise from left: Patrick Burns, Gary Magnuson and Tim Leon.
#36
Gary Magnuson, Patrick Burns, and Tim Leon
Head of Commercial Real Estate Finance; Managing Director of Institutional Real Estate; Executive Vice President at Citizens Bank
Last year's rank: 37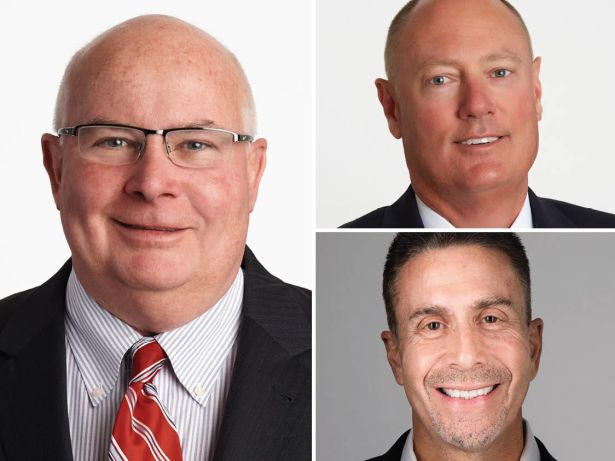 Citizens Bank's productive 2019 included a $435 million construction loan for a new 500,000-square-foot office and retail building in Boston's Seaport District.
"It was a build-to-suit for Amazon where we were the total underwriter and lead arranger," said Citizens Bank Managing Director of Institutional Real Estate Patrick Burns. "Amazon is going to fully occupy the building. WS Development out of Boston was a developer on the deal. We fully syndicated the deal to other lenders. It was the largest single underwriting that Citizens' commercial real estate team had done."
Citizens, which had a CRE portfolio of $14.5 billion at the end of the first quarter of 2020, also spent 2019 building out offices in California and Texas.
"What we did in those markets was, we had [been] lending remotely from the East Coast," said Burns. "We moved some people out from the East Coast that were Citizens born and bred. We added some key people that were in the Houston, Los Angeles, and San Francisco markets already to leverage some of the relationships they had. It's been a big success for us."
"We have a strategy of following our sponsors, and we followed many of our existing clients to the Texas and California and West Coast markets," added Magnuson. "We decided it made sense to have boots on the ground."
Before COVID-19 hit, Citizens had taken some steps to prepare for a possible downturn, given the elongated cycle.
"We didn't have a crystal ball obviously, but we knew that the expansion cycle was long in the tooth," said Burns. "We consciously made the effort to trim back multifamily-construction lending in many markets and were converting our originations from development to a more stabilized portfolio, in many cases portfolio deals of warehouse and distribution facilities. We also stepped a little bit away from retail development."
In response to COVID, Citizens has pulled back on market risk, including multifamily construction, and reports seeing some activity in life sciences, data centers and warehouses. Overall, they say that business is a little bit shy of expectations, but that they expect to fare well by year's end.
"We had a big pipeline of activity coming into the first quarter," said Burns. "Production isn't significantly off from where it was at this point last year. There's a little bit of lag, so I expect the third quarter to probably be off a little bit, but all in all, we're pretty pleased with where we are."—L.G.