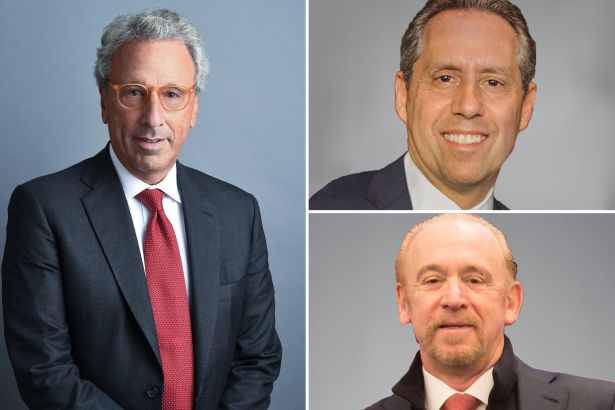 Barry Gosin, Jimmy Kuhn and David Falk.
#14
Barry Gosin, Jimmy Kuhn and David Falk
CEO; President and Head of Investor Services; President of the New York Tri-State Region at Newmark
Last year's rank: 19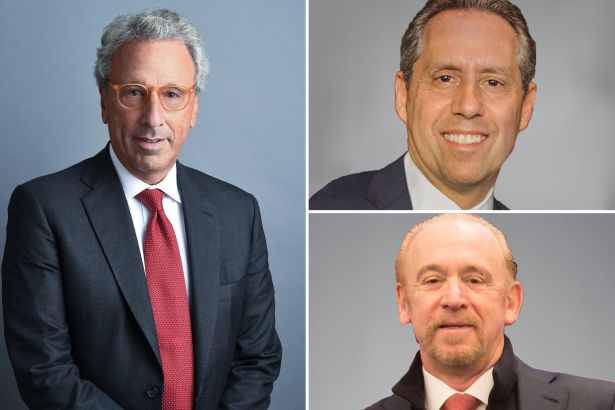 Kicking off the year posting record first-quarter revenues isn't a bad way to start, especially after a global pandemic that sent shockwaves throughout the commercial real estate industry. But that's exactly how Newmark rang in 2021.
That was mainly due to improvement in its real estate capital market business — where the brokerage grew to represent 16 percent of the market — and management services. The company also ramped up its alternative investment arm.
Perhaps the most eye-catching news for Newmark this year was its bankruptcy acquisition of flexible workspace provider Knotel, giving it a leg up with an established brand as other brokerages scrambled to get into the coworking space.
Barry Gosin said the plan was never to acquire Knotel, despite ex-CEO Amol Sarva's very public declarations saying otherwise. "If somebody would've shown up at the auction to buy it, we would've been happy to stand down," Gosin said.
But once Newmark talked to Michael Gross, Yoav Gery and Eric Gross about stepping into leadership roles at Knotel and heard their vision for the company, "we became excited about the possibility," Gosin said.
One thing that Gosin, Jimmy Kuhn and David Falk all stressed for Newmark's success was its team.
"In '19 and '20, we hired a tremendous amount of talent," Gosin said. "Our people are beginning to ramp up, so that strong bench has started to produce."
Newmark made sure to focus on keeping camaraderie in its ranks, while everybody was stuck at home and held regular calls with hundreds of brokers nationwide.
"When you're in a time where everybody is remotely working together, you need to have collaboration in your culture," Jimmy Kuhn said.
David Falk had a similar initiative, bringing landlords and tenants together on Zoom to hear from each side the struggles they faced during the pandemic. 
The brokerage was still able to close 21 million square feet in deals last year and win new assignments. And, with more tenants starting to look for space again, Falk expects Newmark to beat that number this year.—N.R.