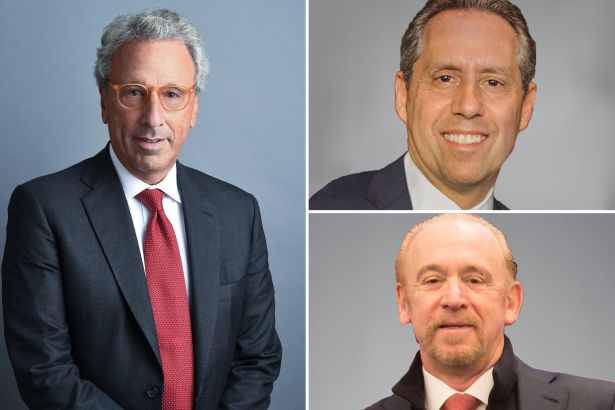 Barry Gosin, Jimmy Kuhn and David Falk.
#19
Barry Gosin, Jimmy Kuhn and David Falk
CEO; President and Head of Investor Services; President of the New York Tri-State Region at Newmark
Last year's rank: 25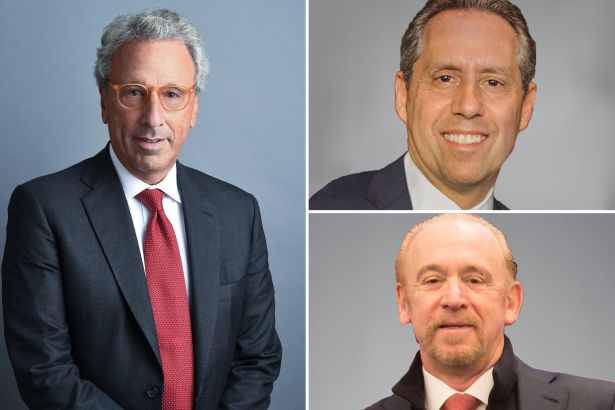 Take it from Barry Gosin, who's seen a thing or two in his decades running Newmark Knight Frank: things will be alright.
"We've had hundreds of years of cycles, and the one thing that they all have in common is that they end," said Gosin, who's served as CEO of the New York City-headquartered brokerage since 1979.
That's not to say the firm has been complacent amid the coronavirus crisis. 
Among its savvy moves has been beefing up its loan sale division and hospitality restructuring groups. And it's still doing the sizable deals that the firm has built its name on: it recently got hired on a roughly 400,000-square-foot large block opportunity in the Flatiron District, while its investment sales team is readying an 850,000-square-foot life sciences development site in Lower Manhattan. 
"I think people forget that it was only six months ago that we were celebrating a record year," said David Falk, president of the New York Tri-State region for Newmark Knight Frank. "We really were everywhere; all different industries and all different types of product. We've been making tremendous success stories in every submarket." 
On the leasing side, recent highlights include representing tenants Debevoise & Plimpton taking 530,000 square feet and AllianceBernstein inking a deal for 200,000 square feet, both at Tishman Speyer's The Spiral; repping Oscar Health in its move to 78,000 square feet at One Hudson Square; and New York City Health + Hospitals taking 520,000 square feet at 50 Water Street. 
In investment sales, where the firm hired a New York City-focused team from Eastdil Secured in September, the firm's major wins in the past year included the sale of the $1.5 billion Parker apartment portfolio, and a $275 million sale of a Long Island City opportunity zone site to TF Cornerstone. 
"[Investors] are thinking about 2022, and they're saying, 'We know there's not a structural problem, per se, and so we're going to underwrite real estate deals based on what we think is going to be in favor,'" said Jimmy Kuhn, president and head of investor servicers at the firm, pointing to select industries such as data centers, life sciences, multi-level industrial, healthcare and film production studios. 
But don't count Newmark among the prognosticators predicting the downfall of New York's office market, much less the city itself. 
"People are social animals, and the sense of isolation and the disconnect has a deleterious impact on businesses," Gosin said. "It's hard to create stuff, it's hard to innovate when you're not in a collaborative environment." 
"This crisis is four and a half months," he added. "You can't undo hundreds of years in four and a half months."—S.G.