LA Office Leasing Slows as Demand, Values Sink Further
Bloated sublease market brings office availability rate to record high with more distress, loan maturities on the horizon.
---
---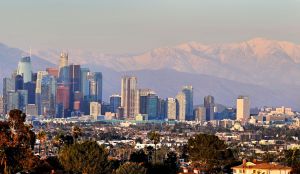 Demand for office space in Los Angeles slowed considerably at the start of 2023 as the market braced for more distress and property values sank. 
Approximately 2.9 million square feet of office leases closed in the first quarter of 2023 in L.A. County, according to a report released Monday by Savills. That's about the same amount as the previous quarter, but it's 19 percent less than the same period last year and 12 percent below the quarterly average over the past five years.
"With continued economic uncertainty … expect leasing activity to remain low in 2023 as most discretionary lease deals are now on the sidelines," the report read. 
L.A.'s office availability rate — which is the sum of vacant, soon-to-be-vacant and subleasable space — is now up to 26.2 percent, the highest ever reported. That rate is up to about 30 percent in Downtown L.A. This comes after another 1.3 million square feet of sublease space was added to the market the past year, bringing the total to about 10.4 million square feet.
"Many occupiers who do not have near-term lease expirations take a wait-and-see approach," Savills' report read. "With rising interest rates, worsening property fundamentals and decreasing building valuations, there will be more office property loan distress around Los Angeles in 2023 as many owners find themselves underwater on their properties."
The amount of investment sales and the value of the trades that do close have dropped significantly since last year. L.A. closed just $154 million in office sales in the first two months of 2023 at an average of about $254 per square foot, according to another report released recently by CommercialEdge. That mark is far below the average of $420 per square foot from one year ago.
L.A. is facing a "wall of office maturities on the horizon" with more than 7 percent of the metro's office stock currently subject to a maturing loan this year, and 21.5 percent of its stock facing maturing loans over the next three years. Brookfield's default on $784 million in loans on two office towers downtown hints at what's next for office owners.  
To make matters worse for troubled owners and investors, L.A.'s Measure ULA went into effect April 1, which increased transfer taxes by 5.5 percent on transactions over $10 million. 
All these factors created a scenario that led landlords to put their landmark properties, such as the PacMutual Building and the 62-story Aon Center, on the market for steep discounts. Just before ULA went into effect, KBS sold the Union Bank Plaza tower downtown for a big loss to the Joel Schreiber-run Waterbridge Capital. 
The state government is also trying to cut 1.2 million square feet in office leases it has throughout California, and the national tech and media reset has continued, causing most of the major companies that drove L.A.'s office market in the past to shrink their footprints and cut down their corporate labor forces.
There were some positive highlights from the first quarter, and Onni Group came out as the winning landlord, Savills' report shows. Sony Pictures signed what was by far the largest office commitment of the first three-month period, taking a 225,240-square-foot lease at an Onni-owned campus in the Miracle Mile. The County of Los Angeles signed an 82,723-square-foot deal for the second-largest lease of the quarter at another Onni Group building in Glendale.
In other notable deals: 20th Century Fox signed a 76,641-square-foot renewal at a Blackstone (BX) office in Burbank; production company Fifth Season signed a new 65,000-square-foot lease at Lumen in West L.A.; Verve Talent & Literary Agency signed a 53,647-square-foot lease to move to a Hollywood office owned by Lincoln Property Company and Goldman Sachs; Unilab Pharmaceuticals signed for 49,140 square feet to move to West San Fernando Valley; and IPG Mediabrands signed an expansion for 36,781 square feet in Century City.
Gregory Cornfield can be reached at gcornfield@commercialobserver.com.
Joel Schreiber
,
Lumen
,
Measure ULA
,
office
,
Union Bank Plaza
,
Blackstone
,
Brookfield
,
CommercialEdge
,
Fifth Season
,
KBS
,
Onni Group
,
Savills
,
Sony Pictures
,
Verve Talent & Literary Agency
,
Waterbridge Capital