Brookfield Fund Defaults on Los Angeles Office Towers: Reports
---
---
It's a major sign of struggle when Brookfield (BN), the largest office landlord in Downtown Los Angeles, is suffering blows from dissolving demand and rising interest rates.
The corporation defaulted on loans tied to two office skyscrapers in the city, the Gas Company Tower and the 777 Tower, which carry loans totaling $784 million, according to multiple media reports, citing recent SEC filings.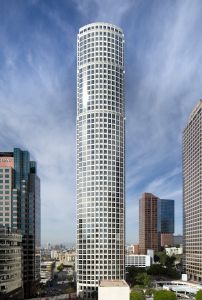 Lenders have not foreclosed on the two properties included in a portfolio named Brookfield DTLA Fund Office Trust Investor. But Brookfield declined to extend the maturity on the financing tied to the 52-story Gas Company Tower at 555 West Fifth Street, and also declined interest-rate protection for the 777 Tower property at 777 South Figueroa Street.
"We believe DTLA's decision to default on these two assets increases the risk for the remaining loans in their portfolio," Barclays research analysts Lea Overby and Anuj Jain wrote in a note Tuesday, according to Bloomberg.
Brookfield's portfolio has a total of $2.28 billion in secured debt, which also covers the two Wells Fargo Centers, with $500 million due in October and $263 million maturing in November.
Office vacancies have increased across the country, and the Downtown L.A. market has been struggling even since before the pandemic. The vacancy in the central business district is up to 24.5 percent, according to Cushman & Wakefield's fourth-quarter report. 
Gregory Cornfield can be reached at gcornfield@commercialobserver.com.