Retail Sales Up 9.4 Percent in March, Boosted by Third Stimulus
---
---
Retail sales jumped 9.4 percent in March, even higher than their already larger-than-expected 5.3 percent boost in January, and an improvement from February's 3 percent drop. This increase comes after warmer weather, the growing pace of vaccinations and $1,400 stimulus checks likely boosted consumer spending.
The Commerce Department's report on Thursday showed an increase in most U.S. Census Bureau measures: Total sales from January through March were up 14.3 percent from the same period in 2020, and so were retail trade sales, which increased 9.4 percent from February 2021. Retail sales were also up 27.7 percent above the same time last year.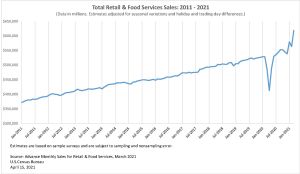 The increases follow the growing pace of vaccinations across the country, and consumers have begun to change their behavior. Visits to the nation's malls jumped 86 percent year-over-year in March 2021, Commercial Observer previously reported.
Spending was also likely bolstered by the third federal aid package, released mid-March, which authorized $1,400 stimulus checks, increased unemployment benefits and expanded tax credits for lower-income households, CO reported. 
And without winter storms to freeze-out shoppers, more outdoor activities like dining and shopping could take place without fear of frostbite. Food services and drinking establishments were up 36.0 percent from last year. 
Motor vehicle and parts dealers saw some of the largest increases, up by 71.1 percent from March 2020, as appetite for public transport waned and more urban dwellers fled to the suburbs, CO reported.
The report heralds good news for an economy still struggling to contend with the coronavirus pandemic, especially after retail sales hit record lows last year, CO reported. But without another round of stimulus checks to boost next month's spending, it's unclear if this trend will continue into April.