Shoppers Are Slowly Coming Back to US Malls
---
---
Visitors are slowly returning to indoor malls as more Americans get vaccinated, new foot traffic data from Placer.ai shows. 
The retail analytics firm found that visits to 50 major malls nationwide were up 86 percent year-over-year in March 2021. However, the vast majority of malls closed by the end of March 2020, as the pandemic ramped up across the country, which makes comparing this year to last year a difficult task. 
Still, Placer.ai analyst Ethan Chernofsky noted that the March 2021 numbers were down only 24 percent compared to March 2019, the smallest gap in shopper visits the firm had tracked since the pandemic began.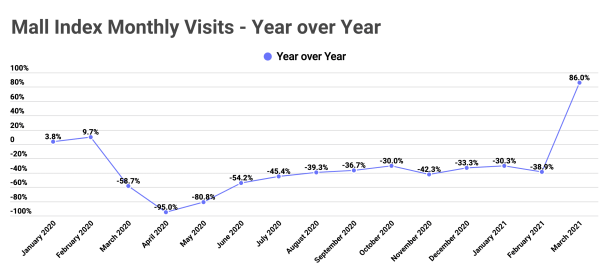 The number of shoppers shot up 46 percent from February to March of this year, "indicating that the 'return' to malls is in fact in full swing," Chernofsky wrote in his blog post. 
Malls have struggled for most of the pandemic. In states like New York, officials shuttered malls for most of 2020, while other states began reopening indoor shopping complexes last summer. Shoppers, however, were not particularly enthusiastic about returning to indoor shopping and dining last year. 
Visits to malls dropped to their lowest levels at the height of the pandemic, cratering at a decline of 95 percent year-over-year in April 2020, according to Placer.ai. May 2020 was not much better with an 85 percent decline in mall foot traffic year-over-year. 
Black Friday, the day after Thanksgiving that's traditionally the biggest shopping day of the year, saw a 52.1 percent drop in visits to physical stores last year compared to 2019, while online sales hit a record high.
The number of in-person shoppers at malls also ticked up on a weekly basis over the course of late February and early March. The week of March 15, for example, saw a 19 percent increase over the prior week, representing a high-point for mall shopping numbers in 2021.