Private Equity Cash Is Flowing Into Fast-Casual Brands
Private equity funds have stepped in to help fast-casual founders achieve scale, betting that healthy, local eating is replicable, and investors like RSE and Enlightened Hospitality are looking for the next Sweetgreen
---
---
The queen of Chinese food celebrated her 99th birthday in a bright storefront in the Village. 
The legendary Cecilia Chiang is credited with introducing Americans to Northern Chinese food when, in 1961, she opened the pioneering Mandarin restaurant in San Francisco. Her son, Philip Chiang, extended that legacy when he co-founded the chain P.F. Chang's. 
The elder Chiang chose to celebrate her birthday at Junzi, a fast-casual eatery that offers an updated take on Chinese food served in a Sweetgreen-like assembly line.
With the lights dimmed, the guests gathered family-style around a long table at the Bleecker Street restaurant, and Chiang regaled them with tales of her early days in the United States. 
The night before, Junzi's chef and one of its co-founders, Lucas Sin, had scrapped the elaborate, imperial style dinner he'd planned, and chose to serve a plated form of Junzi's minimalist menu of noodle bowls and the tortilla-like Chun-bing. 
It was the vision for Junzi that had brought them together, after all. Chiang had mentored the four Yale graduates that co-founded Junzi, and invested in the startup, which she saw as the next stage in the evolution of Chinese cuisine in America.
"She thought we were the people, 40 years down the road, doing what she came to the country to do," Sin told Commercial Observer.
From the start, co-founder Yong Zhao planned to build Junzi into a national chain and a public company.
"We want to create a new model that can bring a modern version of Chinese food to a lot of people," said co-founder Yong Zhao. "To do that, we have to scale."
Junzi's use of minimal ingredients and standardized preparation, the hallmarks of the fast-casual model, will allow it to scale quickly, said Zhao. He takes his inspiration from the Chinese coffee brand Luckin Coffee, which grew to 3,000 locations in 18 months. And he thinks he can IPO within five years.
It's an ambitious plan. But last year, Junzi got what a smart, ambitious fast-casual chain wants: a $5 million investment from LDR Ventures.
It also might be the best time in history to do this. In the last several years, funds whose targets range from food startups to millennial consumer startups as a whole have stepped in to help founders achieve scale. Related boss Stephen Ross' RSE Ventures and Shake Shack founder Danny Meyer's Enlightened Hospitality Investments (EHI) are two such funds that have backed winners like Sweetgreen, Joe's Coffee, Milk Bar, Momofuku, &pizza, and other favorites. 
"There's such an emphasis right now on experience; one thing that's not getting disintermediated is food," said EHI's chief investment officer Mark Leavitt. "A lot of what we're doing is investing in companies and products that bring good experiences to people."
The food industry, particularly the fast-casual space, has robust demand from lifestyle-conscious millennials and Gen-Z consumers, new sources of capital, and lower barriers to entry. Plus, landlords and a new crop of founders are confident that cult food concepts can scale quickly and offer attractive returns, even in what's generally considered a high-risk and low-margin business.
"Consumers are demanding higher-quality ingredients, they're thinking more about what they're putting in their bodies," said Michael Lastoria, a founder of &pizza, a rapidly growing fast-casual pizza brand that Lastoria believes is better aligned with younger consumers' preferences. "Gen-Z especially uses brands to make a stand about how they feel about issues," Lastoria said. (&pizza reportedly calls its fans "the tribe.")
While other retail sectors have suffered, landlords now look to food tenants to both activate and brand their properties. With a combination of food halls, food trucks and pop-ups offering a lower-cost entry into the market, more food entrepreneurs are entering the market, while more investors are scouting for the next potential winner. 
"A lot of these newer brands are built with a focus on scalability, and investors are looking for exciting chef-driven concepts that can have explosive growth" said Andrew Rigie, the executive director of the New York City Hospitality Alliance.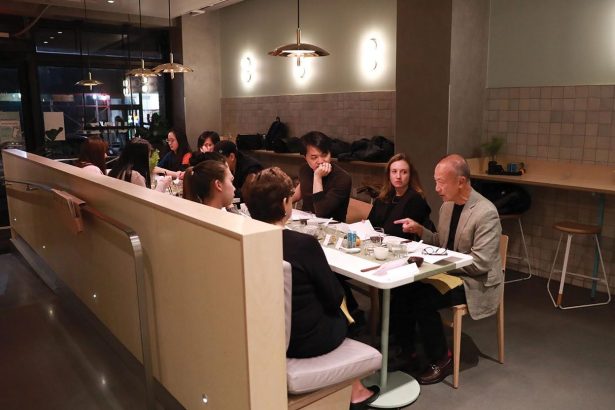 The decor at Junzi's Bleecker Street location blends a summery palette of blond wood, white brick walls, and a paler-than-Tiffany's turquoise facade. The choose-your-own-adventure, assembly-line format provides a seamless way to introduce Americans to a wider and more modern array of Chinese flavors, said Zhao.
Junzi, a Confucian term that refers to a person with integrity, was incubated at the Yale Entrepreneurial Institute and opened its first location in 2015 in New Haven, near the Yale University campus, followed by several locations in New York The infusion of capital they got last year is the signal that certain investors believe Junzi could be primed to be the "Chinese Chipotle."
The Chinese food space is ripe for disruption, as there will always be a demand for the cuisine, but fewer Chinese immigrants are going into the restaurant business, as the New York Times reported last year. However, not nearly so many outfits have figured out a way to serve fresh, seasonal Chinese food in the cost-efficient way offered by Junzi, where anyone can be trained to prepare the dishes without any change in consistency or quality.
It's that efficiency that make fast-casual concepts attractive to investors. The trick is figuring out which ones will survive the growth spurt.
Funds like RSE and Enlightened Hospitality will generally focus on brands that have some traction, with a devoted following and a smattering of locations, but with plenty of runway to grow. For example, one of RSE's portfolio companies, Bluestone Lane, is a coffee purveyor that was founded in Australia in 2013 and within five years grew to 30 locations in six markets. That year, RSE invested $19.5 million into the company, with plans to open another 30 spots within two years, and expand to four additional markets. 
EHI invested in the healthy lunch eatery Dig Inn in 2019, which has since rebranded to Dig.
"One of the things that we liked about Dig Inn was that we thought it could play well in lots of parts in the country," said Leavitt. Another thing they look at is areas in the country where there's high millennial growth, such as Detroit, Pittsburgh and Cincinnati.  "We look for what will work in the East Coast and other markets as well," he said. 
The D.C.-based &pizza, another RSE portfolio company, also has bold plans. Lastoria intends to blanket markets to such a degree that they can deliver a pizza anywhere in 20 minutes. He believes the competitive advantage of his company — healthier ingredients and more socially conscious business practices — will allow him to compete in the $10 billion pizza delivery space. 
Founded in 2012, the company raised a total of $60 million, including a $25 million investment from RSE in 2017. According to Lastoria, his main goal was to start a food business that offered a livable wage and encouraged healthier eating habits. The pizza part was "opportunistic," he said. 
By late 2019, &pizza had 36 locations in D.C. and New York, when they partnered with the robot pizza company Zume in a novel approach to expansion. The SoftBank-backed Zume started off serving pizzas made by robots, but now offers automated kitchen infrastructure to other restaurants, and &pizza is utilizing Zume's fleet of trucks to cook and deliver its own pizzas. That's allowed them to bump their number of locations from 40 to 70 overnight, said RSE co-founder and CEO Matt Higgins, allowing &pizza to quickly expand its footprint while minimizing the real estate and capital expenditure costs. 
The trucks, a variation on the cloud kitchen model, can be used for delivery-only operations, or can be set up as standard food trucks where customers can walk up and order.
"It's a cost-effective way for us to fortress markets, to have a presence in what may be a brand-damaging zone, to enter into food deserts and use dynamic pricing, so that more consumers can afford it," said Lastoria. "It allows us to really think about how we get the pizza to the people."
And therein lies the paradox: Fast casual might see itself as the savior to hordes of hungry, time-strapped customers that for years were relegated to places like Quiznos or (gasp) McDonald's. But fast food works because it can be easily replicated, and focuses on low costs. It could, therefore, use the franchise model to proliferate in markets with cheaper real estate, and lower buildout costs. Fast-casual, locally-sourced concepts are harder to replicate, and brand loyalty doesn't always translate well across a national footprint. 
The food business is still inherently capital intensive, and while fast-casual models lower costs by simplifying preparation and minimizing ingredients, maintaining both consistency and quality is anything but simple. The reality of the food business means there are few parallels to the world of tech unicorns, said RSE's Higgins. 
"You're crazy to invest in this space looking to find a rocketship," he said. "This isn't betting on Snapchat."
Still, while exponential growth is off the table, building a large, profitable, scalable food business is not, said Higgins. That's why RSE backs companies with strong founders, a vision, and enough traction to prove they've sold that vision to a tribe of consumers. 
"It's slow, it's steady, it takes time, it's really hard; you have to manage your labor, your food cost, your real estate costs," Higgins said. It can be grueling, but that's the fun of building a brand that will last. 
For any company, a period of rapid growth can be tricky to navigate, as growth introduces a different set of challenges than the incubation and early-stage periods. This is especially true in the food industry, where the growth strategy involves real estate, and can quickly make or break a company, Higgins said.
When scouting for companies, Higgins pays close attention to the early real estate decisions made by founders. Some mistakes that can be hard to come back from are choosing "off-Main" locations and hoping the brand is strong enough to entice customers; piggybacking a location strategy off of a mismatched brand, and overspending on build-out, he said. 
That's where capital partners, especially one with substantial real estate or food industry background, like RSE and EHI respectively, can be advantageous, since they offer expertise and connections in addition to capital. 
"We describe ourselves as strategic growth equity," said Enlightened Hospitality's Leavitt. "We think we're unique in that we're a private equity firm that sits within a well-known operating company."
For landlords, the proliferation of culty food brands offers both opportunities and challenges. At Rockefeller Plaza, where landlord Tishman Speyer has been looking to update its food offerings, the list of new tenants are all venture-backed cult brands: Sweetgreen, Fuku, Milk Bar, By Chloe, Van Leeuwen.
"We're challenging ourselves to be innovative, more daring," said E.B. Kelly, a managing director at Rockefeller Center. 
But while Rockefeller has signed some long-term tenants, Kelly says they're relying heavily on experimentation to continually look for new brands. Milk Bar is a food truck, and in the summer, the plaza hosts rotating vendors from the Queens Night Market, offering Tishman a chance to test various concepts and see what resonates. 
This is particularly crucial now as the food industry is undergoing rapid change in response to the on-demand economy. Investors, newcomers and institutional brands are all looking for ways to navigate the arrival of cloud kitchens, the competing demands of convenience and authenticity, and experimenting with the various income streams, from order-ahead clients to walk-in customers and third-party delivery apps. 
Lastoria says that for &pizza, that means designing different experiences for different kinds of customers, whether that's someone who only orders delivery, a local who wants to spend their lunch hour in an &pizza location, or a busy commuter who wants a frictionless pick-up. 
But his greater goal, from the outset, was to demonstrate that you can achieve success as a sustainable, socially responsible, healthy, food business.
"&pizza was really founded around a lofty objective," Lastoria said, signified by the ampersand, and he wanted to prove it could be done at scale. "If we can prove out the scale, that will create the case study that will get the others to follow," he said. 
Junzi's Sin also sees the restaurant as more than a business; it's a way for him to communicate his love of food to a new and bigger audience. Sin started his first restaurant when he was 16, and he ran a pop-up dinner series in his dorm as an undergrad at Yale. He continues to serve after-hours dinners at Junzi's locations, expanding on the menu, and every year he travels to China to study cuisine and the endless variations of flavors and techniques in his vast homeland. 
"People need to understand that Chinese food is more than a monolithic thing," he said. "To say Chinese food is like saying European food."
That's why it was quite a big decision to serve the queen of Chinese food from their own pedestrian menu. But it paid off. Both Cecilia and her son Philip complimented the flavor, the wok technique, and the balance of salt in the cucumber salad, the braised beef, and the rest of the dishes. 
"It was pretty ballsy," Sin admitted. "But I realized I wanted to show her what the restaurant was really about."