As Midtown Looks to Compete in a New Manhattan Market, It's Revive or Die
Hudson Yards has changed the game for the city's office landlords. In Midtown, developers are being forced to emulate and recreate to stay relevant.
---
---
For the past few years, the developers, landlords and brokers who constitute the stakeholders of the Midtown Manhattan commercial real estate market have been barraged by waves of conjecture, speculation and hype.
On earnings calls, panel debates and in the papers, they've been confronted with statements and observations that are, by now, extremely familiar: "Manhattan's center of gravity is shifting westward." "Today's office tenants want new space in cool, hip neighborhoods." "Midtown South and the Far West Side are now the city's most desirable office markets."
It's all had the effect of painting a rather forlorn picture for Midtown, which today remains the world's largest central business district and, in many respects, the dominant, bustling hub of commerce in New York City, from Times Square to Rockefeller Center to Grand Central Terminal. With more than 240 million square feet of inventory and 179 million square feet of Class A product, according to Cushman & Wakefield (CWK) data, it is by far the greatest concentration of office space in the city.
And yet, even for the most bullish Midtown observers, it is undeniable that the market faces an unprecedented challenge to its dominance on the office front. Hudson Yards—embodied by Related Companies' mega-development, as well as nearby projects like Brookfield (BN) Property Partners' Manhattan West and Tishman Speyer's The Spiral at 66 Hudson Boulevard—has, as numerous sources put it, changed the game, with major tenants flocking en masse to absorb the tens of millions of square feet due to come online on the Far West Side over the next few years.
Meanwhile, the Midtown South office market at large has become one of the most supply-constricted in the country, with the tech- and media-oriented tenants that have come to represent a growing portion of the city's economy over the past five years voraciously gobbling up all the space they can find from Houston Street up to 34th Street. And further south, the Downtown market has been spurred by the redevelopment of the World Trade Center complex and the Financial District's emergence as a vibrant, amenity-laden live-work-play environment—factors that propelled Downtown office asking rents to an all-time high last year, according to CBRE (CBRE).
So where does this all leave Midtown?
Of the more than a dozen executives who spoke to Commercial Observer for this story, virtually all expressed a steadfast confidence in the market's future—pointing to massive projects like SL Green (SLG) Realty Corp.'s One Vanderbilt office tower and J.P. Morgan Chase's proposed redevelopment of its 270 Park Avenue headquarters as examples of Midtown's continued viability. Still, even the most ardent believers acknowledged that area is experiencing cyclical challenges that will require innovation, evolution and, perhaps most critically, serious reinvestment in order to surmount.
"Midtown is not in trouble—Midtown is doing just fine," said David Falk, the president of Newmark (NMRK) Knight Frank's New York tri-state region. "What landlords have needed to do, and what they're being forced to do now, is spend significant dollars on these buildings to make them attractive to tenants and their desires."
As Falk put it, Midtown property owners need to improve "the story" being told by their rapidly aging, often outdated assets.
"The [Manhattan] market is almost bleeding into one, and it's about what the building offers that differentiates it—does it speak to the brand of the company that is considering the building?" Falk said. "There are buildings that have done very well near the High Line that aren't as accessible, but what they've offered is an amazing brand experience, and that's their story."
As for those in Midtown who don't see the need to reinvest, reposition and retell the story of their properties, the prognosis is much dimmer. "You will suffer if you have Class A space that is unappealing—meaning it's too dark or the ceilings are low," Falk added. "You will suffer if you misprice your space, and you will suffer if you don't invest money. If you don't do those things, your space will sit."
Renew Is the New New
To some Midtown observers, the biggest thing that Hudson Yards has going for it is that it's new. One statistic popularly bandied about in recent years is how the average age of Manhattan's existing office stock is approaching 80 years old; Midtown, long entrenched as the city's preeminent office hub, is home to many of those older buildings.
More than 20 tenants—including heavyweights like Pfizer, EY, Time Warner and Wells Fargo (WFC)—have signed leases in recent years to relocate from Midtown to the new office product rising on the Far West Side, according to Newmark Knight Frank data. In fact, tenants formerly in Midtown have accounted for a remarkable 64 percent of all new leases signed for new construction on the Far West Side since 2013, per NKF.
Over the next two years, Manhattan at large is set to see more new office supply—12.6 million square feet—arrive on the market than at any point since the mid-1980s, according to C&W data, with that number swelling to more than 22 million square feet over the next five years.
"The millennial generation has spoken: They want [offices with] light, air, amenities and column-free efficient space," said Bruce Mosler, C&W's chairman of global brokerage. "Businesses today respond to what the workforce wants and not where the CEO lives. To be successful, they have to be in the locations and property types that attract the millennial generation."
The task for Midtown landlords then is finding a way to make their existing product more competitive against the challenge of the West Side's rising citadels. The property owners who will continue to do well in Midtown, sources said, are those who will invest the resources into making their 20th century office buildings attractive to the needs of 21st century tenants.
"One thing that's clear and evident, and Hudson Yards bears it out, is that tenants want new," David Berkey, an executive vice president and director of leasing for L&L Holding Company, told CO. "They want modern workspaces—they can no longer live in these older workspaces—and there's only a finite amount of [new space] getting built."
Given those constraints, L&L is pursuing ambitious redevelopments at two key Midtown assets it owns: The ground-up reconstruction of 425 Park Avenue and the expansive renovation and expansion of 390 Madison Avenue. Both projects were aided by expiring ground leases at the properties that emptied the buildings and enabled L&L to effectively start anew—a risky proposition for landlords who rely on cash flow from their buildings, as well as a logistical convenience hard to come across for most.
"Both of these buildings were mid-1950s buildings, Emery Roth-designed with low ceilings and lots of columns," Berkey said. "We did two completely different things, but solved the same problem."
At 390 Madison, the company is remassing the building, effectively creating a new structure that will feature higher ceilings and more efficient floor plates, as well as an additional eight stories. The renewed 32-story, 850,000-square-foot property is already fully leased to Japanese cosmetics firm Shiseido, law firm Hogan Lovells and J.P. Morgan Chase, which recently agreed to take the remaining 437,000 square feet at the building.
At 425 Park Avenue, L&L is overseeing an even loftier undertaking. The Foster + Partners-designed, ground-up development of a 47-story, 670,000-square-foot boutique office building made waves in 2016 when it emerged that hedge fund Citadel had agreed to pay rents of $300 per square foot for the upper, penthouse floors—but that sort of tenancy was part and parcel of the developer's plans for the project.
"We wanted to create a bespoke office building for a specific [financial] industry group, and we pulled out all the stops because we knew it could command the rents," Berkey said.
In a sense, the Hudson Yards paradigm has "been positive for all the landlords with older building stock" in Manhattan, according to Bill Edwards, the senior vice president of core holdings for the Rockefeller Group. "It's forced us all to take another look at our assets and start to reinvest in our properties in order to compete."
Rockefeller Group was faced with its own conundrum after Time Inc. announced in 2014 that it would be leaving the landmarked office tower at 1271 Avenue of the Americas, formerly known as the Time & Life Building, to move Downtown to Brookfield Place. The firm now had an empty 2-million-square-foot skyscraper on its hands; like L&L, it decided to take advantage of "a rare opportunity," as Edwards put it, to create something different.
The building is in the midst of a major overhaul with Rockefeller pouring hundreds of millions of dollars into the construction of a new curtain wall exterior that seeks to increase the amount of "light and air" into the space by 60 percent, Edwards said.
"The death of [Avenue of the Americas] has been predicted for many years," Edwards said. But Rockefeller points to statistics, via the Avenue of the Americas' association's Avenue Report, that indicate the Avenue of the Americas corridor accounted for 10 of the 50 largest Manhattan office leases signed in 2017—with nine of those 10 deals coming in Midtown, between 40th and 59th Streets. At 1271 Avenue of the Americas, Rockefeller signed Major League Baseball to a 400,000-square-foot deal in late 2016 and Japanese bank Mizuho's Americas subsidiary to a 148,000-square-foot lease last summer.
Mike Maturo, the president and CFO of RXR Realty, described his firm as "obviously big believers in the Sixth Avenue market"—which makes sense, given that RXR splashed $1.65 billion to acquire 1285 Avenue of the Americas in 2016. A half a block away, at 75 Rockefeller Plaza, RXR recently completed a $150 million gut renovation of the midcentury building—upgrading the property's lobby, building systems, windows and virtually everything else except for its original limestone facade (which received a cleaning).
"I think you can characterize it as Midtown going through a cycle," Maturo said of the area's office market. "I think Hudson Yards and the opening-up of the West Side is a good thing, in terms of the fact that New York needs to keep fresh and be globally competitive. Inclusive to that process, you need to have new space."
Still, Maturo stopped short of pegging that cycle as representative of "any long-term downside for Midtown"—a sentiment echoed by his colleague William Elder, an executive vice president and the managing director of RXR's New York City division.
"Midtown is healthy and strong and continues to perform at a good level," Elder said, citing both J.P. Morgan's commitment to rebuild 270 Park Avenue and Bank of America (BAC)'s prolific leasing activity in the area surrounding Bryant Park, where it's looking to create a corporate "campus" spanning several buildings.
In Elder's estimation (and that of multiple other sources interviewed for this article), for all of Hudson Yards' spanking new stock there is one undisputed realm in which Midtown maintains an advantage.
"I'm a big believer in the West Side developments," Elder said, "but the one thing that is lacking in a meaningful way is real access to real subways and transportation hubs."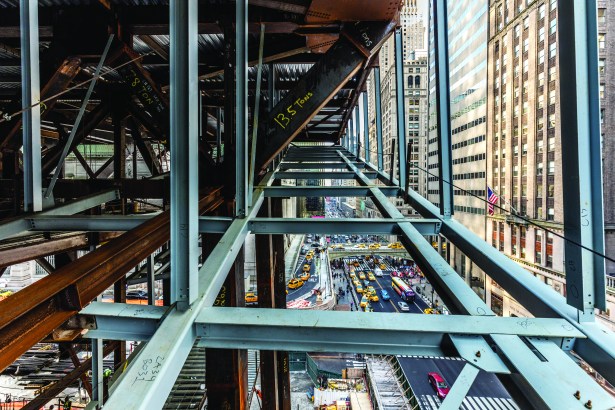 Get in the Zone
Count Steven Durels, who heads the leasing operation for New York City's largest commercial landlord, among the skeptics when it comes to talk of Manhattan's center of gravity shifting west.
"I don't agree with it," said Durels, an executive vice president and the director of leasing and real property for SL Green Realty Corp. "The tenant demand on the West Side is because that's where the newest product has come on the market. Pick up all of those buildings and put them on the East Side, and tenants would rather be near transit hubs. But since everything that comes with new construction happens to be in a more challenged location, tenants had to migrate to that location. It's the fact that that's where the inventory is—and when it comes back to the East Side, then tenants will say 'Put me in the more convenient location,' and they'll pay the rents commensurate with the quality of that product."
For its part, SL Green is bringing new construction and everything that comes with it to Midtown East. Rising just west of Grand Central Terminal, the massive 58-story, 1.7-million-square-foot One Vanderbilt office tower is now emerging above its foundations. Law firm Greenberg Traurig recently agreed to take four floors spanning up to 140,000 square feet at the building, while German financial services firm DZ Bank inked a 35,000-square-foot deal last fall.
DZ, which is presently located at SL Green's 609 Fifth Avenue just a few blocks north of Grand Central, "wanted new construction, but was not interested in the disruption of their employees' commute to move to a place like Hudson Yards or Downtown," according to Evan Margolin, a vice chairman at Savills Studley, who represented the bank in its deal at One Vanderbilt.
"It was an easy sell to their employee base: good news, we're moving only five to seven blocks away to a brand new building, and we're going to be in the most technologically advanced product," Margolin said. "There wasn't a lot of opportunity for new construction in Midtown, and One Vanderbilt was appealing for that reason."
For Durels, One Vanderbilt "is the model for how owners can explore the new construction marketplace" in Midtown. Two years before the Midtown East rezoning was finally passed, SL Green was able to rezone a stretch of Vanderbilt Avenue in a deal with the city that "proofed out the concept of adding FAR [floor area ratio] in exchange for public realm improvements."
Durels said that in addition to new developments, it is imperative that Midtown landlords continue to reinvest in their existing properties in order to maintain relevance in the modern-day Manhattan office market—citing SL Green and joint-venture partner Vornado Realty Trust's overhaul of 280 Park Avenue several years ago as an example
"If they're not building new construction, then in order to stay competitive in the marketplace owners need to continually reinvest in their buildings to address the kinds of demands that tenants have for a modern workplace," he said. "We have an aging inventory of buildings and there's three paths: you can do nothing, in which case you'll be left behind; you can reinvest in your buildings; or you can invest in new construction."
One Vanderbilt is rising only a few blocks south from 270 Park Avenue, where J.P. Morgan Chase will be tearing down its existing headquarters building and developing a new 70-story, 2.5-million-square-foot skyscraper, the banking giant announced in February. That endeavor is being aided with air rights acquired by J.P. Morgan through new parameters enabled by the Midtown East rezoning—a regulatory shift that many have touted as imperative in enabling developers to rebuild and renew the aging office stock in the area.
"I think it's definitely forced landlords to take a good, hard look at a specific asset and whether it makes sense economically [to redevelop]," Fisher Brothers Partner Ken Fisher, whose firm owns five office buildings in the Midtown East area, said of the rezoning. "It gives us the ability to knock [buildings] down and rebuild, if that's what we want to do.
While the likes of L&L and Rockefeller Group were, under varying circumstances, able to vacate properties and transform them entirely, Fisher stressed that such a proposition isn't so straightforward for everyone. "It may not make sense, because you have to wait to empty out a building, and then you're sitting with an asset that's vacant and there's going to be a period where you're not getting much coming in," he said.
Indeed, both Durels and NKF's Falk expressed doubts that the rezoning will change the complexion of the Midtown East market much in the near future—though it certainly leaves the door open for a larger, more widespread transformation in the years and decades to come.
"How many landlords are willing to clear out a building and have it sit without income for a few years?" Falk asked. "It will happen, but it's going to take time and certain landlords with certain resources." He reiterated his belief that "landlords don't have to tear [buildings] down, they just need to reinvest capital in a significant way to make them more relevant for today."
Renter's Market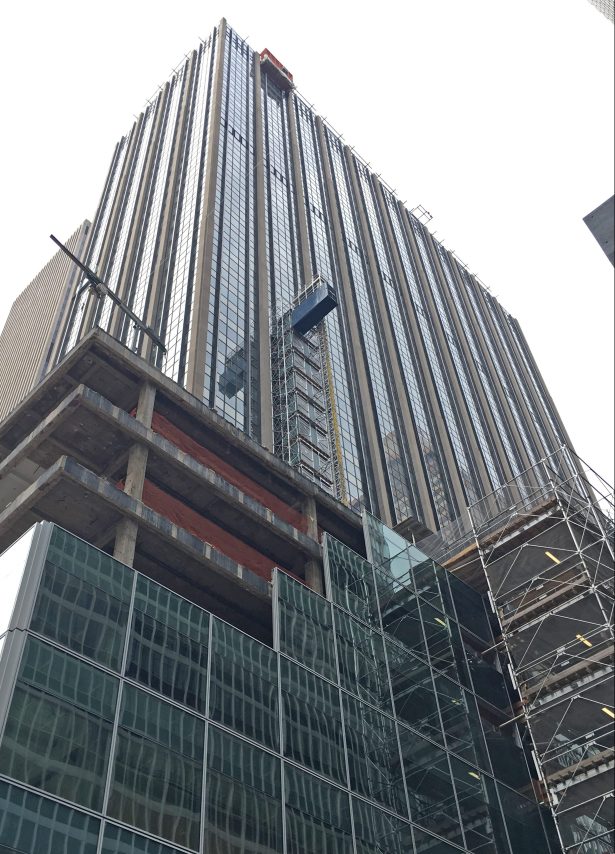 Despite some landlords' best efforts, multiple sources said the recent flight of tenants out of Midtown has forced many to offer higher concessions in order to lure those who may be looking elsewhere.
In 2017, Midtown landlords were offering average tenant improvement allowances of $86.74 per square foot and 13 months' worth of free rent on new direct leases, according to C&W data provided to CO. Comparatively, Downtown allowances averaged $80.46 per square foot and 10 months' free rent, while Midtown South saw allowances of $68.95 per square foot and nine months' free rent.
Savills Studley's Margolin said that, in addition to such financial incentives, Midtown property owners are more accommodating than ever when it comes to handling buildouts of tenants' spaces—particularly for larger footprints that they wouldn't have thought of taking on in the past.
"Landlords are building spaces for bigger tenants, which is something they weren't doing in other cycles," he said. "The cost to build space for a tenant has increased, as contractors are busy and construction costs have increased. That number could be $120 [per square] foot or more—so if you're willing to spend that much more than you had in prior years, then the net effective rent for the landlord is decreased by virtue of a big concession package."
Free rent, meanwhile, was traditionally offered to tenants "because they were in one space and moving to another, and it was meant to be an offset where [tenants] could build the space in the new building while paying rent in their old space," Margolin said. "Now, free rents are something that tenants are enjoying on top of buildout time." Margolin added that free rent is more pervasive in Midtown than other parts of Manhattan.
It's a touchy subject among Midtown landlord representatives, some of whom disagreed outright with the assertion. Elder said that on tenant concessions, the Midtown market "is no different from Downtown or the West Side," while Durels acknowledged that concessions "increased dramatically" around two years ago but since then have "leveled off, whereas face rents have been increasing."
NKF's Falk, however, said it is "a fact" that higher concession packages in Midtown have been "eating into net effective rents."
"While asking and taking rents are up in Midtown, actual effective rents are down because landlords are giving significantly more," Falk said. "They're doing that so they can avoid the risk of having downtime. Certain, average spaces in Midtown can sit for quite a while, and a landlord would rather give more money to ensure they have a deal than let it sit there." He added, however, that this dynamic also applies to Midtown South and Downtown, where concessions "are up compared to recent years" as well.
When it comes to finding takers for their space, however, the Midtown market could well be boosted by a resurgent financial sector. A large chunk of the financial services industry has always traditionally called Midtown home—and just as L&L has positioned 425 Park Avenue to serve boutique firms with deep pockets seeking premium space, so is there hope that financial firms will continue to look to Midtown.
After taking a backseat to the technology, advertising, media and information (TAMI) sector for much of this decade, financial services came roaring back in 2017. The financial sector saw employment levels in the city rise to a 16-year high last year, according to C&W data, and financial industry tenants leased 5.5 million square feet of space across the city in 2017—a 60 percent increase on the previous year.
According to Durels, the federal government's passage of tax reform legislation at the end of last year will likely only further boost financial sector employment—and in turn, financial firms' appetite for space. "The tax law changes gave the financial industry a shot in the arm, and now they'll continue to hire," he said.
Though Midtown will continue to face questions regarding its future viability as the city's commercial epicenter, virtually no one is writing the area off—no matter what Far West Side stakeholders have to say on the subject. As C&W's Mosler noted, of the 30.5 million square feet of new Manhattan office leases signed last year, nearly 20 million square feet was located in Midtown.
"At the end of the day, it will be very hard to replicate cities within cities, as we have at Hudson Yards, or what we've seen Downtown with scale at the World Trade Center," Mosler said. "Midtown will have to come at it differently, and should. But with the level of renovation taking place and what will be going up as redeveloped and new product, you're going to see a significant amount of space that will be going back into the market in a millennial fashion. I think Midtown will have plenty to offer."
1271 Avenue of the Americas
,
1285 Avenue of the Americas
,
270 Park Avenue
,
280 Park Avenue
,
390 Madison Avenue
,
425 Park Avenue
,
66 Hudson Boulevard
,
75 Rockefeller Plaza
,
Bill Edwards
,
bill elder
,
Bruce Mosler
,
David Berkey
,
David Falk
,
DZ Bank
,
Evan Margolin
,
EY
,
Foster + Partners
,
Grand Central Terminal
,
Hudson Yards
,
Ken Fisher
,
Kenneth Fisher
,
Manhattan West
,
Mike Maturo
,
One Vanderbilt
,
Pfizer
,
Rockefeller Center
,
Rockefeller Group
,
Steven Durels
,
The Spiral
,
Time Inc.
,
Time Warner
,
William Elder
,
World Trade Center
,
Bank of America
,
Brookfield
,
CBRE
,
Citadel
,
Cushman & Wakefield
,
Fisher Brothers
,
JPMorgan Chase
,
L&L Holding Company
,
Newmark
,
Related Companies
,
RXR Realty
,
Savills
,
SL Green
,
Tishman Speyer
,
Wells Fargo