Ryan Simonetti and Christopher Kelly on the Evolution of Event Space Provider Convene
---
---
In early 2011, William Elder, an executive vice president and the managing director of RXR Realty in New York City, received a call from Ryan Simonetti, a young real estate executive he knew.
Simonetti wanted to tell him about his new business: on-demand conference and event space provider Convene, which he co-founded with Christopher Kelly. Elder and Simonetti met at RXR's 1336 Avenue of the Americas, where Simonetti was hoping to open a Convene outpost, but Elder wasn't convinced.
"I didn't get the conferencing thing," Elder said. "And I said no."
Elder's rejection wasn't exactly crazy. Six years ago, it was still pretty unquestioned that companies needed conference rooms and boardrooms in their offices. But within the next year, Elder started seeing a change. More firms started cutting back on these kinds of spaces. The idea of outsourced meeting rooms became intriguing. In 2012, he decided to work with Convene at 237 Park Avenue, where RXR was spending $50 million to upgrade the building.
As Elder took Fortune 100 companies on tours of the building, anytime he mentioned Convene, the company's executives eyes would light up.
"Just having Convene working through [tenants'] plans, it just changed the conversation," Elder said. "The 10 times a year they need that big boardroom, they can use Convene. So not only do they save on the buildout cost, but they save on the real estate cost for having to lease that extra space."
When RXR bought 32 Old Slip in April 2015, which had a Convene in place, Elder accepted how popular the company was becoming.
"[Simonetti] is very future focused," Elder said. "He sees things well before [others]. He identified a place in the market where there was a real need and no competition."
But the vision never changed for Convene's founders.
"Chris and I have had the same picture in our minds of an office building—the ideal experiential office building—since before we even first started the company," said Simonetti, the chief executive officer of Convene.
Today, Convene has about 1 million square feet of event, meeting and conference space in the country—between Washington, D.C., Boston, Philadelphia and New York City—that services 25 million square feet of office buildings. The company plans to open another 2 million square feet by the end of next year within another 50 million square feet of real estate.
And over the next five years, Convene is looking to expand into Atlanta, Chicago, Houston, Los Angeles, Miami, San Francisco and Toronto. Internationally, the 340-person company also has plans for a London location in 2019.
"Tenants don't need to take that [extra] space, and landlords don't need to build common conference areas, and it's of such high quality that it will help them attract tenants," said Jeff Lessard, a senior managing director of strategic consulting at Cushman & Wakefield. "It's a different angle into the industry than like a WeWork, but I would say it's compelling."
Convene will soon open a new location in RXR Realty's 75 Rockefeller Plaza. (The specifics of this new space are not yet set.)
Although Convene's roots are in on-demand meeting spaces, it has evolved in phases to become a complete hospitality company that transforms an office building into sort of a "lifestyle hotel"—something Simonetti claims was the goal all along. (The evolution of Convene is something that is very much on his mind. "There was a time when Amazon only sold books," Simonetti told CO.)
After launching in 2009, Convene progressively added new divisions including an in-house architecture and design team, a workplace strategy team and a culinary group led by Regional Executive Chef German Villatoro, who creates menus for onsite kitchens at Convene spaces. Each location has a lead chef and culinary team, and some have cafés, too.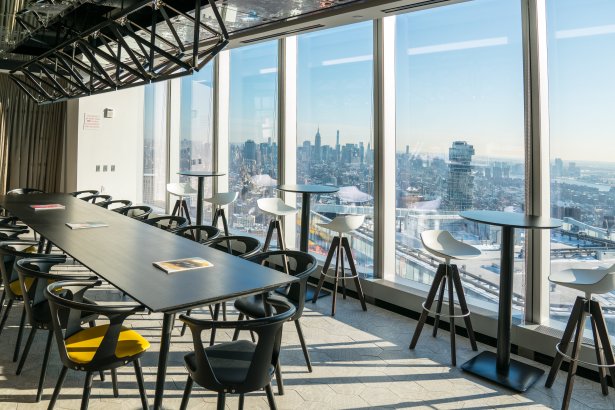 Next, Convene plans to build technology and apps to connect tenants to its services. Recently, it launched Convene Workplace, a service that will provide working suites at Convene locations for companies with up to 100 employees.
But by getting into the office-space-providing business, Convene is now directly butting heads with companies like WeWork and Regus.
"As WeWork and Regus start catering to companies with 50 or 100 people [and not startups], they are moving into the landlords' business," Simonetti said. "So I think landlords are viewing them as competitors, meaning that they now have to respond. We have become the landlords' response." Convene's model is closer to that of a property manager.
And now that the appetite for this kind of service seems to be proven, landlords like RXR, Durst Organization and Brookfield Property Partners are jumping aboard.
"There was a moment in the last six months where adopting agile and flexible work space went from being an opportunity for the landlords to not adopting it being a risk," said Kelly, the president of Convene. "They want to make sure that they are mitigating risk."
There are now nine active Convene venues in Gotham with four more under development or in the planning phase.
Convene recently opened on the 64th floor at the Port Authority of New York & New Jersey and Durst's 1 World Trade Center, where the location features a café, meeting spaces, lounges and game rooms. It is accessible to all the tenants of the 3-million-square-foot building.
The company also has a location at Durst's 117 West 46th Street, where the landlord first got acquainted with Convene in a typical owner-tenant relationship last year.
"We are of the opinion that the trend of greater hospitality in commercial buildings is a trend that will continue to grow and, over time, will become even more important," David Neil, a principal at Durst, said. "Ryan and Chris have tapped into this trend and are well positioned to help landlords like ourselves be at the forefront of this movement."
A year and a half ago, Brookfield Property Partners led a funding round for Convene that raised $20 million. And the landlord was among other established companies—including Durst and venture capital firms—that pulled in another $68 million in May 2017. To date Convene has raised about $119.2 million since 2009, according to the last announcement of funding. It is hoping to bring in $150 million in another funding round in early 2018.
Brookfield took a step further in its relationship with Convene in September, when it announced a partnership that will allow Convene to design, manage and operate workspaces and on-demand meeting and event spaces at the landlord's downtown Los Angeles properties, starting with 333 South Grand Avenue and expanding to others in the future.
"Successful landlords will be those that work to provide solutions to their tenants' desire for efficiency and flexibility," Ric Clark, the senior managing partner and chairman of Brookfield, said in prepared remarks provided to CO. "Convene helps owners do that by offering flexible meeting, social and coworking spaces, significantly enhancing the consumer-facing experience within a property."
It was probably always destined that Simonetti and Kelly would found a thriving business together.
Simonetti, 36, grew up in Hillsborough, N.J., as an only child. His father runs a bread delivery route that hauls Martin's Famous Potato Rolls and has woken up at 2:30 every morning to deliver bread for 27 years (and still does today). It taught Simonetti the value of hard work.
He played basketball in high school and went on to Villanova University, where he met Kelly during freshman orientation, and the pair started hatching plans for extra cash almost immediately. They worked at restaurants, tended bars, bought used textbooks from their fellow students and sold them online and organized ticketed parties and spring break events.
"We were the only two guys at Villanova that didn't have our parents' credit cards," Kelly said.
Kelly, a 35-year-old Armonk, N.Y., native, grew up as one of four boys.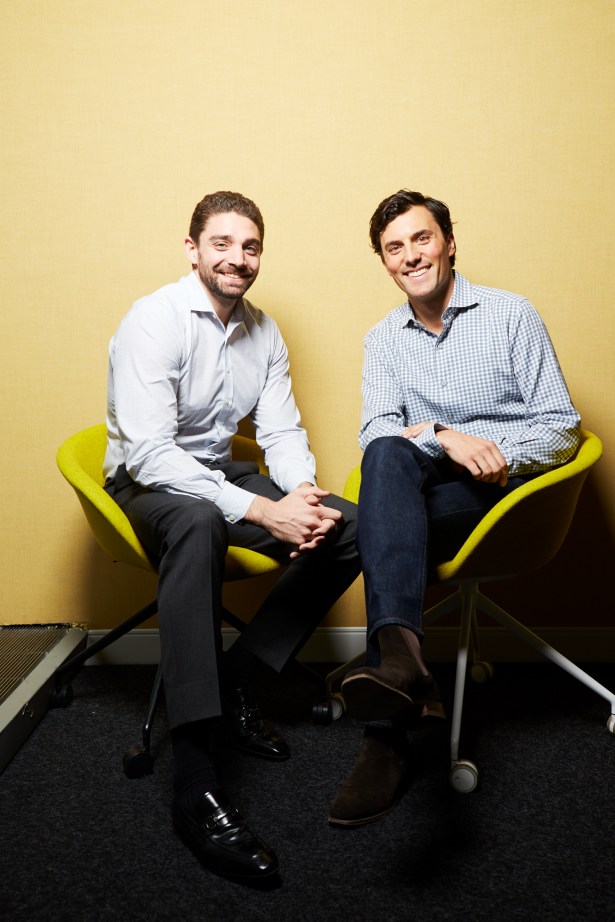 His grandfather, the son of Greek immigrants, sold nuts on street corners in Manhattan as a child and became a screen door salesman as an adult. Later he ran a hardware store and got into the construction business, passing on his entrepreneurial spirit to Kelly.
While he was in grade school, Kelly's family would go to Costco and buy items wholesale, including candy for the youngster, who would turn around and peddle it to other children on school buses.
"I always had a hustling mentality," Kelly said.  "I still remember; Blow Pops were my first product."
Kelly studied marketing and international business at Villanova. Following graduation in 2004, he took two years to travel around the globe, visiting about 30 countries and living on an average of $20 a day, he said. His travels took him to Asia for six months, one month in Africa, and six months in South America before he ended up in Costa Rica in Central America, where he opened a bar on the beach called Coconuts. (While in Costa Rica, he learned how to speak Spanish and to surf.)
As for his future partner, Simonetti interned for Goldman Sachs in college, and after graduating in 2005, he worked at Lehman Brothers Real Estate on the structured products side until 2006. Then he joined Gramercy Capital. At 26 years old, he was running a $3 billion portfolio that focused on office buildings and hotels.
When the financial crisis hit in 2008, Simonetti received many calls from tenants saying they needed to give back space as they were forced to cut costs.
That was when the idea struck about incorporating flexible conference and meeting spaces with services in office buildings, which became Convene.
"The first opportunity that I identified was why are office buildings not being run more like hotels and is there a way to think differently about how office buildings are built designed and operated," Simonetti said.
A big problem, he realized, was the companies sign long-term sheets but don't have crystal balls.
"How could a CEO of any company predict 10 years from now what their business is going to look like, how many employees should they have, what is the design going to be, [and] what that experience is going to be," Simonetti said. "And I thought, if given a better option, would companies actually outsource a portion of their real estate strategy?"
To help start his business, Simonetti called Kelly, who moved to Colorado in 2006 to start a private jet charter business called evoJets. He had a house, a car and a girlfriend, now his wife.
But he decided to take a vacation and travel to New York and meet with Simonetti. "I had coffee with Ryan, and he explained to me the vision for the company, and I literally never went home [to Colorado] from vacation," Kelly said.
Convene was born the following year in November 2009, and today Simonetti and Kelly currently live down the street from each other in Tribeca.
Kelly, a married father of two young children, has run a few marathons, a biathlon and a half ironman. He recently completed the New York Marathon in November in a personal best: 2:57:59.
Simonetti, a married father of a 3-year-old boy, practices Muay Thai and boxing and has taken part in two amateur mixed martial arts fights as well as a boxing match. (He won the two Muay Thai bouts, but his boxing record is 0-1, he admitted. He declined to say anything other than the fighter he lost to has more experience in the ring.)
"For me, [martial arts] becomes a great counterbalance to the pressures and stresses of being a husband and father and obviously running a high-growth business," Simonetti said. "And you learn a lot about yourself when you step into a ring."
When Convene opens its largest location yet—58,000 square feet at Cove Property Group's 101 Greenwich Street in Lower Manhattan—early next year, it will be more than just on-demand meeting and event space with concierge service and a kitchen. There the company plans to officially launch Convene Workplace to provide flexible office suites for companies. The service will also open in Convene's new Los Angeles locations and in the Philadelphia outpost as well.
The recently formed Convene technology department is hard at work on a mobile app for next year that will connect tenants to Convene services within buildings so they can do things like order food from the Convene kitchen for delivery to their office. This app will also be introduced at 101 Greenwich.
"As a landlord, we want to ensure that we cater to tenants' need to attract and retain the best and brightest talent," said Kevin Hoo, the founder and managing partner of Cove. "And partnering with someone like Convene, [which] has a competitive advantage and insight into this paradigm, made sense for us."
1 World Trade Center
,
101 Greenwich Street
,
237 park avenue
,
32 Old Slip
,
333 South Grand Avenue
,
75 Rockefeller Plaza
,
Brookfield Property Partners
,
Christopher Kelly
,
Convene
,
Convene Workplace
,
Cove Property Group
,
Cushman & Wakefield
,
Durst Organization
,
German Villatoro
,
Goldman Sachs
,
Gramercy Capital
,
Lehman Brothers Real Estate
,
Port Authority of New York & New Jersey
,
Regus
,
Ric Clark
,
RXR Realty
,
Ryan Simonetti
,
WeWork
,
William Elder