Exclusive: Regus to Occupy 50K
---
---
The office suite firm Regus is taking two floors totaling about 50,000 square feet at 112 West 34th Street, The Commercial Observer has learned.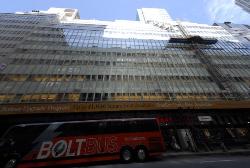 The firm will be relocating from 11 Penn Plaza, where the retailing giant Macy's is expanding into the space it will leave behind.
Regus will take floors 17-18 at 112 West 34th Street, a 26-story, 770,000-square-foot asset owned by Malkin Properties. The firm has committed to the spaces–at 28,000 and 23,000 square feet respectively–for 15 years. Rents start in the mid $40s per square foot.
A spokesman for Regus confirmed the deal and said that 112 West 34th Street was an ideal location because it was nearby its offices at 11 Penn Plaza, making the move more convenient for its tenants while remaining close to Penn Station, a central transit hub.
"We want to retain as many tenants as possible in the move and stay close to Penn," the spokesman said. "The 11 Penn location is almost fully leased."
Regus rents offices and then partitions the space for smaller users such as start up companies or even individuals who would like to lease a single work station.
"Many of our tenants are firms that are starting out and want flexibility," the spokesman said. "It's a great way to enter the market because we allow tenants to easily shrink or add space."
Lately the concept has appeared to gain steam in the city amid lingering economic problems that have cast swaths of the workforce into the job market and spurred some to start their own business or embark on a more entrepreneurial career path.
As The Commercial Observer reported yesterday, WeWork, another office suite provider, just committed to about 75,000 square feet at 175 Varick Street where it will open its fourth location in the city. According to WeWork's chief executive, Adam Neuman, the firm has taken almost 200,000 square feet in under two years.
Regus is one of the largest office suite companies with 20 locations in the city and over 1,200 in 92 countries worldwide. The company has opened a number of offices this year in Manhattan, at 99 Hudson Street, 41 Madison Avenue, 600 Third Avenue, 77 Water Street and 477 Madison Avenue its spokesman said and looking for more space in which to expand next year.
Mitch Arkin, an executive at the brokerage firm Cushman & Wakefield, leades a C&W agency team that represents Malkin Properties at 112 West 34th Street. Mr. Arkin could not be reached for comment. Regus is represented by a CBRE team headed by broker Mark Ravesloot. Mr. Ravesloot also could not be reached.
Macy's will take up the the roughly 60,000 square feet that Regus will be leaving behind at 11 Penn Plaza. In that deal, Macy's will lease the roughly 1.1 million square foot building's fifth floor, expanding its already huge presence in the property to about 600,000 square feet sources say. Macy's will pay rents in the $50s per square foot for the space, which it will take through 2020 to match the existing term of a portion of its lease in the building. 11 Penn Plaza is owned by the real estate investment trust Vqornado and represented by one of Vornado's in house leasing executive Glen Weiss. Mr. Weiss couldn't be reached for comment.
Dan Geiger, Staff Writer, is reachable at DGeiger@Observer.com
11 Penn Plaza
,
112 West 34th Street
,
175 Varick Street
,
41 Madison Avenue
,
477 Madison Avenue
,
600 Third Avenue
,
77 water street
,
Glen Weiss
,
Malkin Properties
,
Mark Ravesloot
,
Mitch Arkin
,
Regus
,
Vornado Realty Trust
,
WeWork
,
CBRE