EXCLUSIVE: French Advertising Firm to Sign 150K Lease at 200 Hudson Street
---
---
Havas is in talks to move a portion of its U.S. advertising operations into 200 Hudson Street, several sources familiar with the transaction told The Commercial Observer.
The French company, which is one of the world's largest advertising firms, would take approximately  150,000 square feet in the deal, the sources said.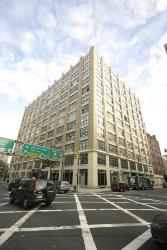 The firm, one of the sources said, will take floors four through eight in the nearly 400,000 square foot property for rents in the $40s per square foot.
As of press time, it was not clear which groups Havas is planning to relocate into the space, though it is possible that Euro RSCG, a Havas owned marketing firm that has space nearby at 350 Hudson Street, will be part of the relocation.
Yvonne Bond, a spokeswoman for Euro RSCG, said the company was looking to relocate from 350 Hudson Street by next year, but said that a deal to move had not yet been finalized. Ms. Bond would not comment on the potential deal at 200 Hudson Street.
"Nothing has been signed," was all she would say.
In addition to Euro RSCG, Havas controls several advertising, marketing and communications firms in the city that have offices in separate locations. Among the French company's holdings are the communications firm the Abernathy MacGregor Group, which has its headquarters at 501 Madison Avenue, the media company Media Contacts, located at 195 Broadway and Archibald Ingall Stretton at 84 Franklin Street.
Reached by email, James Abernathy, the chief executive of Abernathy MacGregor, said his firm would not be moving down to Hudson Square, the neighborhood where 200 Hudson Street is located. Other executives at Havas subsidiaries did not return calls and emails by press time.
Havas, according one of the sources, has a total space requirement between 200,000 and 250,000 square feet and plans to sign or renew leases at other locations besides 200 Hudson Street. By press time it was not yet clear where these other deals would be done and how much space they would include.
A team from the real estate services firm Newmark Knight Frank led by Newmark's New York area president David Falk is representing Havas. Falk could not be reached for comment. An agency group from Cushman & Wakefield led by executives Andrew Peretz, Robert Constable and Mikael Nahmias handes deals at 200 Hudson Square for the building's landlord, the church-owned holding company Trinity Real Estate. Neither the agency team, Newmark nor Trinity could be reached.
195 Broadway
,
200 Hudson Street
,
350 Hudson Street
,
501 Madison Avenue
,
84 Franklin Street
,
Abernathy MacGregor Group
,
Andrew Peretz
,
Archibald Ingall Stretton
,
David Falk
,
Euro RSCG
,
Havas
,
Marc Pacman
,
Media Contacts
,
Mikael Nahmias
,
Newmark Knight Frank
,
Robert Constable
,
Trinity Real Estate
,
Yvonne Bond