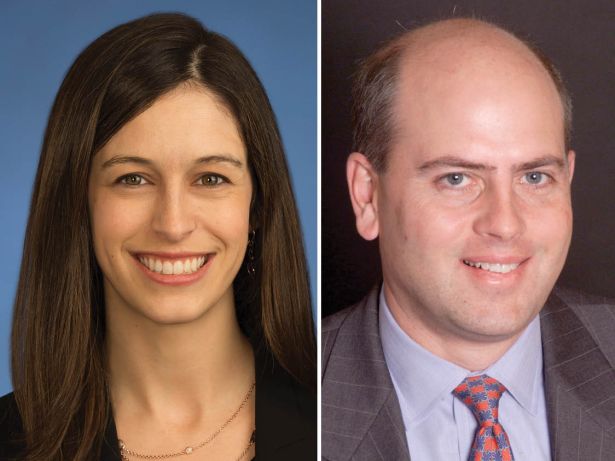 Miriam Wheeler (left) and Ted Borter.
#12
Miriam Wheeler and Ted Borter
Co-heads of the Americas Real Estate Financing Group at Goldman Sachs
Last year's rank: 12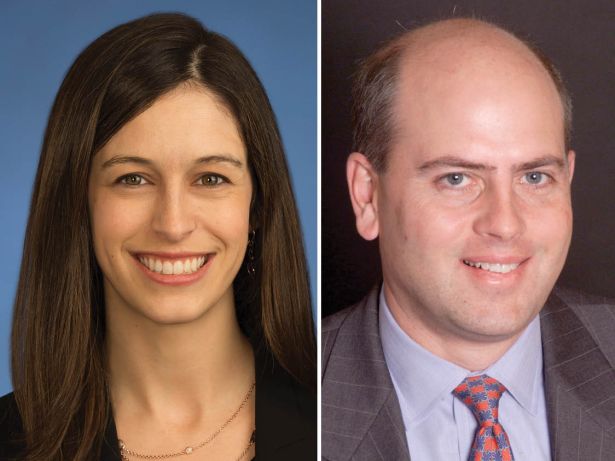 The CMBS market picked up a bit of steam last year, and Goldman Sachs' market share as a bookrunner of U.S. commercial mortgage-backed securities transactions dipped to 11.4 percent even though its volume grew 25 percent to $11.1 billion — across 30 deals — from $8.9 billion the previous year. 
It also contributed more than $10.1 billion to CMBS transactions last year — $3.9 billion in conduit deals and $6.2 billion in single-asset, single-borrower deals — a nearly 18 percent jump from 2018's $8.6 billion total, according to data from Commercial Mortgage Alert.
Miriam Wheeler and Ted Borter took over as co-heads of real estate financing in time to make last year's list for the first time. 
Two heads are indeed better than one.
In early May, Goldman Sachs and Citi essentially reopened a COVID-19 rocked CMBS market with its conduit deal, GSMS 2020-GC47; a $772 million deal led by Goldman that was met by strong investor demand. The canaries in the coal mine, their bet paid off.
Wheeler has logged 15 years at Goldman, where she began in 2005 and made partner in 2018. As co-head of the real estate finance practice she heads up large loans, senior mortgage and mezzanine debt originations. Goldman originated $2.5 billion in mezzanine debt last year and was projected to do about the same this year, according to CMA data.
Borter, who heads up the bank's commercial mortgage finance business in North America, can count more than two decades at Goldman, having started there in 1997.  
One of the bank's biggest deals last year was when it led the $1.2 billion CMBS deal on the Fontainebleau Miami Beach oceanfront resort. Goldman also provided a $225.6 million construction debt package to RXR Realty for the development of a new residential project on the campus of Long Island University in Brooklyn.
In D.C., Goldman Sachs led a consortium of lenders in a $847 million financing to facilitate the second phase of construction on The Wharf, a $2.5 billion, 3.2 million-square-foot waterfront mega-project.
And near the end of 2019, it was announced that it was also involved in the $850 million CMBS refinance of Vornado's 650 Madison Avenue.—M.B.