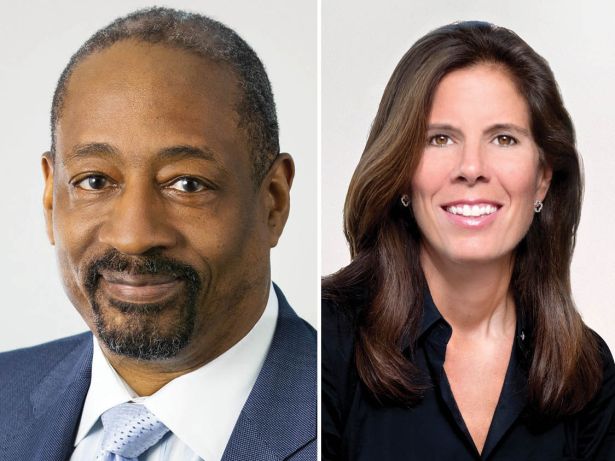 Jeffery Hayward (left) and Michele Evans.
#14
Jeffery Hayward and Michele Evans
Executive Vice President and Head of Multifamily; Senior Vice President and Multifamily COO at Fannie Mae
Last year's rank: 14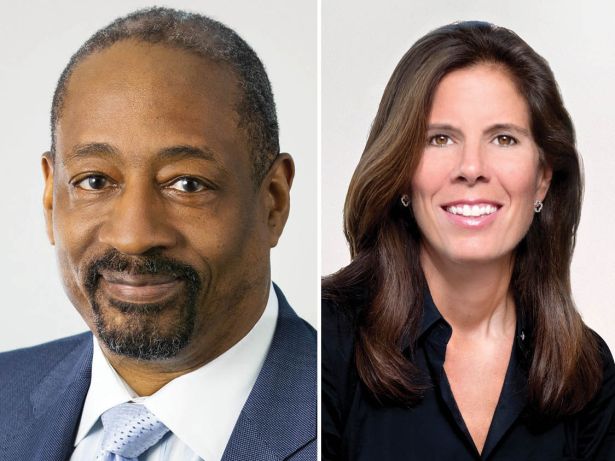 Agency lending executives tend to stay put with their institutions for quite some time. Fannie Mae's multifamily leaders, Jeffery Hayward and Michele Evans, have logged more than half a century together at the company.
It's safe to say they know how to keep the machine well-oiled …  especially amid a crisis they're helping stave off from infecting one of the most important sectors of the U.S. economy.
"[There was] no single day we couldn't issue DUS securities or bid to buy DUS securities," Hayward said about its forward pipeline, which was capped by the Federal Housing Finance Agency at a record $100 billion for the five quarters beginning in the fourth quarter last year. "Our business model is a stable one, our pipeline is healthy, and we're off to a great start in the affordable business. [It's the] LIHTC [Low Income Housing Tax Credit] business that I'm most excited about, which provides housing for those who need it most; we have the authority to invest $500 million per year [there], and we're on our way to doing that. Forbearance is there for those who are eligible, and we have done our fair share. A lot of sponsors were in good shape and didn't need forbearances." 
Evans added: "Our business has continued to flourish even with the modifications we've had to make on the credit side, which speaks to the discipline of the market."
While Fannie was outpaced by a step in 2019 by its counterpart Freddie Mac, the government-sponsored enterprise still set a record with more than $70 billion in financings, surpassing the previous record set in 2017 and rebounding following a down year last year that saw it provide $65 billion in financing for owners and developers — compared to $75 billion in transaction activity from Freddie.
It grew its green-financing and seniors-housing businesses markedly, and its affordable housing production hit a record $7.8 billion, a 21 percent jump from $6 billion in 2018. And with a government mandate to deploy 37.5 percent of its $100 billion cap this year into mission-driven affordable housing, it's poised to completely shatter this benchmark.
Like its rival Freddie, Fannie recently employed a financial advisor in Morgan Stanley to help facilitate a move out of its more-than-decade-long government conservatorship a transition that would instantly place it on a mantle as one one of the world's largest financial institutions.—M.B.