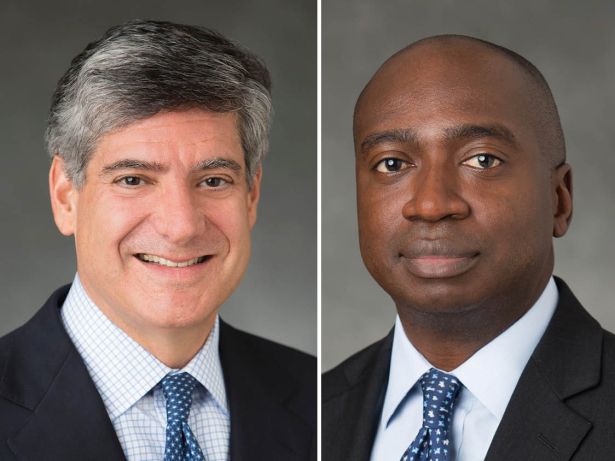 James Flaum (left) and Kwasi Benneh.
#7
James Flaum and Kwasi Benneh
Global Head of Real Estate Lending; Head of Large Loan Origination and Syndication at Morgan Stanley
Last year's rank: 6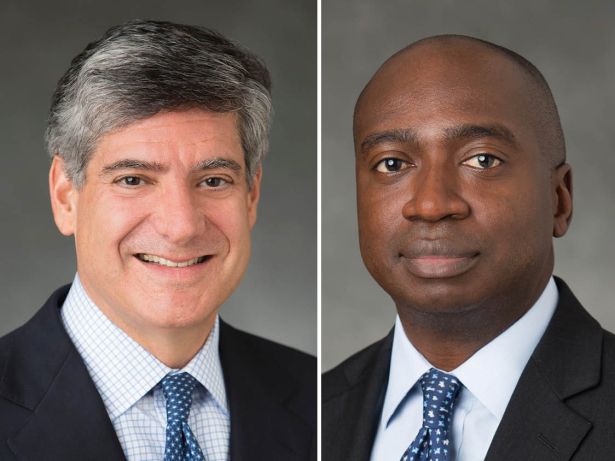 Led by the firm's global head of real estate lending, James Flaum, and managing director and head of large loan origination and syndication, Kwasi Benneh, Morgan Stanley's real estate debt operation originated a whopping $23.3 billion across the globe last year.
The investment bank's sheer size and scale, strong balance sheet and dominant position in the world of securitization secured its prominent position on this list. It contributed about $9.8 billion to U.S. CMBS transactions in 2019, representing more than 10 percent of the market, and it was the second-largest U.S. CMBS bookrunner at $11.5 billion across 30 deals. (Globally, it ranked as the top bookrunner due to an active operation in Europe, according to Flaum.) His group also provided $2.2 billion in mezzanine debt and $8.4 billion for its balance sheet.
Its 2019 was headlined by the massive $3 billion CMBS deal it was involved in that financed Blackstone's acquisition of the fee interest in the Bellagio hotel and casino in Las Vegas.
"That was the marquee deal in the market, the financing for the Bellagio that we led," Benneh said. "What sets us apart is we bring both sides of the business to bear for our clients."
After a busy fourth quarter of 2019 and a strong end to the year, the bank's 2020 started a bit slow, even before COVID-19, which is expected, according to Flaum.
Flaum characterized the COVID-19 environment as "challenging," something he said they are managing through. He said a healthy investor appetite exists, and borrowers are gradually reentering the marketplace, adding that the bank is seeing some activity but it's slow-moving and dependent on when equity investors "feel the market is stable enough to invest."
Through the first quarter of this year, the bank led just under $2.5 billion in global CMBS issuance across four deals.—M.B.