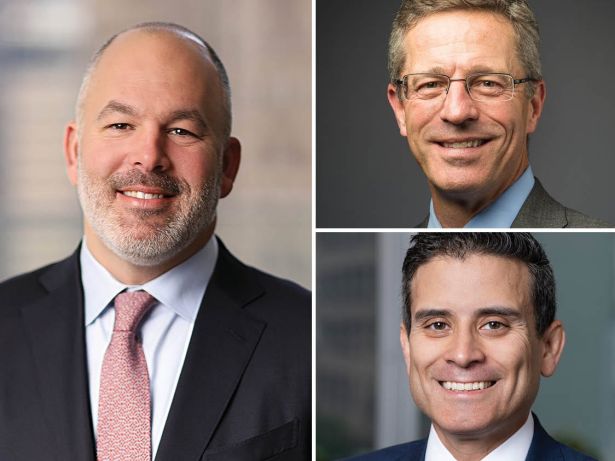 Clockwise from left: Chris McGibbon, Jack Gay and Jason Hernandez.
#45
Chris McGibbon, Jack Gay and Jason Hernandez
Global Head of Real Estate, Head of the Americas; Managing Director, Global Head of Debt; Managing Director, Head of Originations at Nuveen Real Estate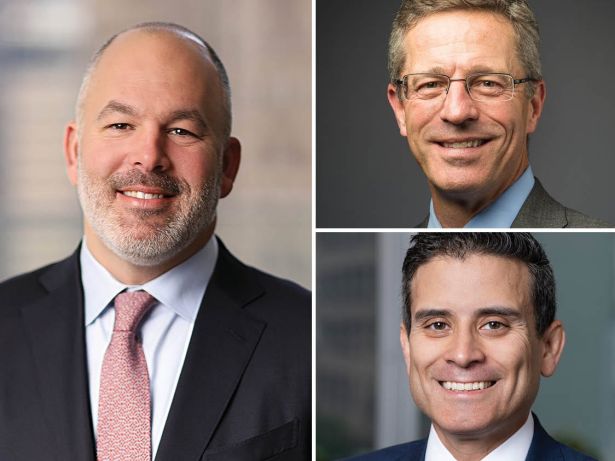 Nuveen Real Estate, an investment affiliate of TIAA, is one of the world's largest real estate investment managers with around $131 billion in assets under management.
Led by this trio, the lending arm for the Americas produced $6.5 billion in new originations in 2019, with a key focus on core, fixed-rate and long-term debt through a collection of fund vehicles. Last year, 60 percent of its work was in core, fixed-rate debt, while the remainder featured transitional, floating-rate and mezzanine financings, according to Head of Originations Jason Hernandez. Overall, the firm has a $35 billion global debt allocation.
Last year saw Nuveen make a couple splashes on the debt side, including a $228 million loan to RXR Realty in October to refinance previous acquisition debt on its office space at the 26-story 530 Fifth Avenue in Midtown Manhattan.
Just several months prior, in April, the debt shop funded a $375 million 10-year, balance sheet loan for RXR and Youngwoo & Associates' redevelopment of Pier 57 in Hudson River Park.
It supplemented some of these larger transactions with other deals sprinkled throughout the country, including a $124 million loan for the acquisition of a Colorado industrial portfolio.
Going forward in 2020, "the strategy hasn't changed," Hernandez said, adding that the firm is taking a longer-term view on new opportunities, scanning the horizon for two or three years down the line. "There has been incredible dislocation, but we're open for opportunities on the fixed-rate side. Right now, senior financing markets are closed or not priced attractively, forcing us to do work on an unlevered basis. Overall production will be down, but we're still seeing opportunities."
"We have to redefine what a win means. Today, winning could mean getting a forbearance done on a retail deal," Hernandez added.
After reassessing its book for a short period, the lender's approach shifted to underwriting in a recession scenario, aiming at new deals in large, liquid markets for best-in-class sponsors.
"It gives you time to reflect on where your business is and where it's going," said Jack Gay, the global head of debt. "It's time to catch your breath and look around."
Nuveen is bolstered by debt fund vehicles in the U.K., Australia and Asia Pacific, with a debt fund in the U.K. set to launch in the second half of this year, Gay said. As for what's in store for the U.S. this year?
"We always thought we had space for a higher-yielding fund," Gay said. "We haven't launched it yet because it was late [in the] cycle and it didn't make sense to put us on the outer edge of the risk spectrum. But now, [the market's] reset."—M.B.