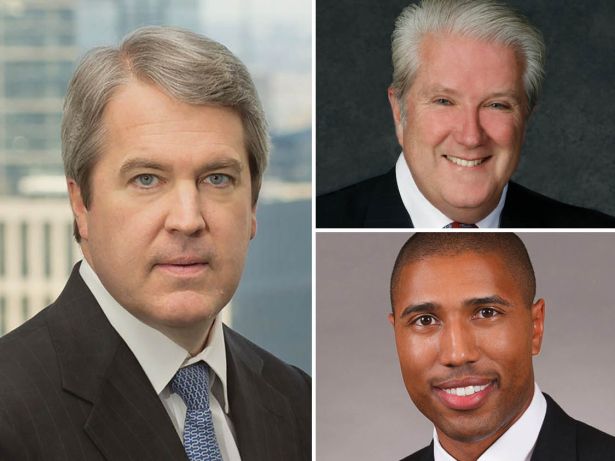 Clockwise from left: Brian Baker, Al Brooks and Chad Tredway
#1
Brian Baker, Al Brooks and Chad Tredway
Global Head of Commercial Mortgages at J.P. Morgan Securities; Head of J.P. Morgan Chase Commercial Real Estate;  Head of Real Estate Banking at J.P. Morgan Chase
Last year's rank: 3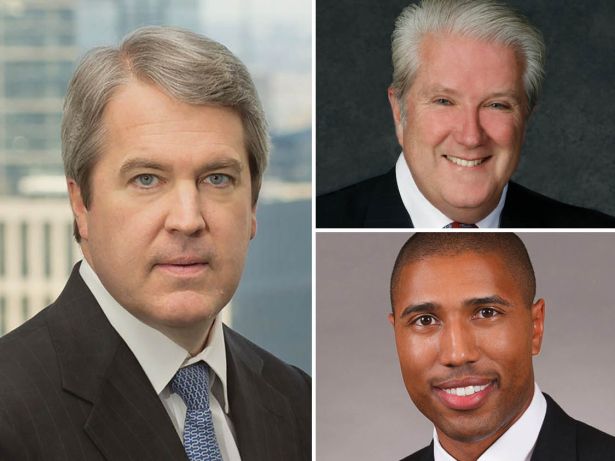 As a consistent heavy hitter on Commercial Observer's Power Finance list, it's almost too perfect that JP.Morgan racked up a whopping $50 billion in originations last year — despite the hyper-competitive landscape. 
"We understand the fundamentals of commercial real estate really well," Al Brooks said. "We're fortunate to work with the strongest commercial real estate customers in the industry. Although it was an exceptionally competitive year, we remain steadfast in our commitment to serving our customers. We provide expertise, not just deals, and we look at our real estate clients as customers, not just deal flow."
The scale of J.P. Morgan and the diversity of its product offerings allow it to be a one-stop shop for clients, supporting their lending needs with a variety of solutions through bull and bear markets.Further, the bank is putting extra emphasis on affordable housing — its dearth even more pronounced post-COVID.
"Our focus is always on driving a 'customer first' process," Chad Tredway said. "We think about the customer journey from start to end; from where we take the initial phone call to when we close the loan. Al and team have been building that for 20 years."
The bank's top-notch year in 2019 included a $900 million syndicated refi for The Durst Organization on its 1.8 million-square-foot office and retail building at 151 West 42nd Street (formerly 4 Times Square); $1.98 billion in CMBS financing to Blackstone and Centerbridge Financing to take out previous debt on 14 Great Wolf Lodge resorts; and a $595 million CMBS refi for 3 Columbus Circle in New York City.
"We started out with a very strong Q1 and as COVID19 set in during March and April, the market witnessed unprecedented volatility," Brian Baker said. "Even though we weren't committing loan capital as the demand wasn't there, we supported clients through trading capital and providing liquidity during a critical period."
"At the beginning of May,  we started to do some securitizations again," Baker said, adding that "in the last few weeks, we've seen a big pickup in activity." Indeed, the bank is currently in the market with the $727 million JPMDB 2020-COR7 deal.
Most recently, J.P. Morgan and Morgan Stanley were hired by Freddie Mac and Fannie Mae, respectively, to advise on their recapitalization and exit from conservatorship.—C.C.