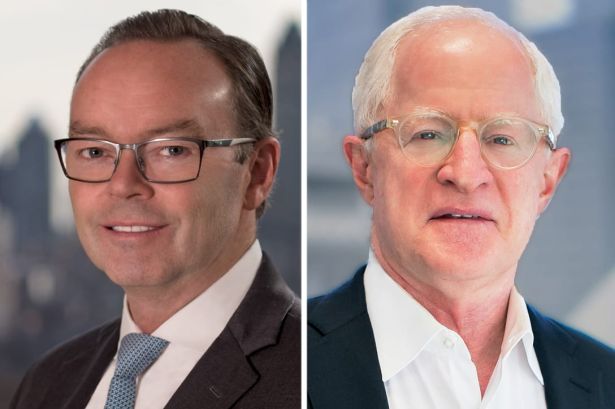 Rick Vogel and William Witte; Related California and Related Urban Development
Rick Vogel and William Witte
Senior vice president at Related Urban Development; Chairman and CEO at at Related California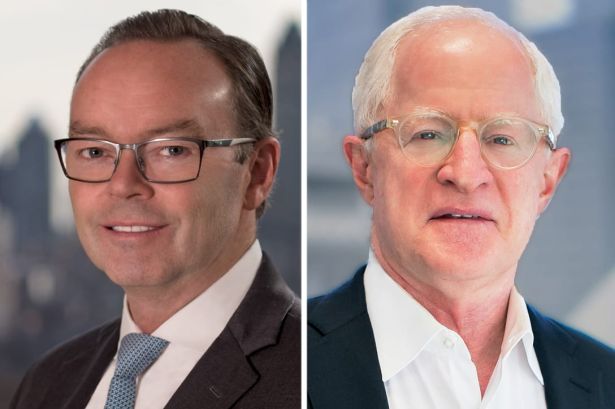 Related Companies is mostly known for developing Hudson Yards in New York City. But if Southern California's economy can quickly rebound to pre-pandemic levels, the company might also be known for The Grand in Downtown Los Angeles.
William Witte is chairman and CEO of Related California. Rick Vogel joined Related Urban Development in 2017 to lead The Grand project. Both men have been focused on the $1 billion mixed-use complex that's currently underway.
The Grand, developed with Core USA and designed by all-time L.A. favorite architect Frank Gehry, reached the halfway point in the summer. The project will include 1.6 million square feet, including a 39-story apartment building with 436 luxury residences; a 309-room Equinox hotel; and retail space. It's set to open in 2022, across the street from the iconic Walt Disney Concert Hall that Gehry also designed.
"We have spent the last eight-plus months steering the project through the pandemic, and we're the first project in L.A. to put in place state-of-the-art protocols to keep our workers safe on site," Vogel told Commercial Observer via email.
Related also started a new joint venture this year with Lowe to build a 113,000-square-foot office in Downtown L.A.'s Arts District. And Witte said the firm is one of the state's largest developers of affordable housing. It's working on a project in the Crenshaw District, and the redevelopment of the Rose Hill Courts public housing project, among others.
"We remain believers in the value of urban centers, and there are several projects in the Los Angeles region that are either available now and/or looking for capable joint venture partners," Witte said. "We also see potential in high-growth suburban locations."
Witte added that L.A. is uniquely positioned to rebound from the economic downturn, due to tech, entertainment and international trade. Vogel said some of Related's most significant pivots in business strategy occurred after major downturns.
"Change creates opportunity for those who seek it," he said. "We are a strong believer that our cities are resilient, and that we will restore the energy and vitality that we had pre-pandemic, so our focus on development of large-scale urban centers will continue. … L.A. was already on a red-hot growth trend, fueled largely by the merger of technology and entertainment. The arrival of big tech to L.A. has significantly increased employment levels and housing demand, and will be a continuing theme."
Witte and Vogel both said they love spending as much time with their families as they can. Witte and Vogel are both also into sports, mostly basketball and surfing, respectively. In "normal" times, Witte said he loves a pub crawl downtown with developer Tom Gilmore.—G.C.