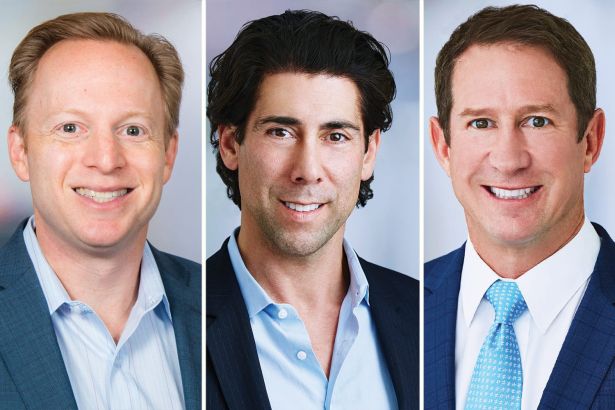 Joshua Gorin, Mark Sullivan, Andy Lustgarten; Savills
Joshua Gorin, Mark Sullivan and Andy Lustgarten
Vice chairman and Los Angeles office director; vice chairman, director and western region lead; and L.A. senior managing director at Savills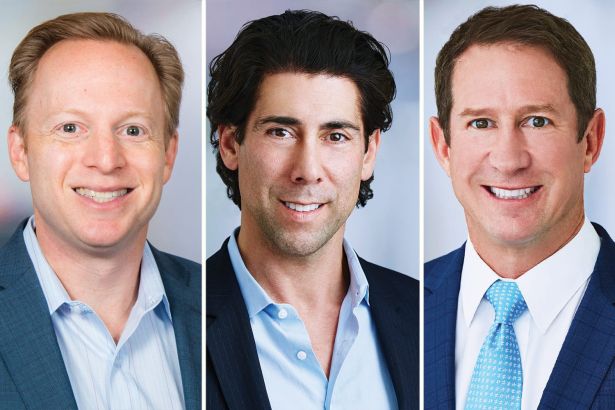 Josh Gorin, Mark Sullivan and Andy Lustgarten have worked together at Savills' Los Angeles office for 17 years, doing office deals with some of the biggest tenants in Southern California. 
Gorin, 49, started his career at what was then-Studley in Chicago and moved to L.A. in 2005 to work with Sullivan, a 56-year-old who started as an intern at Studley 30 years ago and has remained there ever since. (Savills acquired Studley in 2014 for $260 million.) The youngest member of the trio, Lustgarten, 44, moved to L.A. in 2003 to work at Studley after a two-year consulting gig at Accenture in Boston. When they're not negotiating leases, Gorin serves as the co-lead for Savills Academy, the company's leadership training program, and Sullivan chairs the brokerage committee at Savills. 
The team has executed a slew of megadeals totaling nearly five million square feet over the past 18 months, despite the pandemic. They've handled 20 transactions totalling two million square feet for Technicolor at locations across the world; a 250,000-square-foot lease for Australian investment bank Macquarie Group in New York; and a 185,000-square-foot lease for the Santa Monica headquarters of advertising agency RPA. 
They also oversaw the relocation of Tennessee-based footwear brand Genesco, which moved its headquarters within Nashville to a larger, 185,000-square-foot outpost. Within L.A. proper, the team has executed an 80,000-square-foot office deal for film and television production outfit All3Media; and a new, 57,000-square-foot office for law firm Pillsbury Winthrop Shaw Pittman. 
Although the L.A. office market has experienced a dramatic slowdown in leasing since the pandemic began, Gorin said that clients in the "streaming, gaming or post-production space have been opportunistic based on extreme drops in pricing." Sullivan added that life sciences and tech tenants have been expanding as well. 
"They have some vision into their future and they continue to aggressively take space, though they don't have advanced plans about when they're coming back to work in person," he said. "It's really tricky for companies to understand what their permanent working situation is going to look like."—R.B.R.