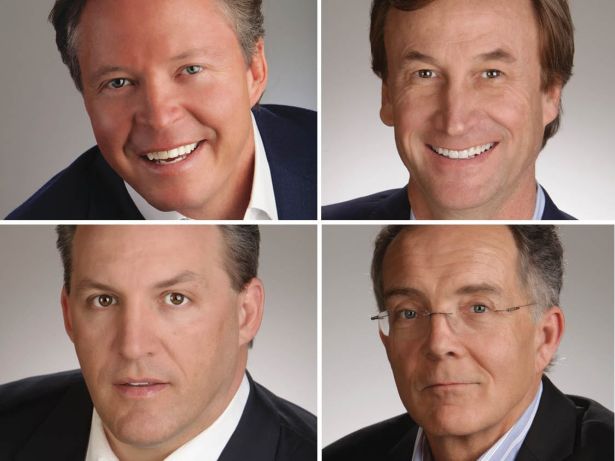 Clockwise from top left: Warren de Haan, Boyd Fellows, Stew Ward and Chris Tokarksi.
#11
Warren de Haan, Boyd Fellows, Chris Tokarski and Stew Ward
Managing Partners at ACORE Capital
Last year's rank: 10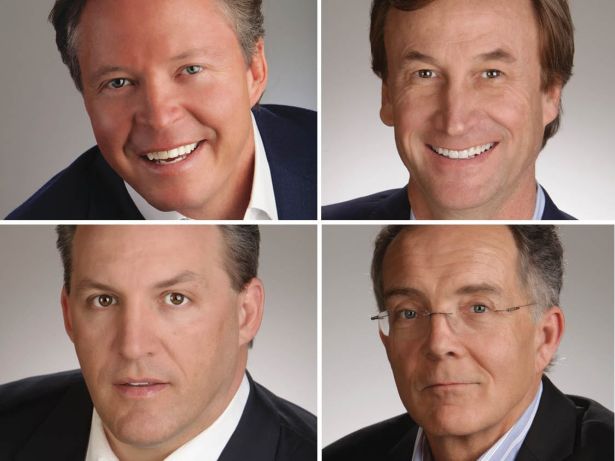 While ACORE Capital dropped one spot on this year's Power list, it's far from an indictment on the capabilities of one of the most robust, impressive real estate finance companies in the country. 
Sources who spoke to Commercial Observer about ACORE Capital described a high-octane operation churning under its calm waters, and Commercial Observer couldn't agree more. 
ACORE'S originations in 2019 jumped to $7.1 billion from 2018's $5.7 billion figure, driven by several high-profile transactions, including a $313.8 million acquisition and construction loan provided in May 2019 to Harvest Properties and Invesco for a Silicon Valley office complex. 
Their veteran leaders propel them. 
"No one knew our name two years ago," Boyd Fellows told CO. "We raised money from the U.S., Canada, England, Europe and the Middle East and Asia Pacific, from family offices, insurance companies, U.S. pension funds, corporate and foreign pensions and asset managers. We had about 300 meetings over two years, introducing ourselves to various investors."
Sources who spoke to CO about these players consider de Haan and Fellows "brilliant" and Chris Tokarski a "genius."
Rounding them out is Stew Ward, a more quiet and stoic figure who isn't as front-facing as the other three. But don't let that fool you. The veteran, who has nearly 40 years of experience under his belt, leads all operations and capital markets activities for ACORE and previously served as the CFO of Starwood Property Trust from 2010 to 2014. 
ACORE is a standout platform and a consistent force on the Power Finance 50 list. It doesn't leverage its book, it's bolstered by a sizable asset management team, it isn't afraid to own real estate, and it's backed by an impressive collection of offshore investors who are more than happy to throw money at them to fetch the stable risk-adjusted returns they produce. Just ask the silver-tongued Boyd Fellows. 
While COVID-19 might've slowed their operation just a tad, forcing it to reassess its loan portfolio and work through modifications, forbearances and extensions — like just about every other prominent real estate lender in existence — this shop was built upon strong roots and will remain a force to be reckoned with.—M.B.