SoHo, Union Square Retail Emerge From COVID at Different Speeds
One neighborhood leaned on luxury brands — and their clientele — while the other suffered from too many larger spaces chasing too few tenants
---
---
Two tony Manhattan shopping destinations entered a public health emergency and financial catastrophe. One came out swinging, the other emerged punch drunk.
Union Square and SoHo have indeed ended up on divergent paths in terms of the recovery of their retail from the pandemic. SoHo, after a rough 2020 characterized by broken storefronts due to rioting, seems to be back if not  better than ever, attracting dozens of new tenants and thousands of shoppers daily. Union Square, on the other hand, has slipped a bit from its former perch as a Manhattan retail mecca. 
Retail brokers argue that Union Square suffers from rents that can be as high as those in SoHo — but for much larger spaces. Combined with the fact that Union Square has never been considered a destination for major fashion brands, the square's lofty asking rents and sudden mass departure of tenants has been a challenge. 
"When you have a large space and a high per square foot number, it becomes multiple millions of dollars," said Richard Skulnik, a retail broker at Ripco. "I think that's where some of the vacancy lies." 
Fourteen blocks south, SoHo has benefited from luxury and mid-range brands that remained through the peak of the pandemic and redesigned their stores, including standbys such as Coach, Louis Vuitton, Dior and Tiffany & Co., as well as fast-fashion retailers Forever 21 and Uniqlo. It also helps that SoHo is a major tourist destination. 
New tenants began to trickle back into the neighborhood south of Houston Street a year into the pandemic, with Aritzia leasing the former Dean & Deluca space at 524 Broadway in mid-2020 and opening in February 2021. Valentino followed suit, leasing its first SoHo store at 135 Spring Street the same month Aritzia opened. Petco also took advantage of lower rents and opened a store called Reddy, which it billed as a "premium lifestyle brand for dogs." 
Then 2022 brought a flurry of new retail deals: athleisure brand Vuori leased 106 Spring Street for its first store in March, followed by deals with Armani Exchange, Eataly, Timberland, Athleta, Balenciaga, Arc'teryx and Glossier. Armani even doubled down with a second, yet-to-be-publicized store at 134 Spring Street for its slightly more upscale offering, Emporio Armani. 
Low rents in the less fashionable parts of SoHo also attracted unique tenants like the House of Cannabis, a weed museum set to open this year at 427 Broadway, just north of Canal Street. In February, Australian fashion brand Cotton On took 20,000 square feet at 512 Broadway, in one of the largest retail leases signed in the neighborhood this year.
Meanwhile, Union Square has been struck by some notable vacancies, including the departure of Raymour & Flanigan on 14th Street near Third Avenue; Walgreens vacating a two-floor storefront at the corner of 14th Street and Fourth Avenue; and Food Emporium's exit across the street. The supermarket shuttered suddenly in 2021 after two decades in its 33,000-square-foot storefront at 10 Union Square East, ending its lease early to make way for a new tenant that had leased the space in February 2020: Target. The big-box retailer started construction late last year and expects to open in August 2023. 
A number of other restaurants and shops closed before the pandemic or in 2020, punching more holes in what had once been a lively retail landscape. Fast-fashion retailer Forever 21 shuttered its large store on 14th Street in 2020 after filing for bankruptcy. Sephora decided to take over the storefront and vacate its 21,000-square-foot, two-floor spot at 200 Park Avenue on the north side of the square. Sephora's old space remains empty. 
Another Union Square standby, the restaurant and bar Coffee Shop, closed in 2018 and its space remained vacant until it was leased by Chase bank, which opened in 2021 with an attached Joe Coffee Company. American Eagle also closed on the same block in 2020, and was replaced the following year by a children's clothing store called Rookie USA. 
The east side of the square also seems to be struggling. A two-floor TGI Friday's at East 16th Street and Union Square East closed in 2018, and the space has yet to be filled with a tenant. Across the street, Children's Place, another kid's clothing store, closed during the pandemic and hasn't been replaced, either. 
Other looming vacancies on the square include Petco, which is leaving its longtime store at 860 Broadway on the corner of East 17th Street for the redeveloped Tammany Hall on Union Square East. And, in January, Regal's parent company, Cineworld, said it would close its popular multiplex at the corner of Broadway and East 13th Street. The London-based theater conglomerate filed for Chapter 11 bankruptcy last year, announcing that it would shutter 39 theaters, including the Regal Union Square. 
The 2,000-seat theater opened in 1998 and was reportedly Manhattan's biggest multiplex at the time. Cineworld even spent millions renovating the theater in early 2020, adding a Lavazza espresso bar and new screening equipment. However, sources familiar with Regal's lease say that Cineworld is threatening to walk away from the theater as a bargaining tactic, in hopes of negotiating a cheaper rent on a new long-term lease for the space. 
Of course, the neighborhood's not deserted. Union Square Partnership, the area's business improvement district, points out that the neighborhood added 40 new retailers last year. In the fourth quarter of 2022, about a dozen new businesses opened, including an Urbanspace food hall at Zero Irving (aka 124 East 14th Street), Warby Parker at 73 Fifth Avenue, P.F. Chang's at 113 University Place, Sweet Chick at 32 East 16th Street, and Medrite Urgent Care at 123 Third Avenue. 
And it's worth noting that one retailer is decamping from (almost) SoHo to (almost) Union Square. Crate & Barrel is moving its New York City flagship from 611 Broadway, at the north side of Houston Street, to 881 Broadway, at the corner of West 19th Street.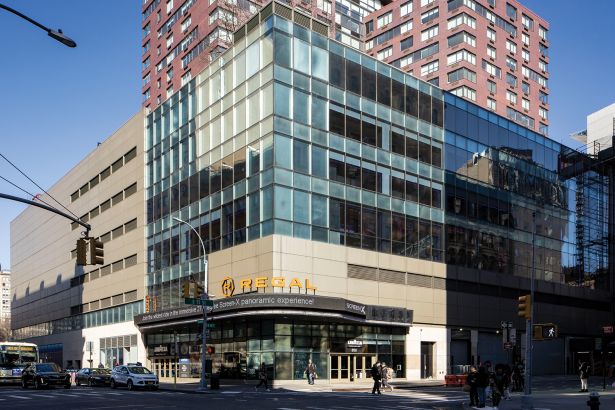 Ripco's Skulnik said that many of the mid-range retailers that would lease space near Union Square have been struggling with supply chain issues, inflation and rising retail rents. And, of course, there's what some people would call the "normcore" aspect of Union Square — its appeal for convenience retailers like Whole Foods and Walgreens, mainstream national chains like American Eagle, DSW and Barnes & Noble, and furniture sellers like Raymour & Flanigan. 
"The luxury retailers you have in SoHo are not going to lease space on Union Square," Skulnik said. "That's where I believe some of the struggle has been in leasing spaces in Union Square. It checks all of the boxes for daytime population, tourists, college students and residents, so it has plenty of foot traffic. I don't think Union Square is going to suffer."
He said he felt that "off-price retailers, furniture, and dry goods retailers" that don't need the critical mass of apparel brands nearby on Fifth Avenue might do well in Union Square. 
Indeed, the stretch of Fifth Avenue to the west and north of the square, between 14th and 23rd streets, has thrived since the pandemic, with new stores from Aritzia, Allbirds, Under Armour, Outdoor Voices, Hoka, Pandora Jewelry, Theory and Arc'teryx. Most of the pre-pandemic chains stuck around, including Zara, H&M, Banana Republic, Gap, J. Crew, Club Monaco, Bonobos, Madewell and Lululemon. 
As for Union Square, "it's not where you're going to put your first store," said Matt Chmielecki of CBRE (CBRE). "It's not on the top of most tenants' lists of where they want to do stores. It's not a very dense retail market, but it is a dense retail market to the west and the north."
Chmielecki added that other retail corridors have more specific draws. "If you're a big-box tenant, you're probably looking at Sixth Avenue first. If you're a luxury tenant, you're probably looking at Madison Avenue first. If you're new to the market, you're probably looking at SoHo." 
Trying to pin down exact retail rents tends to be more of an art than a science, too, with brokerages offering varying numbers and individual brokers guesstimating with their own anecdotal experiences. 
For example, the average asking rent along Broadway from 14th to 23rd streets was $424 a square foot in the fourth quarter of 2022, according to CBRE's latest retail report. And average asking rent on Fifth Avenue from 14th to 23rd streets was even lower at $297 per square foot. SoHo had a much broader range of rents, with Prince Street between Broadway and West Broadway averaging $640 a square foot, and, at the lower end, Broadway between Broome and Houston streets averaging $322 a square foot. 
"I think SoHo, out of all the markets in Manhattan, benefited the most coming out of COVID," said Jason Greenstone, a broker at Cushman & Wakefield (CWK). "Retailers are having a flight to quality retail locations, to markets that will have the most amount of co-tenancy and foot traffic for their stores. The direct availability is 15.3 percent, which is the lowest it's been since 2015."
Ultimately, a tenant that leases in Union Square needs to be able to pay high rents for large spaces. That means they need to generate enough revenue on a per-square-foot basis to justify the lease. Greenstone suggested that entertainment concepts — like bowling or mini-golf with food and alcohol — might be more interested in Union Square. He also felt that "elevated and specialized fitness concepts, gyms, veterinary [businesses], and medical retail" would also do well to look on the square. 
"As those fashion tenants continue to move out, you lose the continuity of the shopper," he said. "It's not surprising to see those tenants focusing on areas where their competitors already exist."
Patrick Smith, a veteran retail broker at JLL, felt that rents on Union Square had "escalated disproportionately" but argued that there wasn't very much vacancy. He blamed lenders for the empty storefronts across the city, because they don't like to accept tenants at lower rents, especially if the owner bought and financed the property during the last retail rent peak in 2017. Citywide, he estimated that retail rents are still down by about 30 percent from their late 2010s pinnacle. 
"A lot of these landlords can't replace their tenants at the previous rent," said Smith. "A lot of the chronic vacancy is because the mortgagee won't approve the tenant, or because the lender set up a circumstance that was too challenging to do it.
"If you bought or financed a property at that time [from 2015 to 2017], it's hard to replicate those leases and those rents," he explained. "Until these lenders restructure these mortgages, nothing really happens."
And, while office landlords such as Blackstone (BX) and RXR have attracted attention for handing back the keys to their less-profitable buildings, Smith argued that retail landlords are struggling with similar circumstances.
"There are a lot of properties on Fifth Avenue where the rent was $10 million a year, and now it's $5 million a year," he noted. "It means the value has been impaired. I've heard it's happening with retail. Lenders are debating whether to give back the keys or accept the keys, because they don't want the keys. We'll see more foreclosures and more lenders being involved in New York City than we have in a long time."
Rebecca Baird-Remba can be reached at rbairdremba@commercialobserver.com.
113 university place
,
123 third avenue
,
32 east 16th street
,
611 Broadway
,
73 Fifth Avenue
,
860 Broadway
,
Cineworld
,
Cotton On
,
Crate & Barrel
,
house of cannabis
,
Jason Greenstone
,
Matt Chmielecki
,
Petco
,
Raymour & Flanigan
,
Richard Skulnik
,
Ripco
,
Sephora
,
TGI Fridays
,
UrbanSpace
,
Walgreens
,
Warby Parker
,
Whole Foods
,
Zero Irving
,
Blackstone
,
CBRE
,
Cushman & Wakefield
,
RXR Realty