Renowned Architect Rafael Viñoly Dies at 78
---
---
Rafael Viñoly, the famed Uruguayan architect who designed the supertall residential skyscrapers 432 Park Avenue and 125 Greenwich Street, died on Thursday in New York, his son, Román Viñoly, confirmed. He was 78.
Viñoly died of an aneurysm, according to the Uruguayan newspaper El Pais, which first reported news of his death.
"He was a visionary who will be missed by all those whose lives he touched through his work," Román Viñoly wrote in a statement on the Rafael Viñoly Architects website. "He leaves a rich legacy of distinctive and timeless designs that manifested in some of the world's most recognizable and iconic structures."
Viñoly designed both massive and small projects around the world, including the Carrasco Airport in his birth city of Montevideo, Uruguay; the Cleveland Museum of Art; the Tokyo International Forum and 20 Fenchurch Street in London, nicknamed "The Walkie-Talkie."
And he made inedible marks on his adopted city of New York's skyline as the architect behind the sometimes controversial residential skyscrapers 432 Park and 125 Greenwich.
The 1,400-foot-tall 432 Park became the tallest residential building in the Western Hemisphere when it debuted in 2014, an architectural feat that had to account for the effects of wind gusts on a tower so high in the air. However, it wasn't exactly well-received by everybody, with residents complaining of numerous design defects caused by the building swaying, despite the developers asserting its safety.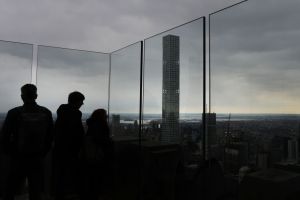 Viñoly was born in Montevideo to theater director Román Viñoly Bareto and spent much of his youth in Argentina before decamping to New York City in the 1980s, El Pais reported.
It was there he got his first big break when he was tapped by the City University of New York to work on the John Jay College of Criminal Justice, according to El Pais. Big projects followed — including Jazz at Lincoln Center and the Kimmel Center for the Performing Arts in Chicago — and Viñoly became known as one of the city's most powerful designers.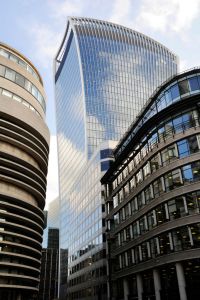 Along with numerous accolades for his works, there was criticism. Aside from the complaints at 432 Park, Bloomberg dubbed London's "The Walkie-Talkie" the worst building in that city and it earned the distinction of being called a "death ray" since its reflective glass melted cars during the construction process.
Still, among his many honors, Viñoly was given the Medal of Honor from the American Institute of Architects in New York City and was a National Design Award finalist at the Cooper-Hewitt National Design Museum, The Architects Newspaper reported.
To unwind from designing massive skyscrapers, Viñoly watched English soccer while showering and was an avid classical pianist, which he told The New York Times was his "only big indulgence."
"When I'm playing the piano is literally the only time I can be completely abstract and disconnected from the regular world and yet be connected — to my music," Viñoly told the Times in 2011.
Viñoly is survived by his wife, Diana, and three children: Román, Lucas and Nicolás.
Nicholas Rizzi can be reached at nrizzi@commercialobserver.com.