Power Designers: The Architects Behind NY's Changing Skyline
---
---
To ensure that New York remains among the most sophisticated global cities and its properties remain profitable, many power developers feel compelled to place a premium on aesthetics, so they hire the power architects. Commercial Observer added Santiago Calatrava to this year's Power 100 because we believe that architecture plays a strong role in the success of a building, the transformation of a neighborhood and the happiness of New Yorkers. But Mr. Calatrava is hardly the only power player in the field of architecture and design. From Diller Scofidio + Renfro's medical and graduate education building on Columbia University's Washington Heights' campus to the SHoP-designed South Street Seaport blocks from the Brooklyn Bridge, there is no shortage of highbrow architecture being incorporated into the city's fabric. Here are the architects behind some of New York's most fanciful buildings.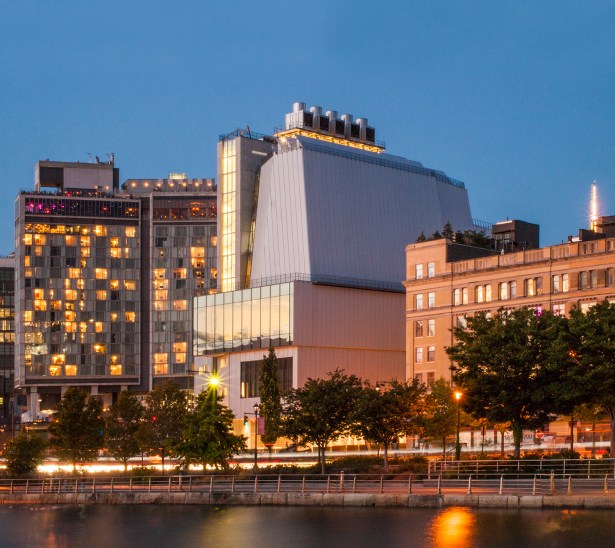 Renzo Piano
Whitney Museum of American Art
When the Whitney Museum of American Art hosts its grand opening at its new Gansevoort Street property on May 2, critics won't just be looking at the institution's permanent collection on display. Many will have their eye instead on the $422 million Renzo Piano-designed building, which ArchDaily said, "could be the most long-awaited museum of the 21st century." The eight-story, 220,000-square-foot gallery is an exciting addition to a neighborhood that continues to completely reinvent itself, yet the industrial exterior is a homage to the area's history. It remains to be seen if the new Whitney Museum will join the pantheon of Mr. Piano's most celebrated museums, including the Centre Pompidou in Paris and the Menil Collection in Houston. Regardless, Mr. Piano has reignited a dialogue about this era's cultural institutions and their design.
Thomas Heatherwick 
Pier 55 
Last November, the Hudson River Park Trust and the Diller-von Furstenberg Family Foundation announced its intention to build a cultural oasis on the 2.7-acre Pier 55 in the Hudson River. Designer Thomas Heatherwick has been commissioned to design the green space, which is one of New York's boldest private-public partnerships in memory (and at an estimated $170 million, not an insignificant investment by all parties). The park is planned to be suspended 186 feet off the Hudson's shoreline and will include gardens and performance spaces, including an 800-seat amphitheater, The New York Times reported. And park-goers will also enjoy another vantage point for views of Manhattan and northern New Jersey. "When I was little I used to come to Manhattan to visit my great aunt who lived here and never forgot being driven down the West Side Highway and seeing the field of disused pile heads sticking out of the river," said Mr. Heatherwick in a press release when the park was first announced. "All these years later, my studio and I are honored to now be growing another set of river piles in the midst of these historic ones to hold up a new phenomenal public park with special spaces for performances."
Diller Scofidio + Renfro
Phase 3 of the High Line 
Not since Central Park has a swath of green space in Manhattan been cause for such celebration. In September, the High Line opened Phase 3, marking the end of construction of the beloved elevated rail line-turned-tourist destination that had been ongoing since 2006. And behind its inventive and resourceful design is Diller Scofidio + Renfro, run by partners Elizabeth Diller, Ricardo Scofidio and Charles Renfro (the firm partnered with James Corner Field Operations for the 23-block project). On its website, Diller Scofidio + Renfro explains that the site is "inspired by the melancholic, unruly beauty of this post-industrial ruin," a motif that is congruous with the first two phases of the project. Diller Scofidio + Renfro is currently undertaking a number of high-profile ventures throughout Manhattan, from Columbia University's 14-story glass medical facility in Washington Heights to an expansion of the Museum of Modern Art in Midtown that will enlarge the institution's public spaces and galleries.
Rafael Viñoly Architects
432 Park Avenue 
Decades from now, architecture students will likely study this new golden age of design that has brought forth groundbreaking, 21st century skyscrapers. And the property at 432 Park Avenue between East 56th and East 57th Streets will probably warrant its own chapter on luxury residences. When finished, 432 Park will stand at 1,396 feet, the tallest residential tower in the Western Hemisphere (as points of reference, 1 World Trade Center is 1,776 feet and the Empire State Building is 1,250 feet, excluding its antennae). With 104 units, the structure designed by Uruguay-born Rafael Viñoly, is the poster child for "Billionaire's Row," the stretch of 57th Street being devoured by the 1 percent of the 1 percent. Not everyone is enamored with Mr. Viñoly's tower; some view it as a monument to capitalism, a highly visible symbol of the extraordinary wealth that has deluged New York. Yet whether for its makeup or its metaphor, 432 Park has made an indelible mark on the city's skyline and consciousness and should be acknowledged.
SHoP Architects 
Empire Outlets, Essex Crossing,
Seaport District 
SHoP Architects' designs seem to be everywhere. At 111 West 57th Street, its 316,000-square-foot residential tower is rising. In Lower Manhattan, the revitalized Seaport District is a SHoP vision, as is Essex Crossing, another mixed-use neighborhood in an underutilized pocket of the Lower East Side. In Brooklyn, the Barclays Center anchors the borough's main thoroughfares and the Domino Sugar Refinery will emerge as a 24-hour community on the Williamsburg waterfront. And on Staten Island, a locale not known for its pioneering architecture, SHoP is behind the Empire Outlets, the new retail complex on the borough's North Shore that will be home to 100 designer outlets and is expected to catalyze economic development. The architecture firm, spearheaded by principals Christopher Sharples, Coren Sharples, Gregg Pasquarelli, Kimbely J. Holden, Vishaan Chakrabarti and William Sharples, is working on "extending the city's fabric to our shared shorelines," according to Christopher Sharples. "In a city with more than 500 miles of shoreline, this year SHoP is particularly proud to be helping to shape communities along the waterfront," he said.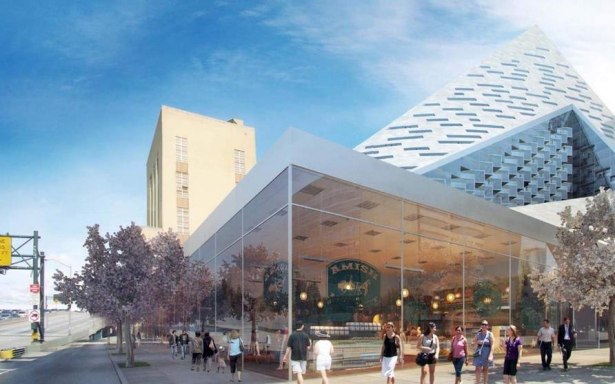 Bjarke Ingels
625 West 57th Street 
Between Hudson Yards and changes along the Hudson River waterfront, Manhattan's Far West Side is perpetually evolving. Contributing to this progress is the Durst Organization's 800,000-square-foot, 43-story tetrahedron at 625 West 57th Street, designed by Bjarke Ingels. On his website, the Danish architect called the mixed-use building "a hybrid between the European perimeter block and a traditional Manhattan high rise." Mr. Ingels' other New York projects include the Brooklyn Bridge Viewing Platform at Pier 6, which provides an elevated pavilion for pedestrians to see the bridge, the Statue of Liberty and the Manhattan skyline. Mr. Ingels is also leading a $335 million Housing and Urban Development project to implement a landscaped flood barrier from Montgomery Street in Lower Manhattan to East 23rd Street.