Williamsburg's Luxury Hotels Thrive — For the Moment — as Neighborhood Shifts
Higher-end hotels came to the Brooklyn enclave because of its detached cool. With Hermès and Birkenstock down the block, now what?
---
---
Sunday, noon.
The lobby of the Hoxton Hotel is crammed with people. The new Israeli restaurant there, K'Far, a satellite of celebrity chef Michael Solomonov's Philadelphia original, is completely booked.
There are cafe tables strewn around the airy, two-story lobby, but they're all occupied by patrons sipping iced coffees and eating pistachio sticky buns. Eagle-eyed patrons are told they can snag a spot at the bar if they want something hot to eat.
Upstairs on the roof, Solomonov has another restaurant, Laser Wolf (another restaurant that had its debut in Philly) that won't open until that evening, but good luck nabbing a reservation at any time earlier than 10 p.m. (Maybe you can get a 5 p.m.)
After a nasty opener to the decade, the Williamsburg hotel scene in 2023 is hopping.
Rooms at The Williamsburg Hotel and The Hoxton can exceed $500 per night; The Wythe charges above $700 a night during peak travel times; and The William Vale rents rooms for above $900 a night for certain dates, according to Google hotels data.
That might not compare to the super high end of Manhattan's luxury offerings (Aman at 730 Fifth Avenue charges around $4,200 a night for its more affordable rooms) but it's hugely significant for Brooklyn. And, unlike Manhattan, Williamsburg's hotels weathered the pandemic without permanent losses, according to Vijay Dandapani, the president and CEO of the Hotel Association of New York City.
"[Williamsburg] does not have hotels that were closed unlike Manhattan … leading to a sense of blight," Dandapani said in a statement. "In contrast, even distressed hotels such as the Williamsburg Hotel [which was recently sold after a bankruptcy] never closed."
Part of this might have something to do with the fact that the amenities of a luxury hotel experience are so ingrained in the neighborhood.
At The Wythe, co-owner Peter Lawrence encourages the guests to get out and explore.
"We don't have a gym — we introduce our hotel guests to our neighbors who offer those services in a really thoughtful, local manner," Lawrence said. "Whether we send them to the Brooklyn Athletic Club or the new climbing gym that's around the corner, we want our guests to get those services from our neighbors."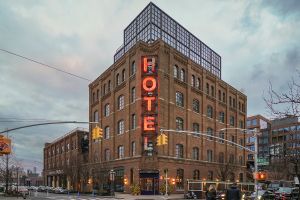 To him, a stay at The Wythe is about seeing all that Williamsburg has to offer, from the music venue the Brooklyn Bowl to the Brooklyn Brewery right across Wythe Avenue (at least until it relocates to Greenpoint in 2024). Lawrence and his partner, Two Trees Management's Jed Walentas, bought the former textile factory and warehouse building at 80 Wythe Avenue in 2008 because it encapsulated Williamsburg's creative and industrial vibe. 
That character has drawn guests and new hotel operators alike, transforming the neighborhood into a hot destination for luxury hospitality. But as Williamsburg continues to change, it risks losing the cheap prices and creative feel that drew hotels there in the first place.
"[Williamsburg] is a different offering than what Manhattan is, and not all the consumers can afford Williamsburg," said KC Patel, a managing director with JLL (JLL)'s hotels and hospitality group. "That may be its own demise, if it prices itself out of what it's offering."
Williamsburg got its start as an immigrant enclave in the 19th century, first home to German and Jewish arrivals drawn by work in the area's factories, before its demographics shifted to a mix of Puerto Ricans, Italians, Dominicans and Hasidic Jews by the mid-20th century. By the 1980s, artists and musicians fleeing high residential and studio rents in Chelsea and Greenwich Village migrated along the L train to Williamsburg, in search of work-live lofts in those former factories and a place to make some late-night noise. 
Clubs like Death By Audio and Glasslands followed, and in 1996 the Brooklyn Brewery opened in a former matzo factory at 79 North 11th Street — at the time the first commercial brewery in Brooklyn in two decades. As landlords started to notice Williamsburg's growing popularity, a 2005 rezoning of the waterfront kicked off a development boom for condos, apartments, new parks and even office buildings. In their wake, luxury hotels took to the neighborhood.
The Wythe Hotel opened its doors in 2012, an early bird in the locale's hotel boom. The Williamsburg hotel followed in 2017; The Hoxton made its debut in 2018; The Moxy Brooklyn Williamsburg will launch in February; and, today, Chicago-based restaurateur Xavi De Yparraguirre is in the midst of planning a new boutique hotel, dubbed Marceau, with a speakeasy and Mediterranean restaurant, at 110 Kent Avenue.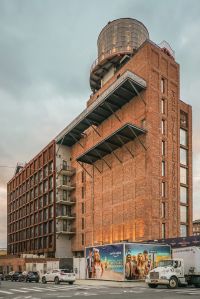 The Wythe has hosted everyone from grandparents of Williamsburg residents to business travelers in media, tech and the film and television production industries, Lawrence said. It's not just that the neighborhood offers easy access to Manhattan on the L Train — it's because Williamsburg is a destination of its own, said Julita Swietochowska, The Williamsburg Hotel's general manager.
"Williamsburg is a neighborhood that's on the rise, and the hotels here are at the forefront of that rise," Swietochowska said in an email. "The streets here are alive with a sense of community and a strong local flavor, It's less corporate and more authentic than other parts of the city"
The neighborhood's luxury hospitality scene didn't surprise Dandapani because of how attractive the area is for young workers, he said. And Williamsburg's hotels likely survived the pandemic thanks to lower rent and labor expenses than in Manhattan, Patel added. 
That's not to say the hotels of Williamsburg haven't had their pandemic troubles. The Wythe's hotel occupancy dropped to 45 percent during 2020, while Lawrence donated his rooms to health care workers fighting the virus. Lawrence said The Wythe's occupancy has since rebounded to 86 percent last year, above New York City's 2022 average of 80 percent, according to the Hotel Alliance, and 1 percent higher than The Wythe's 2019 occupancy level. 
Just one block north, The William Vale Hotel faces bankruptcy after its owner, All Year Management, missed its debt payments in 2020, Crain's New York Business reported. And one block south, private equity firm Quadrum Global won an auction to buy Toby Moskovits and Michael Lichtenstein's bankrupt Williamsburg Hotel for $96 million in January. (Representatives for The William Vale declined to be interviewed for this story.)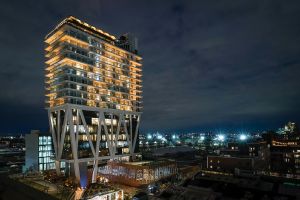 And there are other threats on the horizon, including a potential economic recession. But Patel said he expects New York City's hotel market to thrive in 2023, thanks to pent-up demand for travel. Gotham's hotel market ended 2022 on a high note, too: Hotel occupancy in the city hit 74.8 percent at the end of the year, nearing its 2019 occupancy of 86.1 percent, according to STR Global, an analytics firm that studies the hospitality industry. 
Revenue per available room, a metric used to measure hotel performance also known as RevPAR, ended 2022 at $215.16 a night, just a few dollars short of its 2019 level of $218.75, according to STR data. And STR expects RevPAR to exceed 2019 levels by 7 percent by the end of 2023, Alison Hoyt, director of consulting at STR, said. 
"The hotel industry has proven its resilience," Hoyt said. "It is well positioned to weather that storm coming off a couple of years of good and solid recovery."
But a more intangible threat could hurt the neighborhood's hotel scene: the loss of Williamsburg's cool factor (if it hasn't lost it already).
"[Williamsburg] is now a destination unto itself, that we've established, but when does that destination become too developed and that coolness factor go away?"  Patel asked. "Some would say it already has, but I think it's still unique unto itself."
To both Swietochowska and Lawrence, what makes Williamsburg special is that, in short, it's not Manhattan. "Independent hip retailers like Buffalo Exchange [exist] alongside pop-up stores of luxury brands like North Face," Swietochowska said. 
Is this sustainable? 
In 2016, Williamsburg and Greenpoint were dubbed the most rapidly gentrifying neighborhoods in New York City between 1990 and 2014, according to a study from New York University's Furman Center for Real Estate and Urban Policy. Neighboring Bushwick has been the latest target for new development, Gothamist reported. Williamsburg has long been far from its gritty industrial roots, but today it's seeing an influx of luxury — and not just in hospitality.
J.Crew and Urban Outfitters opened up shop in 2014, and Whole Foods and an Apple Store followed in 2016 — a sure sign of retail gentrification. But last year, Hermès entered the enclave, with not one but two locations — a pop-up at 91 North Sixth Street and a store at 111 North Sixth Street — and Warby Parker, Nike and Birkenstock have likewise set up shop across the East River.
The changes to the neighborhood are certainly something Lawrence thinks about, but he believes Williamsburg will continue to draw visitors looking for a place to stay that is, or at least feels, more vibrant, more creative and more human than Manhattan. 
"Has the enterprise in the neighborhood shifted to a more commercial rhythm? Absolutely. Are we surrounded with Duane Reades and Chase Banks? No," Lawrence said. "I think that spark is existing and healthy, it's just like the rest of us, it's going through an evolution."
Additional reporting by Max Gross. Celia Young can be reached at cyoung@commercialobserver.com. 
brooklyn brewery
,
Death By Audio
,
Glasslands
,
Hotel Association of New York City
,
Hoxton Hotel
,
Jed Walentas
,
Julita Swietochowska
,
KC Patel
,
K'Far
,
Marceau
,
Michael Lichtenstein
,
Michael Solomonov
,
Moxy Brooklyn Williamsburg
,
Peter Lawrence
,
The Williamsburg Hotel
,
The Wythe
,
Toby Moskovits
,
Vijay Dandapani
,
William Vale Hotel
,
JLL