Blackstone, Hudson Pacific Nab $1.1B Refi on LA Film Studios and Office Portfolio
Blackstone acquired a 49 percent interest in the 2.2-million-square-foot office and film studios portfolio, whose largest tenant is Netflix, in June 2020.
---
---
A partnership between Blackstone and Hudson Pacific Properties (HPP) has nabbed a $1.1 billion loan to refinance previous debt the duo used to recapitalize a $1.65 billion, 2.2-million-square-foot film studios and office portfolio in Hollywood, according to ratings agency analysis of the deal. 
Barclays, Bank of America, Wells Fargo Bank and Société Générale co-originated the two-year, floating-rate and interest-only commercial mortgage-backed securities (CMBS) loan, according to data from Fitch Ratings. The loan has refinanced $900 million of existing CMBS debt — which was previously securitized in the GB2020-FLIX CMBS deal — that Blackstone and HPP secured in July 2020 to recapitalize the portfolio after Blackstone purchased a 49 percent interest in it.
The proceeds of this new, $1.1 billion financing retired the old $900 million loan, supplied nearly $70 million for an earnout escrow and letter of intent holdback, a $31.4 million upfront reserve for outstanding tenant improvements and covered $15.3 million in closing costs, per Fitch. Blackstone and HPP also recouped $81.7 million in cash equity in the deal. 
The loan is collateralized by the sponsorship's fee and leasehold interest in the assets that make up the massive portfolio, which includes three prime studio and production facilities, totaling more than 1.26 million square feet, and five adjacent or supporting office facilities that span more than 967,000-square-feet.
Eastdil Secured represented Blackstone and HPP in the transaction.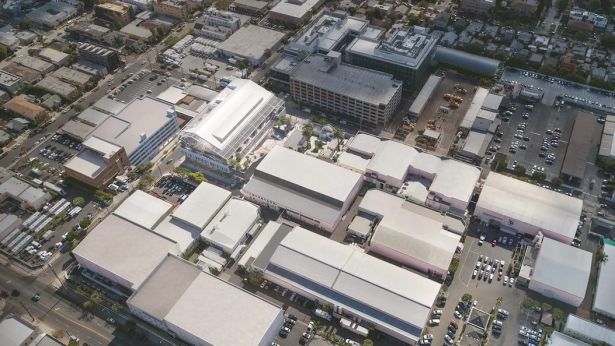 Sunset Bronson, Sunset Gower and Sunset Las Palmas Studios are the three film studios that headline the portfolio, and 6040 Sunset Boulevard, ICON, CUE, EPIC and the recently-completed Harlow at 1001 North Seward Street are the five office properties that HPP has assembled on or nearby the studio lots to support production work. As of this month, the portfolio is 86 percent occupied, with an average base rent of $52.46 per square foot, and it's remaining weighted average lease term is about seven-and-a-half years, according to data from Fitch. 
Netflix is the largest occupier of space within the portfolio, having leased more than 700,000 square feet as of June 2020 and inked long-term deals for stage and production space, according to Blackstone's previous announcement of the JV partnership. 
"Hudson Pacific has been at the forefront of Hollywood's renaissance for more than a decade, owning, operating and building world-class creative office and production campuses for leading media and technology companies," HPP Chairman and CEO Victor Coleman said in a statement as part of Blackstone's announcement of the joint venture partnership in June 2020. The deal with Blackstone included rights to build another 1.1 million square feet of office and production space at Sunset Gower and Sunset Las Palmas Studios, specifically. 
"[Partnering with Blackstone] … provides us with significant capital to grow both our studio and office portfolios, including the build-out of additional development rights at our existing studios," Coleman added.
Blackstone and HPP have developed into the premier holders of film studio and production space in Los Angeles amid the rush to capitalize on today's video streaming wars, and they've recently made moves to expand and grow their presence.
Mack Burke can be reached at mburke@commercialobserver.com.
6040 Sunset
,
Blackstone Group
,
CUE
,
CUE building
,
Eastdil Secured
,
Epic
,
Harlow
,
Hollywood Media Portfolio
,
Hudson Pacific Properties
,
ICON
,
ICON building
,
Netflix
,
Victor Coleman
,
Blackstone