NYC's Expanded Javits Convention Center Reopening In Risky Climate
It could be 2022 before the pace of trade shows and conventions picks up
---
---
In late 2020, the organizers behind the SALT conference, an annual confab of thought leaders in finance, politics and technology — whose past speakers have included former President Bill Clinton and then-Vice President Joe Biden — decided to pivot from its usual convention perch at the Bellagio in Las Vegas. 
SALT's domestic wonkfest had started there in 2009, in part to help the Nevada hub recover from the Great Recession. Now, perhaps, its organizers, including Chairman Anthony Scaramucci — the noted investor and, briefly in July 2017, the top communications adviser to President Donald Trump — might do the same for a New York City recovering from COVID. 
SALT Venture Group, the entity behind the convention, is based in Manhattan anyway. And the pace of the vaccine rollout in early 2021, along with Scaramucci's cordial relationship with top New York officials, including Gov. Andrew Cuomo, cemented the organizers' decision to replace Sin City with Gotham. 
Where to hold it, though? 
The organizers typically cap attendance at 2,000. So, some Midtown hotels might fit the size bill, but they wouldn't provide the sort of technology that SALT is used to, in terms of audiovisual. Enter an expanded Javits Center. 
"It ticked a lot of the boxes," John Darsie, SALT's managing director, said. "It's a brand-new facility; they just finished it in June. It has the same, or similar, type of space that the Bellagio has in Las Vegas. And it also has a large roof terrace."
When it takes place in mid-September, SALT will be the first convention or trade show within the Javits Center expansion. It, and other gatherings, will test the worthiness and viability of that expansion and the existing convention center on Manhattan's Far West Side going forward — and of the climate for conventions in New York. 
Cuomo announced in May that construction on the $1.5 billion expansion had finished, and the last touches are wrapping in July. (Technically, the first event in the expansion will be an exam for prospective Metropolitan Transportation Authority workers in August.) 
Javits, the expansion or the existing part, has not hosted any trade shows or conventions since the mid-March 2020 start of the pandemic. Unless you count a field hospital and a vaccination hub.
"The way we treated both the hospital and the vaccination station, we said this is just another event for us because it's essentially the same thing — we bring stuff in, we set things up, we help the operator during the event, then we take it down and move it out," said Alan Steel, president and CEO since 2012 of the New York Convention Center Operating Corp., which owns the Javits property.
As the real deals return to Javits, the center's operations will continue much the same as they did pre-pandemic, with some twists. Convention workers will be required to wear masks indoors (exhibitors and attendees are exempt). There might be other safety precautions, too, though those will likely be up to individual organizers. 
There will be no capacity limits, Steel said, unless a particular event wants to cap its own attendance, and the sheer size of the expanded place ensures limits will likely never be needed. The Javits Center expansion by itself encompasses 1.2 million square feet, including a glass-enclosed rooftop pavilion and several meeting rooms — the largest of which can host 6,000 people, and all of which total 200,000 square feet when what Javits calls "pre-function space" is included. 
There is also a 90,000-square-foot exhibition hall, a 54,000-square-foot special event space, and a one-acre rooftop farm — alongside the rooftop terrace — that is supposed to produce up to 40,000 pounds of fruits and vegetables annually to be used in meals served on-site. There is a new, four-level, truck-marshaling facility that's the first of its kind for a U.S. convention center, Javits' operators say.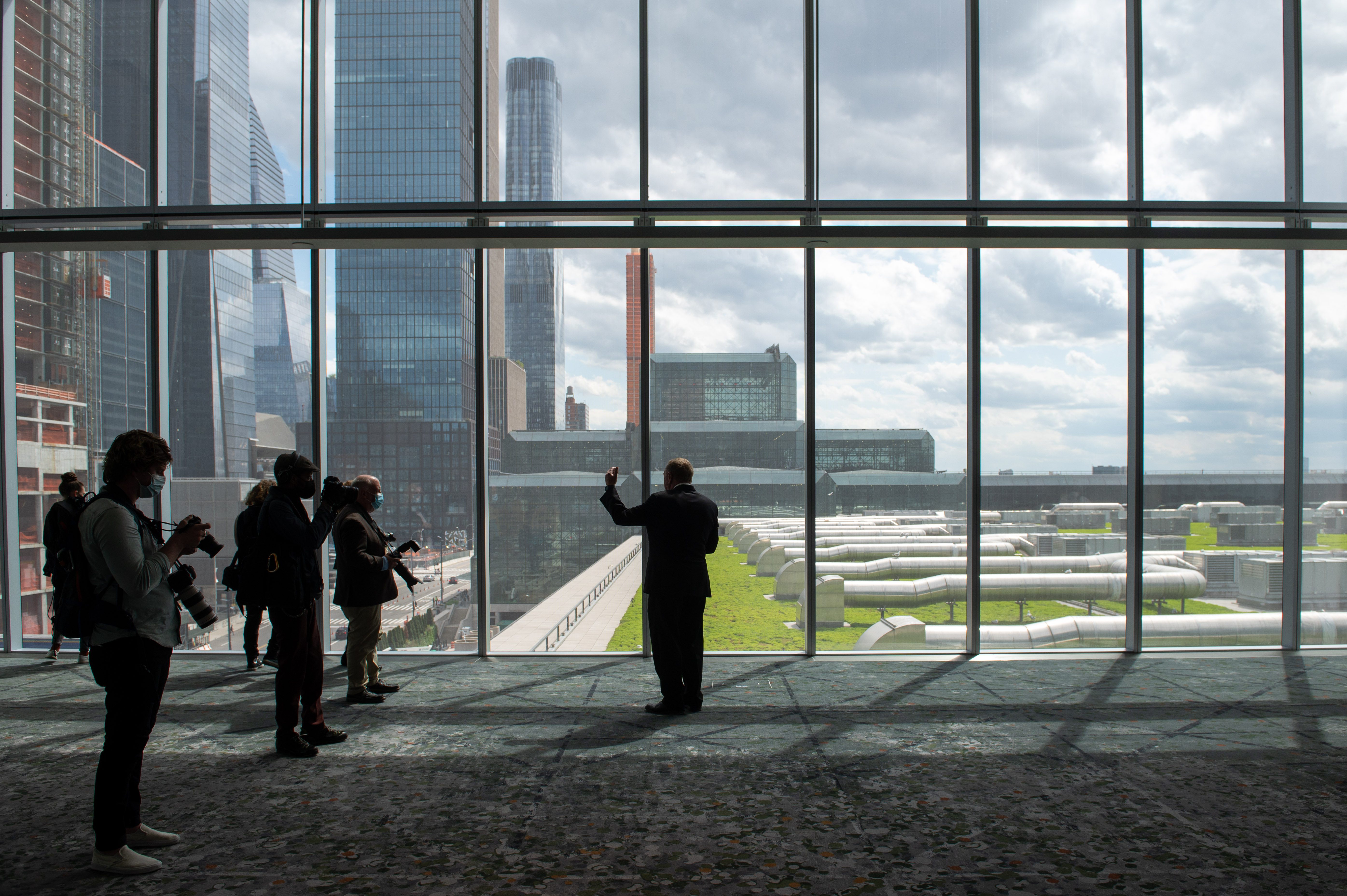 All totaled now, the Javits Center includes 3.3 million square feet, plenty of room to hold multiple events at once, especially on a trade show side that's trending smaller at the moment. 
"What we're seeing is continued demand, but probably smaller events," Steel said, "which, for us, means we have the ability to put more events on at the same time than we had before."
That drop-off, of course, is due largely to the pandemic. The business travel that convention centers rely on dried up with the rest of the economy, and analysts and industry insiders do not expect any sort of approach to pre-COVID levels of activity until at least early 2022. That will mean fewer staff on the exhibitor side, but could mean quality over quantity otherwise. And that, analysts say, would be enough to keep the likes of Javits in demand among companies and industry groups until that return to normalcy in 2022. 
"The attendees, their budgets are also recovering, so they might bring fewer people in the short term, but the people that are attending are really the qualified buyers," said Cathy Breden, executive vice president and chief operating officer for the International Association of Exhibitions and Events, a trade group for the events industry. "So, even though the attendance might be lower, the people who are there are really there to do serious business."
Before the pandemic, convention center business was booming nationwide. Many hubs, like Javits, were expanding their physical footprints. The thinking behind such expansions — including Javits' work — was, and is, simple: Trade shows and conventions boost local economies by bringing visitors and vendors. 
The ripple effects beyond those buyers doing serious business inside the convention centers include the spillover of "heads in beds" into hotels and expense-account shindigs into restaurants and bars.
Numbers from the last decade suggest that that spillover spending is trending upward. In 2016, the year that Cuomo announced Javits' expansion, more than 84 million people attended trade shows and conventions nationally, spending $110.4 billion, according to the nonprofit Events Industry Council. Figures for business-to-business events nationally from the Center for Exhibition Industry Research showed that the economic impact of such events in the U.S. increased from $91 billion in 2017 to $101 billion in 2019, and would have risen higher in 2020 were it not for COVID. 
Indeed, a whole side story about convention centers the past year and a half hinges on their closures' effects on business travel-friendly hotels, which will not see their pre-pandemic occupancy rates return until 2022 at the earliest. 
The expanded Javits Center's amp-up post-COVID is expected to cause its own spending spillover, justifying the expense of the years of construction (before COVID, the center drew about 2 million visitors annually via 40,000 exhibiting companies, according to Javits' operators). Or, at least, that's the plan. 
"Reinvesting in our infrastructure is critical to restarting our economy after COVID-19, and the expansion of the Javits Center will play a pivotal role in attracting people back to New York and supporting local businesses," Cuomo said in the May reopening announcement. 
In the meantime, there are those first events, including SALT in the Javits expansion in September, as well as wholesale market NY NOW and the New York International Auto Show in the existing Javits in August. These will be part of the test as the center leverages its capaciousness as well as masking for on-site employees, and allows exhibitors and organizers to take their own precautions. 
Javits' operators will also be able to leverage their reputation for staying ahead of the curve in technology and crowd management. The convention center enjoys a particular reputation for security, born, in part, out of a reaction to 9/11. 
"They've always been state of the art, they've always made the investments that are necessary to keep up to date with all the newest technologies and protocols in operating venues," said Brad Mayne, president and CEO of the trade group the International Association of Venue Managers, who once held similar positions at nearby MetLife Stadium in northern New Jersey.
Who knows, then? Maybe an expanded Javits even ensures that what's happened in Vegas doesn't stay in Vegas.
"I don't want to say 100 percent," SALT's Darsie said, "but I think based on the initial response — and, hopefully, it's a very successful event in September, which we certainly anticipate it to be — we could definitely see ourselves, long term, hosting the event in New York."
Tom Acitelli can be reached at tacitelli@commercialobserver.com.
Alan Steel
,
Andrew Cuomo
,
Anthony Scaramucci
,
brad mayne
,
cathy breden
,
International Association of Exhibitions and Events
,
International Association of Venue Managers
,
Javits Center
,
Javits Center Expansion
,
john darsie
,
new york convention center operating corp
,
SALT conference