Urbanspace's Eldon Scott On the 2,000-Year-Old Model for Retail
Tenants in New York still want in on the food hall and fair concept, he says
---
---
Interviewing Eldon Scott is like interviewing the Bryant Park and the Union Square Park holiday fairs.
As a co-founder and the president of Urbanspace, the American partner of London's Urban Space Management, Scott is one of the people most responsible for those Christmas season events, which have become as much a part of the holiday tradition in New York as a marshmallow melting in the middle of a mug of hot chocolate, or the star that dangles in the center of the West 57th Street-Fifth Avenue intersection.  
But, in many ways, they are the opposite of the usual hustle and bustle of that time of year, a folksier alternative to the usual stores we frequent all year. Where else can you buy a hand-knit sweater or a board game with pieces carved out of wood?
There's more to Urbanspace than just those fairs. Urban Space Management started in London in the early 1970s with the opening of Camden Lock Market. It became a go-to contractor whenever London's leaders wanted to preserve a building or revive a derelict corner of the city. Urban Space Management partially owns Urbanspace.
In 1993, Scott arrived in New York from London and set up outdoor markets in Union Square, Bryant Park and Central Park. Then, Urbanspace moved indoors, creating food halls on East 51st Street on Lexington Avenue and on Park Avenue near Grand Central Terminal. They're planning one in the Financial District, too. 
They also brought their indoor food hall concept to Chicago and Tysons Corner, Va. They were just about to open a food court in Chicago's Willis Tower when COVID hit.
Now, these are the days that try men's and women's souls in the retail world. If it isn't e-commerce, it's the lockdowns and restrictions on movement that rob retailers of their customers. Urbanspace is not immune to the challenges facing physical retail today, but the company, Scott said, is determined to muddle through. 
We'll let him explain it. Commercial Observer spoke to him in late March, and here is some of what he said edited for clarity.
Commercial Observer: First, define Urbanspace.
Eldon Scott: Urbanspace is a company which is essentially a platform for supporting small businesses. We created those food halls and outdoor markets. We started in London in 1973, with Camden Lock and Spitalfields markets, and I brought the concept to the U.S. some 25 years ago.
Originally, we were best known for the Union Square Holiday Market. We kind of started that little mini-industry, 25 to 30 years ago and, from that, we kind of grew into food because that's where our customers wanted to be. We started seeing this 30 years ago. It was very hard to find interesting, independent chefs. You had great restaurants, but you didn't have those people working in the fast-casual segment. So, we looked into that.
Basically, I've spent my entire career working with small businesses in London and in New York, and all of their trials and tribulations, and understanding what businesses need. We find great locations and get them into those locations to see if they can thrive for themselves.
When you say small business, what are you really talking about?
It's certainly not a national brand. It's certainly a business that has less than 10 outlets, probably. It's a little more consumer-focused. It's not a mass product.
What we're doing is providing something that's more about the experience, something that sparks the interest of customers. We're not selling the batteries; it's more about experience.
The company was started in 1973 by Eric Reynolds [as Urban Space Management], and he's still on the board. He's our spiritual leader, and a pillar of the company. What's worked over time is entrepreneurship, it's curation; we're picking for our customers who we think are best in class; and the third thing, which is kind of interesting in a global pandemic, is community. They're all important, but that is the foundation.
What is a market? A market is a place in geography. Yes, we're digital, but it's not about digital. It's about people meeting people and exchanging ideas, about trying things and having an experience.
To be sure, you are a for-profit company. People pay for the honor of having a booth in your fairs.
Correct. We are creating opportunity so our occupants can earn a living. It has to work economically. That ultimately means that customers are liking what the offering is, and they're buying the product.
The idea of a market is more than 2,000 years old, and they were the original foundations of capitalism.
So, you are adhering to a concept of a market that goes back to ancient times?
It goes back to ancient times, but it's not just the efficiencies of large-scale corporations. You have a community that does change, and produces a lot of different products at lower prices and oftentimes higher quality. And, in that whole process, you're having an experience.
In ancient times, you had the "souk," the market. You had a mishmosh of merchandise, but it was also a place to go.
It's experiential. Experiential is a modern word for it. At the end of the day, it's more about connection, not more than, but a part of the transaction. You can buy a piece of clothing online, but there are other reasons for buying in a market. And part of that is community.
Howard Schultz [chairman emeritus of Starbucks] said there should be a place for people to go that's not work and it's not home. What we have is a community place that's much richer than that.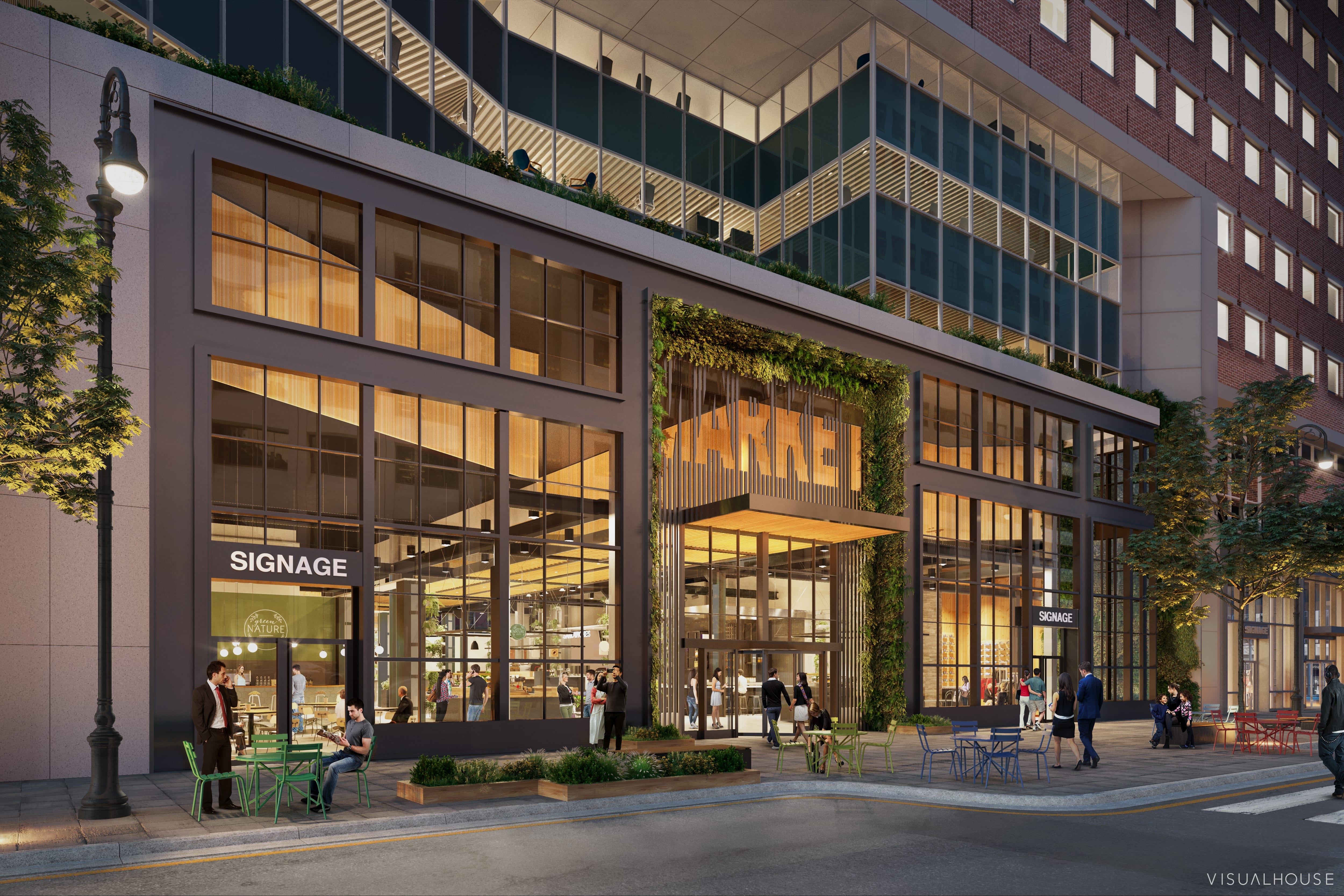 Has the demand at your open-air markets kept up in the age of e-commerce?
Yeah, absolutely. E-commerce doesn't bother us because we're not providing that product. We're not competing directly with e-commerce. External factors such as occupancy — restrictions that have been promulgated this year — we get hit by those, but e-commerce is not significant to us.
We've had no decline in customers from people who want something experiential. It really has not been impacted by e-commerce.
When I go on the internet, I see a lot of merchants that only sell on the web, and they are trying to be a little folksy. Of course, when you go on Amazon, they're not trying to make you feel cozy or comfortable, they just want to sell you stuff. But other sites are aiming to have a warmer, more personal feel to them. But you don't see them as competitors?       
They're two different parts of your day and your life. If you care about swiftness and price, you have alternatives for that. You have Amazon, you have other sites. If you want to meet a friend, and you want to take your friend for a good time in the city, you're just in a different mode. You're not going to do your grocery shopping in our environment, or buy the batteries. That's a whole different thing.
On the food hall side, it's very interesting. We're tracking, you know, those delivery sales; but, even now, as the restrictions start to slide, the delivery component is dropping dramatically and the pickup part is going up. Because it's more expensive to have delivery. But, with a lot of our restaurant partners, it's just not really a substitute for being in the restaurant and having food prepared for you.
I think that's where the industry is coming out right now. There are certainly some products that will deliver well, but it's not a replacement for what will happen in the restaurant industry.
A lot of your food vendors use services like Grubhub, Seamless, DoorDash, right?
Yes, they use those services. Absolutely. You can order from DoorDash and Grubhub and Uber Eats. The problem is that, especially in New York, there's a lot of businesses. If you enter pizza on any of those sites, you're going to get 20, 40 options? 
So, traditional environments create a bizarre level playing field, and it's very expensive if you want to rise to the top. Those services are really just a marketing platform. It's not a substitute for the neighborhood coffee shop. That's already in every customer, their relationship with the local store and the local restaurant.
It seems that the projects you champion depend on having lots of people traipsing through because they bring an energy to the place. I'm curious about how COVID is treating your projects. Are you attracting the same level of foot traffic?
No, it's been devastating. You blink and you hang on. There's just no other way around it. And we're seeing different levels of recovery. And some of our restaurants are up over '19 numbers. But that's the nature of things. It means most likely that we're looking at pent-up demand.
So, while e-commerce is not really cutting into your trade, clearly the virus and the restrictions on movement that have accompanied it have hurt your markets and are continuing to hurt them. So, what do you do?
It's back to the 2,000-year-old model. As soon as there are customers who want to be out, there will be vendors who want to sell to them. It's really just the nature of when restrictions start lifting and people start feeling comfortable to be out. It's a very painful waiting game.                
But is the limit costing you guys? Is there a limit to how long you can wait?
Every business has been dealing with this a little bit differently, but, as a whole, people are trying to preserve capital and hang on. Some businesses were caught in a debt cycle or other issues; others pulled their belt tighter and hung on.
Our outdoor spaces have done better than our indoor spaces. With the food halls, the places where we have outdoor seating, it's very helpful. In the industry in general, there's a greater focus on outdoor than there ever was before. That's one of the positive outcomes.
I think it's going to be one of the creative bright spots of the pandemic. It's very important that that happened.
When the next Christmas shopping season rolls around, can New Yorkers look forward to being able to shop once again at Bryant Park and Union Square and your other places?
Yes, 100 percent. We will be 100 percent open. Absolutely.
With some of your vendors having a harder time getting through the pandemic than others, is it going to be like Swiss cheese when you open?
We opened Bryant Park during the pandemic last holiday season, with the spatial reductions we needed to have. And we were able to fill all the spaces we had available. We're anticipating we do not see any issues with operating this year.