JPMorgan Chase Looking to Dump 800,000 SF on Crowded Manhattan Sublease Market
---
---
New York City's largest private occupier of office space wants to dump around 800,000 square feet of it on a Manhattan market already crowded with sublease space.
JPMorgan Chase is seeking to sublet just under 700,000 square feet at 4 New York Plaza in the Financial District and more than 100,000 square feet at 5 Manhattan West in Hudson Yards, according to Bloomberg, which cited unnamed sources at the bank. JLL is marketing the sublease space. The brokerage did not respond to a request for comment.
The approximately 800,000 square feet would swell a Manhattan office market already just about bursting with sublease space. Some 18.6 million square feet of Midtown, Midtown South and Downtown office space was available for sublease by the end of 2020, according to a report from brokerage Savills. That's the most since at least 2000, and well ahead of the 16.3 million-square-foot sublease peak seen toward the tail end of the Great Recession in 2009.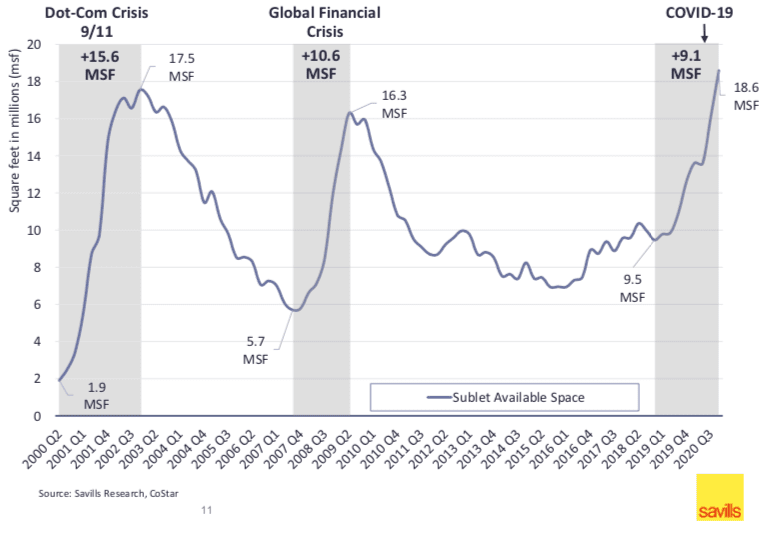 The spike in sublease space is due almost entirely to the crisis that the coronavirus pandemic spawned. But other factors are also involved. Developers have been slapping on new office space at a pretty frenetic clip since 2009, with 7.5 million square feet of office projects completed in 2013 and 2014, and a further 10.5 million feet worth in 2018 and 2019, according to an analysis from Moody's Analytics.
At the same time, industries, such as law and financial services, that have traditionally used the bulk of Manhattan's office space have been reassessing their space needs and shedding footage where they deem appropriate. That appears to be what JPMorgan Chase is doing here, regardless even of the pandemic.
"It is too early to comment on specifics as we continue to learn and adapt to this current situation and how it impacts our commercial real estate needs," a JPMorgan Chase spokesman told Bloomberg. "We are committed to New York and are planning for the next 50 years with our new headquarters here."
The bank is building a 2.5 million-square-foot hub at 270 Park Avenue. That's about half the square footage that the bank occupies now in Manhattan, which makes it the borough's biggest private-sector office user (a title it briefly lost to WeWork in 2018, but that's all over now). The Park Avenue tower is supposed to be finished by mid-decade. That's right around the time the Manhattan office market should be recovering fully from the pandemic.