Glenn Listor, Mizuho's Real Estate Chief, on Office Consolidation and Sustainability
---
---
With all the press that tech and life sciences get, sometimes it's hard to remember that New York City's anchor industry is still finance.
Almost 3 out of every 10 square feet of occupied Manhattan office space is occupied by financial firms, the top user in the borough, according to Cushman & Wakefield. And the Manhattan office market is more than 400 million square feet, by far the biggest central business district in the country. So, that represents well over 100 million square feet.
And, as befits the financial capital of the world, it's not just U.S. banks that ply their trade here. Just about all the major foreign banks are here, too. So it is with Mizuho Financial Group, the third largest bank by assets in Japan.
Glenn Listor, Mizuho's regional head of corporate real estate management, answered some of our questions recently through the bank's public relations arm. 
He oversees all of Mizuho's footprint throughout the Western Hemisphere, including its new 411,000-square-foot regional headquarters at 1271 Avenue of the Americas, the former Time & Life Building. In keeping with the Japanese aesthetic, it's cool and spare and minimalist, like Japanese paintings. 
His remarks have been lightly edited for brevity and clarity.
Commercial Observer: Describe what you do for Mizuho. Do you oversee any offices besides at 1271?
Glenn Listor: As regional head of corporate real estate, I oversee 18 Mizuho corporate properties across North and South America.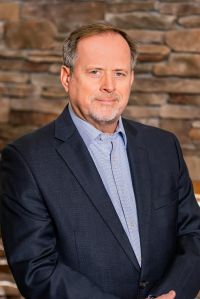 What does Mizuho want out of its offices?
The physical space and design is intended to be an extension of the Mizuho brand and culture. There is a traditional functional requirement, of course, but there is an engagement and collaborative function that we want to promote in support of client service. For example, we strive to have lots of natural light, workstations in open spaces, and comfortable common areas with soft seating. We believe that such an atmosphere promotes an environment favorable to the free flow of ideas and chance encounters that can spark new thinking.
What does Mizuho get out of being in NYC?
NYC is the center of financial services for the Americas. It is where many of the firm's clients have offices, and that helps further our key relationships and partnerships. Plus, NYC has tremendous talent and experienced finance professionals.
I've never been to Japan, but my sense from looking at its website is that Mizuho serves Japanese consumers the way Citi or Chase serves U.S. consumers. What is the difference in Mizuho's NYC operations and how does that translate into its offices?
In Japan, Mizuho has a very large retail banking operation, like those others you mention, in addition to an institutional client base. As such, it has bank branches and offices throughout the country that are geared to the retail client.
In the Americas, we are focused solely on providing institutions with a broad range of financial services, including corporate and investment banking, lending, custody, treasury services, research and capital markets solutions. So, our offices are designed for an institutional-only client experience. 
How has Mizuho responded to the virus threat and why, in the midst of the pandemic, did it spend whatever it did on its NYC office?
We are responding to the virus threat by keeping nearly 90 percent of our employees working from home and making sure that those who do need to be on-site have a safe environment in which to work. That includes safety renovations, enhanced cleaning procedures, strict protocols, and distributed [personal protective equipment] to keep the health and safety of our employees our top priority. 
As far as spending on our NYC office, our 1271 headquarters is the result of years of planning. Its opening coincided with the approximate start of the pandemic shutdowns, but that will not deter our commitment to the property.  
SIGN UP FOR COMMERCIAL OBSERVER'S NEWSLETTERS
How much did the NYC makeover cost?
The build-out was based on our investment in a long-term occupancy at 1271. We were particularly pleased with the result of our procurement strategy for the construction and our targeted approach to managing the project. We came in under budget and ahead of schedule.
Were there any amenities that the company insisted on adding to the NY offices?
We do have a dedicated check-in desk and escalator access from the lobby, 11 cafes and pantries, 70-plus meeting rooms of various sizes, 1,800-plus sit/stand desks, and a fully-operational broadcast studio. 
But the guiding mandate was the consolidation of front office functions from smaller NYC office buildings into one. There was an expectation to drive efficiency and sustainability. We earned a Gold LEED certification, and created a space with the infrastructure that supports critical business operations and technology support, while providing an elegant, sustainable, and efficient platform for staff to work and meet while supporting clients. 
It has been a great success and we look forward to the day post-pandemic that we can use the space to its potential again.