Industrial Real Estate Vacancy Rate to Rise With Steady Increase in Supply
Industrial rents in North America are expected to rise too, though, and most of the new supply will be absorbed fast
---
---
Cracks are appearing in the indomitable industrial sector, though they don't run very deep.
Supply for such space is expected to continue to exceed demand in the next couple of years, perhaps dinging returns on what's become one of the hotter commercial real estate investments of the coronavirus pandemic. Still, rents are likely to rise to new highs and most of that new supply will be quickly absorbed, due in large part to the spike in e-commerce.
Those are the broad strokes from a recent report from brokerage Cushman & Wakefield. The U.S., Canada and Mexico will add 697.3 million square feet of new industrial space by the end of 2022. Some 92 percent of that space will debut in the U.S., a projection C&W says is due to a lack of "quality product over the past few years" and the demand for it that's built during that time.
At the same time, industrial space users are expected to absorb 481.3 million square feet in 2021 and 2022. That's what C&W describes as a "healthy" amount, but not enough to avoid an uptick in vacancy. That is expected to rise to 6.2 percent by the end of 2022, an increase of 130 basis points over the end of 2020. But, in another sign of the sector's resiliency, that still puts it in line with the 10-year average vacancy rate of 6 percent.
That should bolster rents through the end of next year. C&W, in fact, projects the average net asking rent for industrial product in North America to hit a new nominal high of $6.97 a square foot.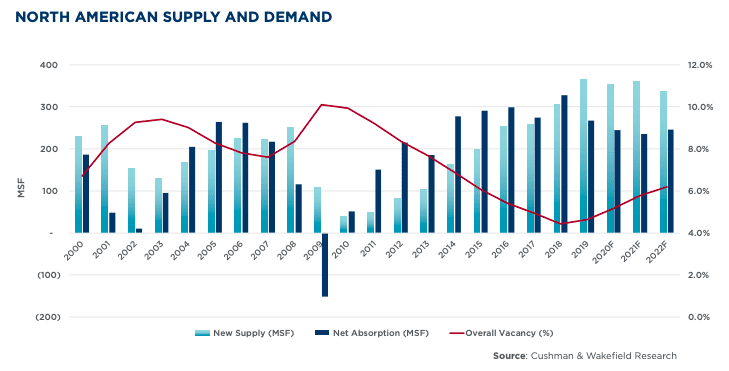 Most of the new industrial space this year and next will understandably land in denser urban areas, including the Dallas-Fort Worth, Chicago and Atlanta areas, or along transportation arteries that serve those areas. Most of the demand will come from these same spots, too.
"Despite supply being forecasted to outpace demand for the next two years, the pipeline will remain elevated in primary industrial markets, port-proximate markets, both intermodal and maritime, and in markets with dense or fast-growing populations," the C&W report said.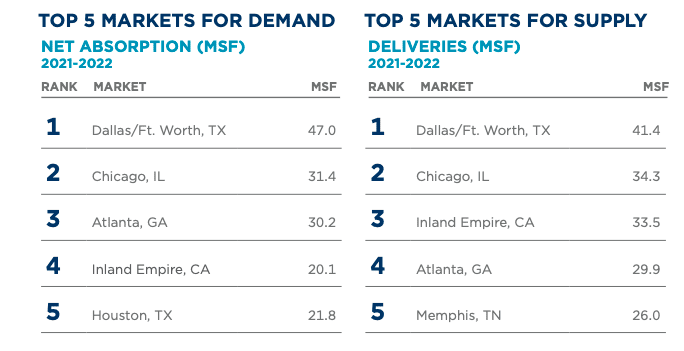 Much of the demand for industrial space, of course, has come from a surge for e-commerce amid the pandemic. People have been staying home, or close to home, in unprecedented numbers the past year and buying what they need online. This has led to a rise in online sales, particularly via Amazon, which has become, perhaps, the largest leaser of industrial space in North America. It opened 100 U.S. warehouses in September 2020 alone, for instance.
This demand for space has, in turn, made industrial one of the safer havens for commercial real estate investors amid the pandemic. COVID has walloped the fortunes of office, hospitality, and brick-and-mortar retail (as has e-commerce, in the case of the last). But industrial has ticked merrily along, and will likely do so even after the e-commerce surge eases, as vaccinations roll through and the pandemic subsides.
"This ramping-up of the industrial sector to support e-commerce growth will benefit industrial real estate in the near- and medium-term but may also lead to slower growth in 2022 as the sector compensates for overshooting due to the partly unforeseen spike in demand," the C&W report said. "Given that the global economy is expected to be firing on all cylinders by that time, demand from other segments of the economy is likely to accelerate and offset any e-commerce-specific loss of momentum."
Indeed, much of what underpins industrial now — including that growth in e-commerce — preceded the pandemic. COVID's disruption simply accelerated them, most analysts agree.
"Nothing can grow to the sky, but I don't think anything will change appreciably once we get past the pandemic," Dale Todd, a senior director at Stream Realty Partners, which services industrial real estate, previously told CO.