Architect Tom Vecchione on Reality TV Stardom, 30 Years at Gensler and Moving to Vocon
---
---
After three decades of designing corporate office spaces at Gensler, one of the country's largest commercial architecture firms, Tom Vecchione needed a change. "I was joking around with some friends and said, 'I'm finishing my career by starting it over again,'" he noted.
And so, two months ago, he found himself starting as a principal in the New York office of Vocon, a much smaller architecture firm that's headquartered in Cleveland. Vecchione, a handsome, salt-and-pepper-haired 55-year-old, talks about workplace design breathlessly, as if he sees being an interior architect as not just a job but a higher calling. 
In fact, he knew he wanted to be an architect at age 4, and attended the Institute for Architecture and Urban Studies, a now-defunct architecture-focused high school on Bryant Park in Midtown. He would commute every day from Rockville Centre on Long Island, and ultimately went to Cornell University to earn his undergraduate degree in architecture. He's still involved in the university's real estate and architecture programs as an advisor and occasional lecturer. 
Vecchione made his bones in the architecture world at Gensler designing the corporate campus for Novartis in East Hanover, N.J., as well as the pharmaceutical company's offices in other parts of the country and the world. It helped him understand how to develop suburban workspaces that felt more urban and more pedestrian. After spending 15 years overseeing corporate campuses, he was tapped to lead Gensler's consulting group. He ended up working, in 2015, on the design team for the Tata Innovation Center at Cornell Tech, the tech-and-business campus that his alma mater has built on Roosevelt Island. The seven-story complex commingles academic research space and corporate offices, in order to encourage big companies to recruit students and invest in their startup ideas.
Together with the project's architect, Weiss/Manfredi, and its developer, Forest City Ratner, he had to consider, "How does research interplay with private sector businesses? How do they come together and really leverage investment?" He noted that in many ways, the infamous black-tinted office project at 51 Astor Place pioneered a similar colocation model, by establishing a major corporate tech office for IBM next to Cooper Union and New York University. 
Melissa Burch, the executive general manager at mega-contractor Lendlease, was working at Forest City when the company hired Vecchione to work on the Tata Center. 
"Tom is an architect but he bridges multiple worlds," said Burch. "He bridges the worlds of architecture, of brand and of place. He was really a go-to [person] to position something that was really at the cutting edge of building typology — a colocation of academic and private sector and using that proximity to drive commercialization."
In 2016, he helped Blackstone Group reposition the former New York Times building at 229 West 43rd Street. The 18-story Neo-Gothic structure was completely revamped in an effort to attract tech tenants — like Yahoo!, which leased several floors — and large retail concepts. Guy Fieri opened his first New York City restaurant, Guy's American Kitchen and Bar, in the building — which has since shuttered and been replaced by a Blue-Ribbon outpost — and National Geographic opened a 59,000-square-foot tourist attraction about the ocean. 
"No one really understood what it could be," Vecchione said of the property between Seventh and Eighth Avenues. "It was sort of in Times Square but wasn't in Times Square. And the whole branding strategy was structured around that, positioning it towards Hell's Kitchen, giving it a West Side attitude. [We thought] about pre-builds and business ready spaces, saying, 'How could this be a tech hub?' not just a Time Square building. Even though small in scale compared to millions of square feet for global pharma, it was pivotal because it was a sense of shifting the personality of the building in order to understand it in a new way." 
But Vecchione took a break from his intense corporate design career several years ago to star, briefly, in a reality TV series, HGTV Design Star. He joined a crew of interior designers, contractors and architects on two different seasons — first in 2010 and again for an all-star season in 2012 — who would take on new design challenges in each episode. 
"We would take a shipping container and turn it into a house in the course of two days," said Vecchione. "We would take an old fire station and turn it into a nightclub. These crazy challenges where we were up all night, you had to build everything yourself."
Sheldon Werdiger, an executive at RFR, explained that Vecchione was the person he came to when his firm needed to understand how tenants would fill and use a large block of office space. The pair have partnered on RFR's commercial buildings in New York and Frankfurt, Germany.
"When we have large blocks of space or we have an empty building, he's able to look at a large business organization, decipher it, how it functions, how it works internally," said Werdiger. "And then he's able to reorganize them and make recommendations for how they can do things differently and more efficiently." 
Since starting at Vocon in September, Vecchione has helped spearhead the master-planning effort for a 350,000-square-foot former train station in Downtown Cleveland called Tower City Center from his perch in the New York office. The $110 million renovation will include new corporate office space, coworking areas, cafes and a new public plaza, in addition to Tower City's existing shopping complex and light rail station. Bedrock Detroit, Dan Gilbert's real estate company, purchased the property in 2016 and is funding much of the renovation. 
Vecchione, who has family in Cleveland, sees the development as an opportunity to help reshape the city's sleepy downtown. 
"Cleveland has an amazing evolution right now of young people moving downtown," he explained. "It's got tons of apartments, and it's turning into a bit of a lifestyle center. But we gotta keep the jobs there and we gotta keep the businesses there to turn it from an eight-hour city into a 15-hour city."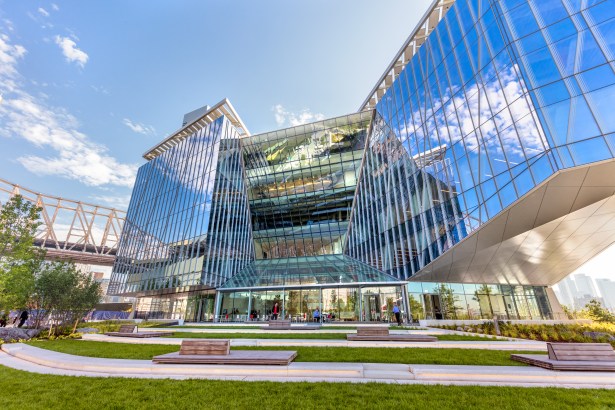 Large downtown projects like these involve working with community leaders and understanding how different stakeholders can come in to reinvent an urban space.
"I think exposing the next generation of designers here at Vocon to that scale will make designing the desk and designing the work for our enterprise clients that much richer and robust," he said. 
Moving forward, he hopes to "work with this young team [at Vocon] and really start to develop our personal point of view around workplace design."
Outside of work, Vecchione serves on the boards of several urban policy-focused nonprofits, including the Center for an Urban Future and the New York City Landmarks Preservation Foundation. He also spends time with his husband, who is the director of research at the Museum of Natural History, where he helps oversee the special collection and the library. The two have been best friends since they were ten years old. He also loves reading and re-reading literary classics by F. Scott Fitzgerald and Edith Wharton, or nonfiction classics like "Gotham." The pair live on Park Avenue in Midtown East and spend weekends on Oak Island, a barrier island east of Jones Beach, where they mountain bike and kayak.