Presented By: The Moinian Group
At Decade's End, Moinian Looks Back on 10 Years of Expansion, Innovation, and Success
Moinian's Decade of Achievement: Making Its Mark on Manhattan and Beyond
---
---
By 2010, The Moinian Group was already one of the largest privately held real estate groups in the U.S., amassing as a prestigious portfolio of assets with residential, commercial and hotel properties throughout the country since its founding in 1982.
In the decade since, The Moinian Group has expanded greatly in properties owned, territories established, and services offered, adding over 5 million square feet to their portfolio while also opening divisions dedicated to venture investment and CRE financing.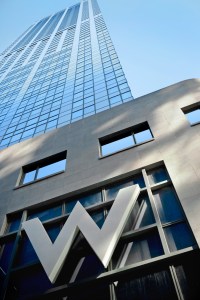 Moinian's decade began with the establishment of W New York Downtown Hotel & Residences, the W's only residential development in Manhattan. Located at 123 Washington Street, just one block from the Freedom Tower, the 58-story property offers 217 hotel rooms and 223 residential condo units, bringing "a tremendous amount of energy to the area," according to Joseph Moinian, the company's Founder and CEO.
The following year saw the transformation and long-term refinancing, in partnership with SL Green, of the Class A, full-square-block office property 3 Columbus Circle, a building Moinian took full control of this year with the completion of an additional $595 million refinancing.
"Through a series of strategic moves that involved acquiring the entire property and completing massive renovations, we've established 3 Columbus Circle as a key destination for elite office tenants," said Moinian, noting that the building is also home to The Moinian Group's headquarters.
Moinian then began work on SKY, the largest residential rental building in New York City and the largest single tower residential development in the U.S., in 2013. Located at 605 West 42nd Street, SKY, designed by the Rockwell Group, offers 1,175 luxury rental units over 71 stories, and 70,000 square feet of amenity space including over 15,000 square feet of fitness space operated by Life Time Fitness, an indoor lap pool and two outdoor pools, a private park, and a regulation-size basketball court co-designed by former New York Knicks star Carmelo Anthony that has hosted star-studded pickup games featuring NBA players such as Lebron James and Kevin Durant.
SKY was completed in 2015, and The Moinian Group soon added the nearby 14-story luxury rental property Oskar at 572 11th Avenue, which was completed and fully leased in 2018.
But the apex of Moinian's impact on the burgeoning Hudson Yards area was yet to come. In 2016, the company broke ground on the 2-million-square-foot, mixed-use 3 Hudson Boulevard, at the intersection of 34th Street and 11th Avenue. Developed with Boston Properties, 3 Hudson Boulevard will offer over 1.8 million square feet of prime Class A office space, including floorplates over 35,000 square feet and ceiling heights approaching 14 feet.
Adding all this to its already established portfolio, The Moinian Group ends the decade with over 4 million square feet of luxury property along 11th Avenue in the new Hudson Yards area, a stretch the company calls The Moinian Mile.
"We invested on 11th Avenue more than 20 years ago with thoughts that the neighborhood would turn around, but we never could have envisioned an entire city-within-a-city evolving before our eyes," said Moinian. "Atelier, SKY, Oskar, 220 11th Avenue and 3 Hudson Boulevard have helped revitalize the Far West Side, and the first four have created a dynamic mixed-use corridor on 11th Avenue in a location where it previously would have been unthinkable."
In addition to putting their unmistakable stamp on Manhattan, 2019 also saw the company's first foray into Brooklyn with the opening of PLG, a luxury rental apartment tower at 123 Linden Blvd. that Moinian co-developed with Bushburg Properties. PLG offers 467 units over 26 stories in a building with skyline views of Manhattan and the Verrazano Bridge, and over 50,000 square feet of amenities.
"PLG provides a one-of-a-kind property in an area of Brooklyn that hadn't conceived a project like this until now," said Moinian. "As the connective tissue between Prospect Lefferts Garden and Flatbush, PLG is fulfilling residents' deep-seated desire for a slice of Manhattan with luxury-level amenities as properties extend deeper into Brooklyn."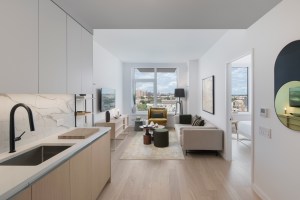 In addition to a slew of exciting new developments and the expansion of their geographical territory, The Moinian Group also broadened their areas of expertise and the services they offer with the advent of two powerful new divisions.
The past few years have seen the introduction of Currency M, Moinian's Venture Capital arm, and Moinian Capital Partners, the company's lending platform.
Currency M, run by Moinian Group Principal Mitchell Moinian, has provided early-stage investment, support and resources to companies like Nestio, Knotel, Ollie and The Well. This division provides not just capital, but strategic guidance and networking connections to innovators with potential to have a solid impact on the New York CRE market.
Moinian Capital Partners, run by Moinian Managing Director Jonathan Chassin, has committed close to $1 billion to various residential and hotel projects throughout New York and Miami. Their first lending project was the PLG development at 123 Linden Boulevard, for which Moinian Capital Partners provided Bushburg with a $160 million construction loan.
"We've put approximately $1 billion into the market through Moinian Capital Partners to date," said Moinian, "and we aim to continue sustained growth in size and scope as we support small- to mid-size developers."
As we approach the end of the decade, The Moinian Group can look back over the past 10 years and see significant achievement, creating some of the most desirable buildings in Manhattan, and making their mark on all areas of commercial real estate.
All of which makes their prospects for the next decade seem that much more promising.
"The Moinian Group will remain an active investor in Manhattan," said Moinian. "Over the next decade, I expect that we will continue to expand our presence into other markets such as Los Angeles and Miami, while also making strategic investments in emerging neighborhoods with unrealized potential."
Brooklyn
,
Bushburg Properties
,
Carmelo Anthony
,
Currency M
,
Flatbush
,
Jonathan Chassin
,
Joseph Moinian
,
Kevin Durant
,
Knotel
,
LeBron James
,
Life Time Fitness
,
Manhattan
,
Miami
,
Mitchell Moinian
,
Nestio
,
New york city
,
New York Knicks
,
Ollie
,
Prospect Lefferts Garden
,
Rockwell Group
,
Sky
,
Sponsored
,
sponsored-link
,
The Well
,
W New York Downtown Hotel & Residences
,
The Moinian Group