Presented By: Colliers International
WeWork at Dock 72: The Perfect Combination of Collaboration and Connection
---
---
If the Brooklyn Navy Yard is a crowning achievement of Brooklyn's redevelopment efforts, Dock 72 is the jewel in that crown.
The 300-acre Brooklyn Navy Yard has been a symbol of American ingenuity for more than 200 years. Over the past 25 years, the yard has quietly emerged as New York City's next great hub of innovation, attracting a collage of industries and individuals that are poised to globally shape the future of production, manufacturing, technology, advertising, media and information.
That is why WeWork and Colliers International, two innovative and forward-thinking firms, have formed an alliance to lease WeWork at Dock 72, which consists of six floors totaling 220,000 square feet in the 16-story office building currently under construction.
Dock 72 is the first ground-up development of its kind in Brooklyn in 30 years, featuring a total of 675,000 square feet of Class A office space with unobstructed panoramic views of Manhattan and Brooklyn. The building is tentatively scheduled to open to tenants by March 2019.
Featuring distinctive architecture and cutting-edge design, WeWork at Dock 72 is meant to spark creativity and promote productivity. It's a place to work and a place to work out. It's a place to meet up and a place to wind down. It's an office building with a campus vibe and was built to bring out the best in every employee.
The nature of work has changed from being predictable and hierarchical to being fluid and fueled by interpersonal connections. WeWork at Dock 72 offers companies refreshingly-designed flexible workspaces and common areas to dream, build, create and collaborate. Cozy light-filled interiors and lush landscaped exteriors provide the perfect collection areas for work sessions, brainstorms, casual meetings and simply just relaxing.
The property features 360-degree waterfront views of Manhattan and Brooklyn and boasts 35,000 square feet of common indoor amenities, 10,000 square feet of outdoor amenities, and 18,000 square feet of private terraces that invite employees to take a step outside, take a breath of fresh air and clear their minds.
Design features curated by some of Brooklyn's premier creators add local spirit and energy to the building and grounds. For employees who are thinkers, tinkerers, dreamers or doers, WeWork at Dock 72 provides inspiration around every corner.
The space has all of the thoughtful details that employees love, and more of the lifestyle-driven amenities they crave. For example, a 15,000-square-foot wellness center, Rise by We, will feature fitness and mindfulness sessions, personal treatment rooms, group classes and personal training sessions.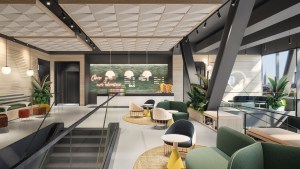 The building is equipped with a 13,000-square-foot food hall, a 200-person rooftop conference center, an outdoor event space and even a basketball court. WeWork will be curating a robust schedule of programmed events and activities that will energize the community and light up the neighborhood
Getting to the Navy Yard is now easier than ever imagined. The brand new ferry stop at Dock 72, located just steps away from the lobby, allows direct access to Manhattan, Brooklyn and Queens. Additionally, a new wi-fi equipped bus service runs every 10 minutes between Dock 72, DUMBO and Downtown Brooklyn.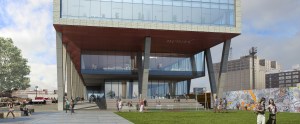 Neighbors in the Navy Yard have already jumped at the opportunity pick up business from the influx of employees. Steiner Studios, the largest film studio outside of Hollywood, is doubling its footprint, Wegmans is opening a 74,000-square-foot supermarket and Russ & Daughters is opening in a separate food hall next to Dock 72. Moreover, the Brooklyn Navy Yard Development Corporation recently announced that it intends on spending $2.5 billion on a master plan for the complex.
WeWork at Dock 72 was engineered to humanize work as a central gathering space for a vibrant and growing network of pioneers, creators and innovators. Today's workforce is looking for more out of their jobs and workspaces. But it's not a work/life balance they want. It's work and it's life; and here, both are balanced.
The Colliers team overseeing the WeWork leasing efforts will include Ted Koltis, President of the Consulting and Agency Services Group, Executive Managing Director Reid Longley, Managing Director Cryder Bancroft, Associate Directors Connor Sullivan and Aidan Campbell, and Associates Noah Weinberg and Sayo Kamara.
For more information or to schedule an exclusive walk through of WeWork at Dock 72, please contact Reid at (212) 716-3644 or Cryder at (212) 716-3748.
Aidan Campbell
,
Brooklyn
,
Brooklyn Navy Yard
,
Colliers International
,
Connor Sullivan
,
Cryder Bancroft
,
Dock 72
,
Dumbo
,
Manhattan
,
Navy Yard Development Corporation
,
Noah Weinberg
,
Reid Longley
,
Rise by We
,
Russ & Daughters
,
Sayo Kamara
,
Sponsored
,
sponsored-link
,
Steiner Studios
,
Ted Koltis
,
Wegmans
,
WeWork