Coworking Company Spacious Nabs TGI Fridays Building in Union Square
---
---
Two-year-old coworking company Spacious has nailed down a deal to occupy the entire building that housed TGI Fridays in Union Square, Commercial Observer has learned.
Spacious took 8,500 square feet spanning the two-story building including mezzanine (but not the 3,125-square-foot basement with kitchen as Spacious doesn't serve food) at 34 Union Square East at the corner of East 16th Street. The deal is a license agreement, as The Real Deal reported.
"It's a fantastic location and it draws customers from all over the city," Preston Pesek, the CEO and co-founder of Spacious, told CO. "It was also [appealing because it was] available as a single whole-building occupancy agreement."
The new space will mark the company's fourth location with dedicated occupancy, part of a newer model for the firm, which has been offering—and still offers—coworking spaces during the daytime in existing restaurants.
Since opening the first pilot space dedicated to Spacious last November at 30 West 53rd Street between Fifth Avenue and Avenue of the Americas, "we have been able to offer our customers something after dinnertime," Pesek said.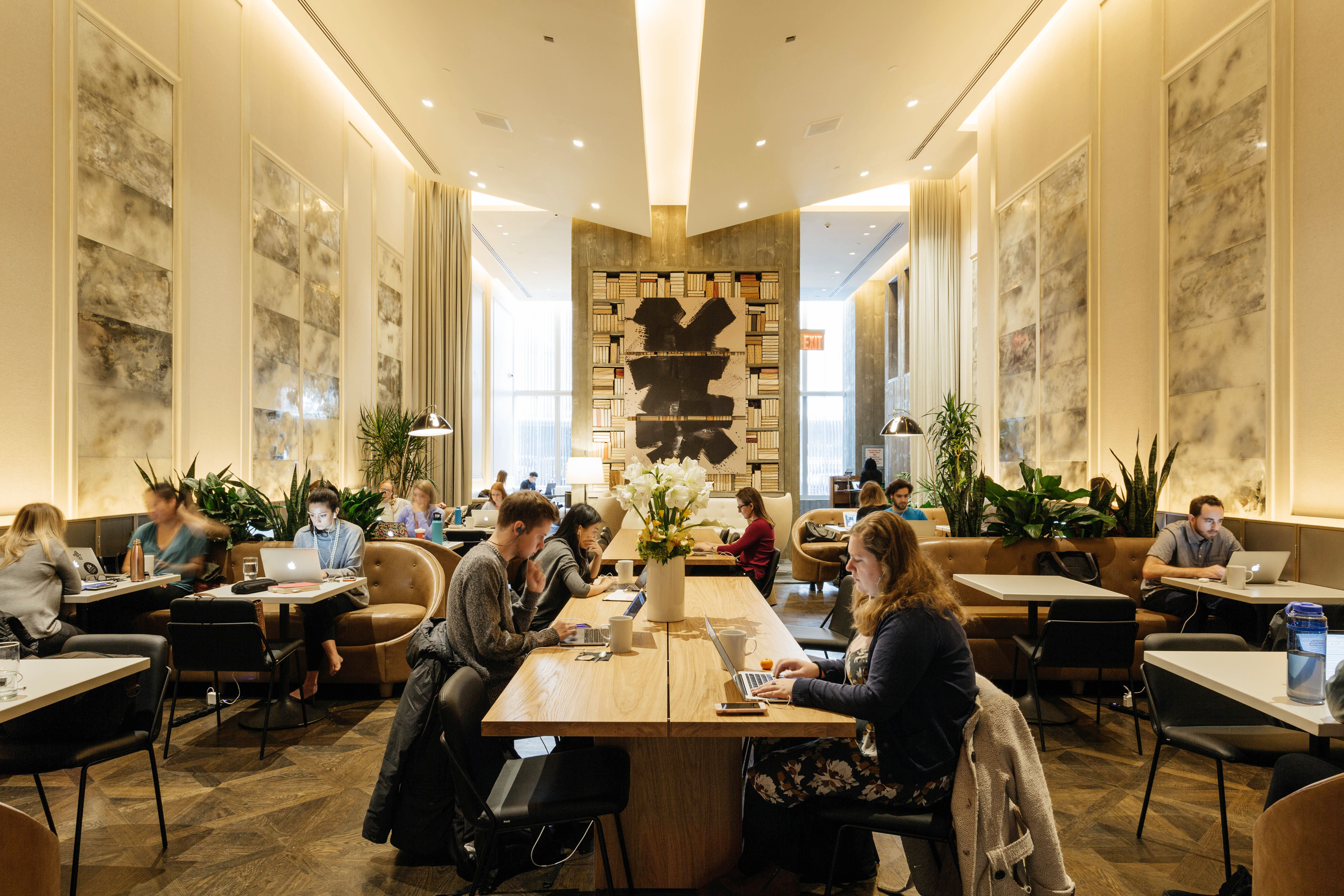 While it was not a lease deal and James Famularo of Meridian Capital Group, who brokered the deal for both sides, and Pesek declined to talk dollars and cents, Famularo said asking rents on the ground floor in that corridor run about $500 per square foot. The agreement allows for Spacious to be in the space for six months up to five years, depending on when the landlord sells the property, per Famularo. "It's like an evergreen pop-up until we get a notice to vacate," Pesek said.
"It's a great creative way to monetize assets like this," Famularo said. CO reported two days ago that there has been a trend of landlords leasing retail spaces for offices amid the changing retail landscape. Also, Famularo and Pesek noted, with Spacious open, the property is a whole lot more appealing to potential buyers or long-term tenants.
After barely hanging on in Union Square, TGI Fridays finally closed the location at the end of last year following a run of less than eight years. Riese Organization, the owner of the license for TGI Fridays in Manhattan, bought the building in 2009 for $15.3 million. Last month Riese hired an Avison Young team led by James Nelson and Todd Korren to market the property for sale with an asking price of $32 million. It offers 26,000 buildable square feet, per an Avison Young press release.
The sales approach follows an attempt to lease the property at the end of 2014.
Spacious launched in 2016.
"I initially created this concept as a better way to optimize prime assets that had substantial down time either between tenants, or during large parts of the productive retail hours, such as dinner-only restaurants," Pesek said. "However, as I began to envision what we do for the consumer, we are most excited about breaking down the barriers to entry to using a city as a platform for self-transformation."
Last month, Spacious opened in about 2,200 square feet of ground- and lower-level space at Premier Equities' 47 Seventh Avenue South near Morton Street, which was briefly home to Bar Works. The company operates in 15 New York City restaurants and eight eateries in San Francisco, each about 3,000 square feet, Pesek said. (These are profit-sharing deals.) Memberships start at $99 a month and go up to $129 a month. The company closed a $9.1 million Series A round in March, bringing the company's total raise to $15 million in venture capital.
30 West 53rd Street
,
34 Union Square East
,
47 Seventh Avenue South
,
Avison Young
,
Bar Works
,
James Famularo
,
James Nelson
,
Meridian Capital Group
,
Premier Equities
,
Preston Pesek
,
Riese Organization
,
Spacious
,
TGI Fridays
,
Todd Korren