Thinking Inside the Big Box—Innovative Concepts to Combat the Homeless Crisis
---
---
The severity of the nationwide homeless crisis in Southern California—with an estimated 53,000 people homeless on any given night in Los Angeles, according to the Los Angeles Mission—is impossible to ignore. While state politicians weigh the best options in which to invest the $1.2 billion bond measure meant to fund 10,000 units of housing for the homeless over the next decade, the development and design communities have proposed options—from transitional housing to micro-units—to be part of the conversation.
The R+D studio at KTGY Architecture + Planning, an international design and planning firm based in Irvine, Calif., whose vision statement is "to move the discourse of architecture forward by continuously searching for better," made it its mission to come up with a solution to the crisis. The firm focuses on more traditional residential, retail and mixed-use projects, but, according to Marissa Kasden, a senior designer at the firm, the studio, formed in 2016, supports retail concepts, while also working to be a thought leader in the industry, which is where the concept for Re-Habit took shape. Re-Habit aims at repurposing vacant big-box retail stores into transitional homeless housing, which would include smaller retail spaces as well as employment and support services for residents.
"This is the first time we've taken on the issue of homeless housing," Kasden said. "Our retail studio gets the question from mall owners and developers who are looking at [what to do with] these unused anchor spaces. There are so many of these vacant spaces right now. I'm not sure if any of them would have expected us to suggest transitional housing, but we looked at transitional housing and how to make a big impact. We realize it's really about services and programming and being able to provide longer-term support for these residents."
The adaptive reuse the studio conceived, with renderings released in September, would transform a typical 86,000-square-foot, anchor store to transitional homeless housing. An entry to the mall would be created by carving out a path from the store's exterior and retail spaces in varying square footages front the path to the mall entry.
This allows the creation of a courtyard and three sizes of sleeping rooms: 20-bed pod, 12-bed pod and a two-bedroom unit. (The longer the resident stays, the greater the privacy afforded.) Eight apartment units consisting of different pod arrangements would sit above the retail with a communal kitchen, laundry room, computer center, library and reading room, as well as an outdoor dining area. The roof would be designed to include space for recreation and a garden with residents rotating housing chores, including kitchen work and cleaning as well as gardening to grow fresh produce for residents and small retail food shops.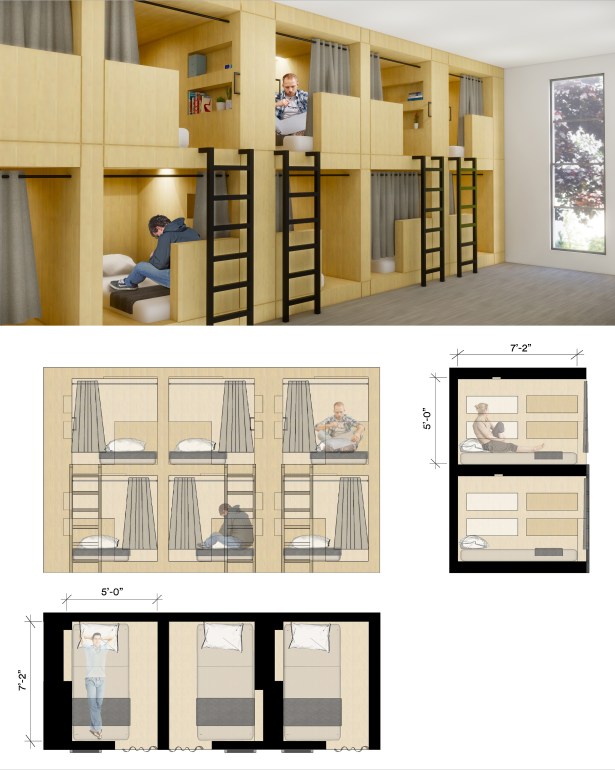 With its pod-style apartment units, residential kitchen and rooftop garden, the design is reminiscent of a traditional co-living community, where residents rent their own apartments but share certain amenities and living spaces.
The concept came out of research and working with the Long Beach Rescue Mission since last December to understand its needs and the services that the homeless need long-term to succeed.
"We felt that jut proposing temporary housing was just solving a slice of the issue and we wanted to address it in a more holistic manner," she said.
While adding a residential element to retail properties is nothing new, the homeless angle is a new one, and it's one that Kasden admitted has its own set of unique challenges.
"Retail developers are concerned with profitability and, obviously, this isn't focused on that so I'm not sure this would be their first choice, but perhaps a city might buy the site or it could be donated," Kasden said. "But it gives people the opportunity to think beyond themselves, to think about the larger community and how these spaces could be used to really serve the people who need it."
While no developers have yet committed to the re-habit concept, KTGY continues to seek them out.
Before dismissing the concept as too pie in the sky, there are precedents for city land being repurposed for temporary homeless housing—and even vacant retail locations being called upon for the same use.
Last April, Mayor Eric Garcetti declared an emergency shelter crisis, and signed into law dual ordinances passed by the City Council to help the city pursue immediate solutions to the homelessness crisis, as Commercial Observer previously reported. Part of the solution was repurposing city-owned parking lots to create temporary homeless housing, the first of which opened in early September near the historic El Pueblo de Los Angeles Monument in Downtown Los Angeles, as reported by NBC Los Angeles. The temporary housing site can operate for up to three years and is being partially funded through Measure H, a countrywide voter-approved tax that provides services to the homeless. The Los Angeles Homeless Services Authority (LAHSA), a city-county agency, has contracted with nonprofit organization People Concern, which will operate the site and provide services at this temporary housing site, which cost $2.4 million to develop. ($1 million from Measure H, a countywide tax that provides services to homeless, will be used to run the site each year.)
And, as The New York Times reported, in Alexandria, Va. a homeless shelter moved into its temporary home at a Macy's in the vacant Landmark Mall where it will remain, rent-free, through 2019 while the mall's current owner, the Howard Hughes Corporation, works on its permanent plans for the mall. (The mall is in one of a few areas in Alexandria where zoning allowed for a shelter. The developer plans to tear the mall down and build a mixed-use space that could include offices, retail and other attractions.
Of course, the Macy's reuse as a shelter is temporary and the lack of developable land especially in urban areas with dire needs for homeless housing will continue to be an issue, along with risk-adverse developers, to Re-Habit and other outside-the-box solutions being adopted.
Panoramic Interests, the San Francisco-based development firm, has found plenty of press for its MicroPAD concept, but, thus far, is still working to make it a reality. In 2015, the company built The Panoramic, the first high-rise micro-unit building in the U.S., as Commercial Observer previously reported.
The nine-foot-ceilinged, 160-square-foot MicroPAD units, which come fully furnished with a private bathroom, kitchenette, armoire, desk and bed, can be built for 40 percent less than traditional construction in San Francisco, according to the company, and can be built twice as fast. The concept focuses on "housing first," the framework public homeless agencies, including the LAHSA, have adopted nationwide. Once housed, resident pods could be arranged in complexes where job and support services are provided. "For our modular construction, we were doing a lot of the work off-site and that led us to try and figure out how could we get into housing the homeless here in San Francisco," Michael Thomas, head of business development for Panoramic Interests, said.
Mike Costa, a senior vice president in Cushman & Wakefield's San Jose office serving the San Francisco Bay area, is intrigued by both the Re-Habit and MicroPAD concepts.
"There's clearly an issue where we have a demand for housing for homeless," he said. "That's entire Bay wide. It's something that's sweeping across the country. There's a huge demand for it, but getting these commercial owners to somehow get involved—I don't know how to do that.
"I'm a suburban broker. I can't see this happening in the suburbs. I can't speak for everybody. San Francisco, San Jose and Oakland are large cities and you would think if it was going to happen it would happen in those cities."
He added about the Re-Habit concept specifically: "I don't know how the anchors that remain are going to approve it."
In terms of micro-housing for the homeless, Costa said he wasn't sure they actually made financial sense given the rapid rise in residential and land values.
"There's a whole small-home conversation sweeping through the Bay area right now. But I don't know exactly where they'd put them because land in the Bay area right now is so expensive. The tech industry, Facebook, Apple, Google they're driving prices for residential through the roof," he said.
According to Paragon Real Estate, a San Francisco real estate company, which examined the local multiple listing service, calculated that the median housing price in the city has risen $205,000 since the end of 2017, the highest six-month gain in at least a quarter century, Fortune reported.
On a percentage basis, Paragon found, the median home price in San Francisco rose 14.5 percent over the past year to $1.6 million—more than double the 7.2 percent rise in 2017
Indeed, Thomas, said the lack of available land for development is the biggest hindrance to bringing MicroPAD to market.
"A few years ago, we started thinking—is there a way to be a for-profit development company and build housing for the homeless and actually make it work for us and for cities and counties," Thomas said. "The biggest hurdle is honestly the availability of land to where it's either donated or where we could build on city or county-owned land but not have to be beholden to the same restrictions that always come with publicly owned land."
He added that the quickest and easiest path to take MicroPADs from concept to reality would be if a philanthropically minded private landowner donated land in an area suitable for homeless service providers. If so, Panoramic would be able to fiscally take on the construction and development of the units.
"We haven't frankly had anyone approach us with land that would work. We just haven't found anywhere where we can make the economics work," he said. "It's still very much the stage of it being conceptual, but we'd still like to make it work."
Cushman & Wakefield
,
Eric Garcetti
,
KTGY Architecture + Planning
,
Los Angeles Homeless Services Authority
,
Marissa Kasden
,
Michael Thomas
,
MicroPADs
,
Mike Costa
,
Panoramic Interests
,
Paragon Real Estate
,
Re-Habit