Optimism Abounds at REBNY's 2018 Prom
---
---
Despite a tumultuous year for real estate—with investment sales falling off a cliff, retail suffering due to e-commerce and banks tightening their lending—it was a night full of splendor, high spirits and big names at the Real Estate Board of New York's gala yesterday.
The 122nd annual REBNY banquet at the New York Hilton Midtown at 1335 Avenue of the Americas featured a power-packed list of politicians, developers, brokers, bankers and other professionals. Many in the room expressed optimism for 2018 to Commercial Observer.
"It's a great time to celebrate the industry," REBNY President John Banks told CO, without giving further explanation.
However, Bruce Mosler, the chairman of global brokerage of Cushman & Wakefield, later expounded that economic factors are positive and things seem to be looking up for 2018.
"I'm not worried about macroeconomic risk, I'm more concerned about geopolitical risk," Mosler said.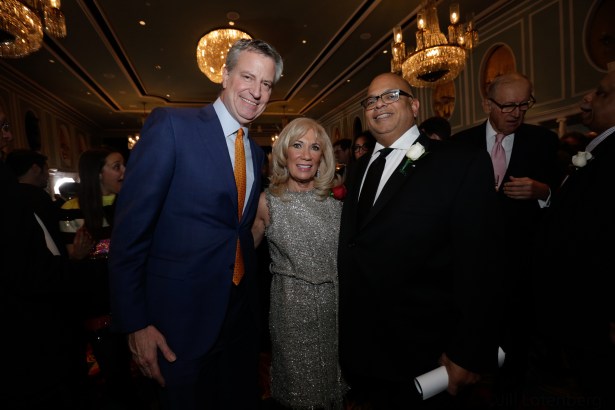 While nearly 2,000 partygoers hobnobbed at the cocktail hour before the award presentation, members from the Campaign to Stop REBNY Bullies rallied in front of the hotel against the trade organization.
Top pols that graced the event included Mayor Bill De Blasio, recently minted for his second term, Attorney General Eric Schneiderman, New York City Comptroller Scott Stringer, Bronx Borough President Rubén Díaz Jr. and Brooklyn Borough President Eric Adams. Meanwhile, some of the real estate community's brightest stars in attendance included RXR Realty's Scott Rechler, Extell Development Company's Gary Barnett, Durst Organization's Douglas Durst, C&W's John Santora, CBRE's Mary Ann Tighe (a former REBNY chairman), L&L MAG's MaryAnne Gilmartin and Robert Lapidus (also of L&L Holding Company), Avison Young's A. Mitti Liebersohn, Newmark Knight Frank's Barry Gosin, former REBNY President Steven Spinola, and new REBNY Chairman William Rudin, the CEO and co-chairman of Rudin Management Company.
United States Senator of New York Chuck Schumer, the only politician being honored with the award last night, was busy in Washington, D.C., with Congress trying to pass a spending bill to avoid a government shutdown. (He earned the John E. Zuccotti Public Service Award.)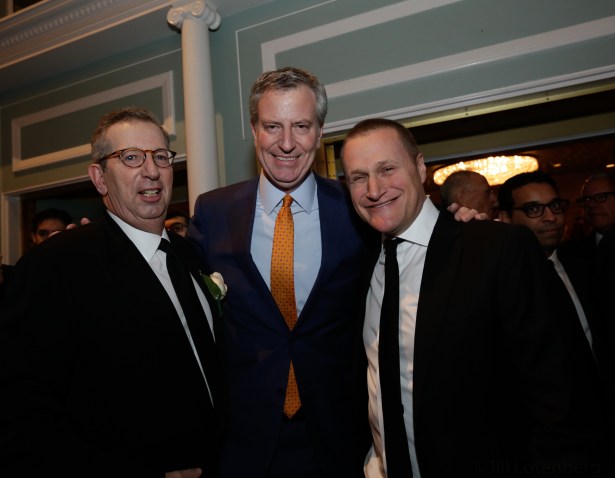 Tishman Speyer President and Chief Executive Officer Rob Speyer, REBNY chairman until December 2017, was the recipient of the Harry B. Helmsley Distinguished New Yorker Award. LeFrak Organization CEO and Chairman Richard LeFrak was presented the Kenneth R. Gerrety Humanitarian Award.
Joanne Podell, an executive vice chairman at C&W, earned the Louis Smadbeck Memorial Broker Recognition Award. Rudin Management Company Senior Vice President Gene Boniberger was honored with the George M. Brooker Management Executive of the Year Award. Ron Lo Russo, the president of C&W's agency consulting group, won the Young Real Estate Professional of the Year Award.  
And Elizabeth Stribling, chairman of Stribling & Associates, received the Bernard H. Mendik Lifetime Leadership in Real Estate Award. In her speech, Stribling recalled having known Mendik and what it was like attending the REBNY banquet for the first time.
"It was exactly 50 years ago tonight that I first attended my first REBNY gala as a 21-year-old rookie broker," she said. "I was starstruck. And I still am."
1335 Avenue of the Americas
,
A. Mitti Leibersohn
,
Avison Young
,
Barry Gosin
,
Bill de Blasio
,
Bruce Mosler
,
CBRE
,
Chuck Schumer
,
Cushman & Wakefield
,
Elizabeth Stribling
,
Eric Adams
,
Eric Schneiderman
,
Extell Development Company
,
Gary Barnett
,
Gene Boniberger
,
Joanne Podell
,
John Banks
,
LeFrak Organization
,
Mary Ann Tighe
,
MaryAnne Gilmartin
,
New York Hilton Midtown
,
Newmark Knight Frank
,
Real Estate Board of New York
,
REBNY 2018
,
Richard LeFrak
,
Rob Speyer
,
Robert Lapidus
,
Ron Lo Russo
,
Rudin Management
,
Rudin Management Company
,
RXR Realty
,
Scott Rechler
,
Scott Stringer
,
Steven Spinola
,
Stribling Associates
,
Tishman Speyer
,
William Rudin