Columbia Property Trust Pays $514M for Chelsea Office Building Trio [Updated]
---
---
Columbia Property Trust has put down $514 million to buy three fully leased office buildings in Chelsea from New York REIT, the buyer announced.
Two of the buildings, which amount to over 280,000 square feet, share an address at 245-249 West 17th Street between Seventh and Eighth Avenues. The third, a 12-story, 166,000-square-foot structure, stands a block south at 218 West 18th Street.
Columbia funded the transaction with a combination of cash and a line of credit, a spokesman for the buyer told Commercial Observer. declining to be more specific.
"Our acquisition of these prime Midtown South buildings allows us to expand within New York," Nelson Mills, Columbia's president and chief executive officer, said in a statement. "We view these acquisitions, along with our recent share repurchases, as an excellent use of the capital raised from our non-core dispositions."
Earlier this year, Columbia sold a U.S. portfolio of major buildings that included the Key Center in Cleveland—which comprises a 57-story office tower and a Marriott hotel—and the 27-story Five Houston Center in Houston. Those sales brought in more than $500 million, according to press releases on Columbia's website, and the company intended to reinvest the proceeds in the short term.
Mills told CO that although the proceeds from the Cleveland and Houston sales "were not earmarked for these properties," Columbia has kept a watchful eye on opportunities in the Big Apple.
"We've been focused on New York for some time now," he said. As recently as 2015, the fund owned only one single-tenant property in the city, at 222 East 41st Street. It now controls seven buildings, concentrated in Midtown South, that host forward-looking tech and media tenants.
"Our portfolio in New York will be about 50 percent" occupied by companies in those industries, the trust's president explained. "That's fueled much of the demand in the city, and we like that target market."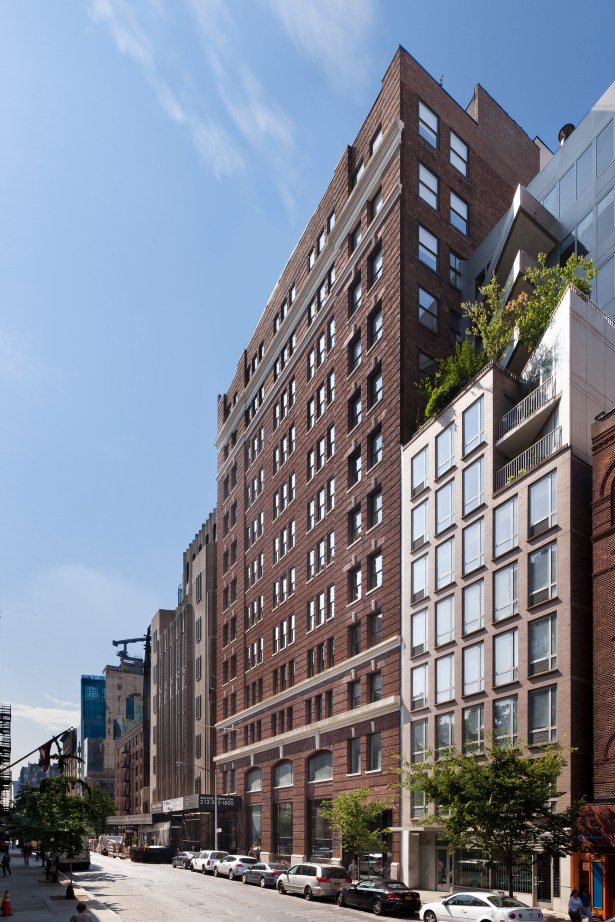 The West 17th Street complex has been home to Twitter's New York City headquarters since 2014, and Room & Board, a furniture seller, leases the ground-floor retail space as its showroom. Beverage company Red Bull rents much of the building on West 18th Street for its New York offices.
New York REIT purchased the West 17th Street building in 2014 for $335 million, property records indicate. It picked up the nearby tower on 18th Street in 2013 for $112 million.
This sale marks the real estate investment trust's second major sale in as many months. In September, CO reported, it dispensed half of its equity interest in Midtown West's Worldwide Plaza to RXR Realty and SL Green Realty Corp., at a property value of $1.7 billion
A representative for New York REIT declined to comment.
Update: This story was edited to include comments from Columbia Property Trust's president and chief executive officer.
218 West 18th Street
,
222 East 41st Street
,
245-249 West 17th Street
,
Columbia Property Trust
,
Five Houston Center
,
Key Center
,
Marriott
,
Nelson Mills
,
New York REIT
,
Red Bull
,
Room & Board
,
Twitter